McDonalds burger app gives it to you straight from the horse's mouth
We're not flogging you dead horse, etc
As Britain spits out its dinner in disgust after admissions that "beef" burgers sold in some UK supermarkets contain horse DNA, down under in Australia punters can relax because there's now an app for that. Or rather for proving that there's no horse cantering about beneath the golden arches.
Stung by criticism it is a rapacious abuser of food producers and then sullies their output in waistline-inflating and artery-clogging ways, McDonalds Australia has tried of late to convince customers that its food is wholesome and nourishes both diners and the rural communities from which it is sourced.
The chain's latest effort to do so is an iOS app, titled TrackMyMacca's, which cleverly offers the chance put an iPhone camera to work scanning one's burger. A spot of geolocation and some database lookups later, helped along by the free Wi-Fi present in Australian McDonalds, diners are offered basic information about the provenance of the meat, fish, bread, pickle and lettuce before them. Reassuring biographies of providers are also on offer.
The aim of the exercise is improving consumer confidence, as it is of course possible to send information about burgers to Facebook or send data to the golden arches to help them understand the campaign's impact.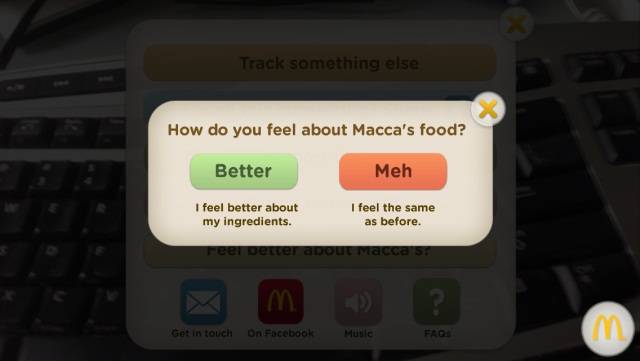 Would you like some fries with that Big Mac Data?
"Dead horse", as tomato sauce is often referred to by devotees of rhyming slang, appears not to be one of the ingredients for which the app will produce a history.
The way things are going in Britain, a quick ketchup to add that feature could be timely. ®