What's a computer? Eat yourself fitter!
Best tech of the year is forking crap
Something for the Weekend, Sir? Despite the saturation of oh-so-hilarious pre-Christmas comedy TV shows summing up the year before it has actually finished, January strikes me as the more logical time to do like Antony Worrall Thompson: have a good look around, take stock and move on. In December, we wallowed in the Olympics and something to do with Sgt Pepper's grandma on a boat during a rainstorm. January, on the other hand, is our opportunity to think back on the innumerable shit things that happened while convincing ourselves that next year couldn't possibly be any worse.
This might partly explain the unprecedented mainstream media interest in CES, the consumer electronics show held in 'Viva' Las Vegas last week. It provides newspapers with prime material for lists: 10 best products at CES, 10 new technologies that everyone but me already knew about at CES, 10 examples of vapourware PR nonsense that I completely believed at CES, 10 types of stomach upset I contracted from dodgy fast-food at CES, and so on.
People love lists of things and 'what's your favourite..?' pieces. I know I do. They're easy to write, of course, but the public also enjoys imagining what they would choose instead. This, at least, explains the enduring popularity of Desert Island Discs: the interviews are rambling and dull, but one day, oh glorious day, some tiresome celeb will pick Territorial Pissings.
On that note, recently I have stumbled across a number of articles and even a TV programme on the topic 'What was the first record you ever bought?' Learning about all the cool and trendy tracks apparently picked by people when they were too young to use their own ears was certainly impressive. However, I do wish they'd ask me, so I can relate the excitement as I, just nine years old, was driven into Leeds by a cousin and queued up at a record shop in Leeds to ask for Hello! Hello! I'm Back Again by Gary Glitter.
Hey, at least he's an artist who can still make headline news 40 years later without even releasing any new songs. David Bowie must be green with envy.
I suspect another reason why people like best-of/worst-of lists at this time of year is that it fills a yawning vaccuum in their brains left behind by the trauma of suffering yet one more Christmas without a new Morecambe & Wise Special. Enough of the repeats! Surely someone at the BBC must be able to do something about it. It's dark indictment of Thatcher's Britain, really it is.
Anyway, in keeping with the spirit of the mid-January blues, I would like to present to you two topical picks: the Crappest Non-Product of CES and the Best Tech Not Even At CES Because It Obviously Wasn't Crap Enough.
Surely, the Crappest Product was HAPIlabs' HAPIfork.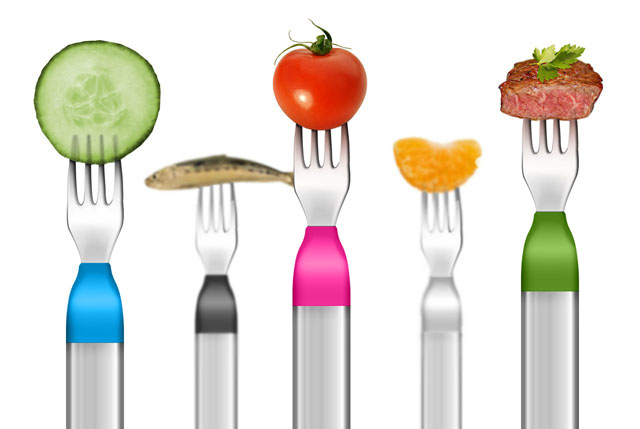 The HAPIfork slows down your eating, presumably by insisting you use a different fork for each foodstuff...
It shouldn't be necessary for me to explain what this prime example of arse-munching uselessness is because it was reported by everyone, everywhere. It was in all the papers, in all the blogs and websites, it was on TV, skywriters chugged out its name in the clouds, a giant fork has been carved in Mount Rushmore, and its silhouette has been laser-etched onto the dark side of the Moon.
OK, for those of you who, like me, were struck down with The Flu Virus from Hell for the last two weeks, the HAPIfork is a dining utensil that buzzes if it thinks you are eating too quickly and is therefore being marketed as good for your diet. Perhaps I am missing something here, but a personal vibrator that increases its intensity the more you stuff your fat face doesn't sound like it's going to help anyone lose weight. A better idea would have been if the fork shouted 'Die, lard arse!' in mocking tones while leaping out of the diner's hand and stabbing him in the gut.
As for the Best Tech Not Even At CES, I choose electrowetting [PDF].
This involves applying voltage to a film of oil, making it spread out to take a lot of space or bead up to occupy very little space. Think opaque oil, think very small, and you have an energy-efficient alternative method of shuttering pixels on and off in an LCD.
Electrowetting lends itself to reflective light, so you could read the display on the beach or under a lamp like an ebook reader or, by switching on front or side-illumination, in the dark like a backlit tablet. It would certainly make tablet batteries last a heck of a lot longer without adding any weight, and some proponents say it could be integrated into existing e-reader manufacture cheaply as a laminated backplane under the glass.
Unfortunately, it's boring. Boring boring boring. That's why no-one's talking about it. So don't worry, order another Neddy Burger and stuff some electronic cutlery down the front of your trousers. It's not called the HAPIfork for nothing. ®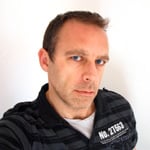 Alistair Dabbs is a freelance technology tart, juggling IT journalism, editorial training and digital publishing. He wishes everyone a belated Happy New Year from his sickbed, especially to ex-employees at HMV and Blockbuster. You brought me Gary Glitter and Van Damme. What more can I say?