GridIron gobbled up by Violin Memory
SAN acceleration added to Violin's string
All-flash array startup Violin Memory has bought GridIron Systems, a startup supplying the TurboCharger SAN accelerating flash cache.
Violin supplies shared 6000-series all-flash arrays to enterprises and the public sector as well as having single server PCIe-connected appliances and Fujitsu resells its array. It filed for an IPO last October.
Violin also has a deal with Symantec to add its data management software to its offerings, although Violin is also aggressively building up its own software portfolio. A HANA appliance is in the offing, and Violin can run vSphere in its arrays.
The two company campuses are just a couple of miles apart and both of them are involved in the data centre application market. The potential synergies are obvious and significant, with GridIron bringing its intellectual property for SAN-based caching and application acceleration to Violin.
Som Sikdar, the founder and CTO of GridIron Systems, said; "GridIron's patented algorithms enable dramatic application acceleration in data centre SAN environments by non-intrusively learning about input/output (I/O) access patterns and caching an application's active dataset."
An obvious synergy possibility is the transition of the TurboCharger hardware to being a Violin Memory array and the follow- possibilities of it running Violin software products. Another is that Violin's existing application acceleration capabilities; enabled by putting application datasets in flash, could be extended by cacheing back-end storage arrays and so being able to deal with very much larger datasets. There could be a Hadoop and other Big Data application benefit here.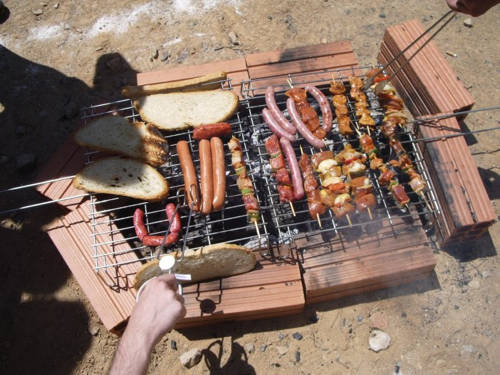 Violin can cook a tasty meal in a flash with GridIron
Violin's CEO, Don Basile, said in a tinned quote; "The acquisition of GridIron Systems complements and expands Violin Memory's strategy of offering memory-based solutions that accelerate business critical applications while optimising IT infrastructures." GridIron's executives, engineering, sales teams and operations teams join Violin and have already transitioned into the Violin organisation.
No-one at Violin would comment on the possible effects of the GridIron acquisition on Violin's IPO prospects. However it seems a common sense realisation that Violin + GridIron is a stronger proposition than Violin alone, and the effect should be beneficial. The TurboCharger appliance will be aggressively sold by Violin.
As a consequence of this deal Violin will now be stronger competition to other all-flash array startups such as, to name just a few, IBM's TMS unit, Nimbus Data, Pure Storage, Skyera, SolidFire, Whiptail, GreenBytes with its VDI focus, and also EMC with its coming XtremIO box and HP with its 3PAR all-flash arrays running revved-up software.
The acquisition amount was not disclosed, although something between $200 million and $300 million has been speculated. We have seen that GridIron, which was founded in 2007 and emerged from stealth in September 2011, received $20 million funding in 2009. No other funding has been disclosed. ®