The US Transportation Security Administration (TSA) has announced that it is pulling all full-body scanners based on backscatter X-ray technology from US airports.
In a terse statement issued on Thursday, the agency said it had terminated its contract with Rapiscan, the maker of the controversial scanners, because the company was unable to deliver devices incorporating Automated Target Recognition (ATR) software by June 2013, as required by law.
ATR replaces the highly detailed images normally supplied by the scanners with a generic outline of a human body. Anything that looks like a hidden object to the scanner is displayed as a vague shape superimposed over the area of the traveler's body where the object might be found.
Millimeter wave scanners – the other kind of full-body scanners deployed by the TSA – were retrofitted with ATR software in 2011, and these types of scanners will continue to be used in US airports.
Because Rapiscan was unable to meet the Congressionally mandated deadline to install ATR on all of its backscatter scanners, however, the TSA now says that not only will it not buy any more of the devices, but it will retire all of the backscatter scanners currently in use by June 1.
Cheekily, the TSA – which has steadfastly defended its use of full-body scanners, despite multiple boondoggles – claims the move has nothing to do with protecting travelers' privacy.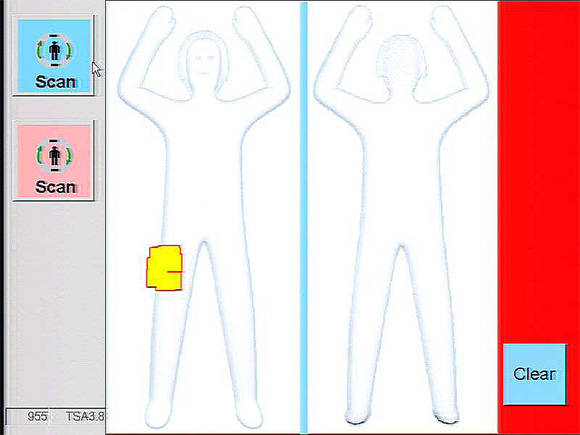 So sorry, security screeners! This is all the free porn you get from now on
Rather, the agency says, it has everything to do with making the TSA a tighter ship. It seems that when TSA screeners are shown finely rendered images of air passengers' nude bodies, rather than simple outlines, they tend to linger on each image, which slows the lines down.
"By June 2013 travelers will only see machines which have ATR that allow for faster throughput. This means faster lanes for the traveler and enhanced security," the TSA's statement reads. "As always, use of this technology is optional."
Privacy hasn't been the only concern over backscatter scanners. In December, the TSA reluctantly agreed to conduct a new investigation into whether the technology might pose any health risks. Looks like that will no longer be necessary.
For its part, Rapiscan tried to put a cheery face on the matter, claiming in a statement on Thursday that it had reached "a mutually satisfactory agreement" with the TSA. The company said it had not sold any scanners to the TSA in fiscal 2012 or fiscal 2013, but that it expected to take a one-time charge of $2.7m related to its failed attempt to develop ATR software.
"We have had a close working relationship with TSA and its predecessor agencies for the better part of two decades, " said Deepak Chopra, CEO of Rapiscan parent OSI Systems. "As we continue that relationship, we look forward to continuing to provide leading-edge technologies and services to the TSA." ®
Similar topics