This article is more than 1 year old
Backers: What's this, another cloud storage upstart? Here, have $20m
VCs seem dead sure that companies will bin their arrays
Another day, another cloud storage startup. This one's Axcient, which is in the cloud backup game and has just scored itself $20m in Series D funding. That seems surprising. It's already Axcient's fourth funding round and it's a lot of greenbacks. What's taking the company so long and why does it need so much money to get off the ground?
Axcient was founded in 2006 by CEO Justin Moore. Its services and products are intended to help small and medium businesses protect their data through cloud backup; provide simpler ways for a biz to access its data and applications from any device; and provide "business continuity" - in other words, protection for business-critical functions - and disaster recovery.
The first product and service was launched in March 2009 in the form of a hybrid on-premise and cloud data protection and business continuity service with a pay-as-you-grow approach. Customers bought an agentless, on-premise, physical and virtual server backup and replication appliance that sent encrypted data to the cloud (to Axcient data centres in fact), where at-rest data is also encrypted. Data is stored in multiple offsite locations.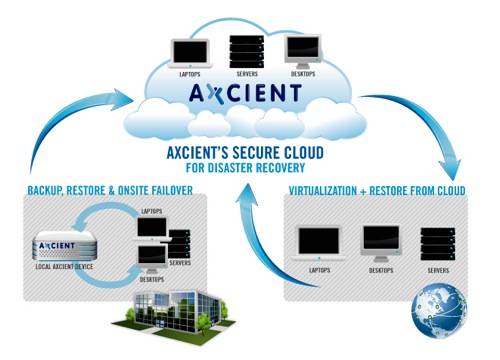 The on-site appliance provides one-click data restoration. Servers, notebooks and workstations can be protected, with every data change prompting a backup if needed. Deduplication is used to shrink the amount of data going to the cloud.
At this launch Moore said: "Axcient's service has been in development for the past two years ... We realised early on that businesses need one comprehensive service that can handle backup, recovery, archiving, and disaster recovery - without having to cobble together various vendors' products."
It sells exclusively through partners and has recruited experienced execs to run operations, finance, sales and marketing. The company expanded out from the USA into Canada in 2011 and into Europe last year.
Axcient's funding history:
March 2009 - $6m A-round
May 2010 - $2m extra for A-round
August 2010 - $9m B-round
October 2011 - $15.5m C-round
Jan 2013 - $20m D-round.
Total funding amounts to $52.5m in less than four years, and that's a lot of cash for infrastructure - but then the firm is operating data centres. The claimed growth in terms of customers and files and devices protected has been impressive. In October 2011 it said: "In 2010, Axcient achieved close to 800% revenue growth and for 2011 the company is on track to grow recurring revenues by 400 per ent over the previous year. By the end of 2011, Axcient expects to be managing two billion customer files and over 100,000 customer laptops and servers."
Since then the actual number of files protected seems to have stayed fairly constant, according to its press releases, at 3 billion or so up to December 2012. Now Axcient says it protects 10 billion files and applications. Did it add in applications to the number of files to reach a super-impressive 10 billion number? We can only speculate...
Axcient claims it is trying to replace traditional data protection - where backup software writes to a disk drive array, or even tape – with a local appliance and the cloud.
The El Reg storage desk thinks we can conclude Axcient isn't profitable yet, despite the "10 billion files and applications protected" claim. Secondly Axcient isn't a cloud storage gateway, not in the TwinStrata and Nasuni sense. These vendors offer cloud storage accessed through a gateway. Customers get rid of on-premise storage arrays completely - well, that's the promise. Their customers get their backup, business continuity and disaster recovery done in the cloud. In this sense Axcient is a halfway house: with the idea that you should keep your on-premise array for active data but protect it in the cloud.
There are plenty of cloud storage gateways around - Amazon, Ctera, Microsoft's StorSimple, Panzura and Riverbed's Whitewater. Avere is also working on adding cloud storage gateway functionality to its FXT filer accelerator.
Axcient's gamble is that SMBs will want to stop using costly and complex backup software and hardware, business continuity and DR products and services, and move to its gateway-appliance-plus-the-cloud approach. The cloud storage gateway startups are gambling that customers will want to go further, and get rid of their local storage arrays altogether and - by extension - the need for local backup software and hardware as well.
Which approach is right? We'll have to wait and see. ®