There could be trouble on the horizon for Google. Consumers in the world's biggest mobile phone market appear to be shunning big-name Android handsets for no-name Androids - with Google stripped out. That's the trend identified by Enders analyst Ben Evans in a must-read blog post here.
The dataset is mobile traffic to Baidu over a nine-month period ending September 2012. Most major handset brands have seen their share of data usage fall, at the expense of "Other", which has doubled its share from around 20 per cent to 39 per cent of traffic.
An amazing increase - but who or what, exactly, is Other? Evans explains that that are well over 1,000 manufacturers in China selling Android handsets based on MediaTek chipsets. Some are even sold by so-called "backpackmen", peddlers going from village to village, many of them without a data plan. Some of these phones are fake Western brands, but many more are made by tiny manufacturers we'll never hear about.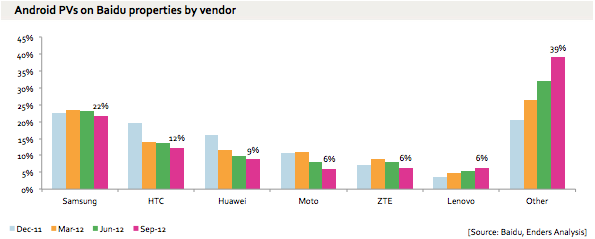 (c) Benedict Evans, with permission
What's interesting about this is that they don't "phone home" to the Chocolate Factory.
"Google receives no signalling information from these devices - it doesn't know your location or handset type, all kinds of information it uses to improve its search," Evans told us in a chat. This data is used to make inferences about behaviour for advertising purposes, too, which is particularly relevant when mobile search metadata is becoming what he calls "the New PageRank".
Evans compares the rise of the no-name Android to the rise of the beige box in the early '90s PC market - where the brand became "Windows and Intel" rather than IBM or Compaq. There are already early signs that Qualcomm is branding Snapdragon processors, as a kind of "Intel Inside".
The revolution with No Name
A couple of interesting talking points emerge. One is that Western brands may have their work cut out persuading the Chinese market to pay a premium for a phone brand. Right now they're happy to have an Android, perhaps a trade up from the Java feature phone (which still shifts 1 billion units a year). But this is rather ominous, if the trend continues.
Then again, keep in mind that this is a snapshot in time, of a nation that is developing extremely rapidly. Perhaps Chinese consumers will "migrate up" - China is a status-conscious culture that has been indoctrinated to forget about status for 60 years.
Perhaps as China is brought out of the Wild West into the patent-fee paying trade community, then no-name handsets won't suddenly seem so cheap.
It's too early to say.
The other question is one we've discussed before. Android is an extremely expensive operation for Google, which shoulders the platform development costs, but gives the code away for nothing. It would have been expensive even if Google hadn't taken the shortcuts it did - and if Jobs hadn't vowed to declare war on it. As we pointed out here, with Android, Microsoft takes the profit, and the Wonkas take the pain.
In a new interview by Official Google hagiographer™ Steve Levy, Larry Page says Android was "not impeded by the status quo" - (a nice encapsulated of the Freejadi approach to intellectual property, as it happens). He talks about focusing on the competition, and we're invited to infer that the competition he's referring to is Apple - but Apple is the least of his problems.
Amazon took Android, said "thanks very much", and forked it. So has almost half of the world's largest phone market. Will Samsung, or perhaps a consortium of rivals - or mobile operators - do the same? And if they do, at what point does Google decide it isn't worth subsidising the development? Right now it can't afford not to be in mobile, and the question doesn't arise.
But as Evans points out, it must be thinking about making a layer above Android more 'Googly'. ®