This article is more than 1 year old
Spanish startup to ship first Mozilla-phones
'Developer preview' devices to ship in February
Mozilla has taken a small step closer to finding out whether the world wants another smartphone operating system, with Spanish startup Geeksphone (working with Telefonica) announcing developer previews of two Firefox-based devices.
Details are relatively sketchy about the two Qualcomm Snapdragon-based 3G mobiles. One, the Keon, is pitched as a lower-end device with a 3.5-inch HVGA multitouch screen, 3 megapixel camera, 4GB of ROM and 512 MB of RAM. The other, dubbed Peak, has a 4.3-inch qHD IPS multitouch screen, cameras both back and front (8 megapixel and 2 megapixel respectively with flash for the rear camera), and the same memory.
Both feature MicroSD, 802.11n, light and proximity sensors, GPS. The Keon has a 1580 mAh battery, while the Peak has a little more at 1800 mAh.
Mozilla's Stormy Peters discusses the phones in this blog post.
The idea is to try and halt the drift towards the "vendor Web": Mozilla want to use its Firefox OS to push back against the way smartphone vendors wrap apps around content. In the Firefox OS world, the phone's hardware functions are accessible to HTML5.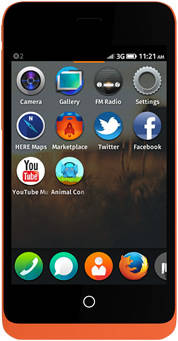 The Keon Firefox OS phone. Are you keen to own one?
Peters says the OS allows a Website to be turned into a phone app "by making some small changes to your Website". Firefox OS can be run as a desktop simulator or flashed onto a phone.
The Geeksphone developer devices are due to ship in February. ®