Microsoft's Intel-powered Surface Pro to launch in February
New accessories coming, too
Microsoft has announced the next major push in its Surface consumer hardware campaign, including the launch date of Surface Windows 8 Pro, the Intel-powered big brother to the ARM-based Surface Windows RT fondleslab that debuted in October.
In a press release on Tuesday, the software giant said its latest tablet will arrive in the US and Canada on February 9 – curiously enough, a Saturday – and that it will be available through all Microsoft retail stores, Staples, Best Buy, and "a number of locations" in Canada.
Why that particular date isn't clear. In November, Microsoft said to expect the new tablets in January, although it gave no specific date.
Pricing for the devices hasn't changed from what was announced in November, which is to say it's a bit steep. A version with 64GB of solid-state storage will set you back $899, while one with 128GB will cost $999.
Those rates might not be so unreasonable, however, when you consider that Microsoft is positioning Surface Windows 8 Pro as a general-purpose PC, rather than as a secondary device.
"Whether you're a road warrior, a student or someone who just wants a flexible and powerful Intel PC, the Surface Windows 8 Pro will deliver," Surface honcho Panos Panay wrote in a blog post, adding that the new machine is "the perfect complement to the Surface Windows RT."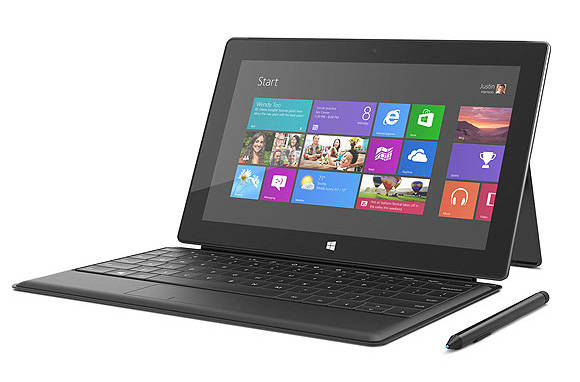 Surface Windows 8 Pro comes with a pen for input, but the Touch Cover costs extra
The Surface Pro's specs are indeed more impressive than those of the RT version. Just for starters, it runs on a third-generation Intel Core i5 processor with Intel HD Graphics 4000, rather than the Surface RT's Tegra 3.
That means Surface Pro runs full Windows 8 Pro, rather than the lackluster Windows RT, making it compatible not just with Windows Store apps but the full range of Windows desktop software. One gotcha, though: while Surface RT comes bundled with a copy of Office 2013 Home and Student Edition, you'll need to shell out extra if you want to run Office on your Surface Pro.
Redmond has upped the hardware specs on Surface Pro in other ways, too. It has 4GB of RAM, up from Surface RT's 2GB. Instead of Surface RT's 1366x768 display, Surface Pro's screen is full HD at 1920x1080, and it supports 10-point multitouch, compared to Surface RT's 5-point. And Surface Pro has a USB 3.0 port; Surface RT only supports USB 2.0.
If portability and battery life are your main concerns, though, the edge still goes to Surface RT. Surface Pro has a beefier battery, but its Intel processor needs it, and even at 42 Watt-hours compared to Surface RT's 31.5, it probably won't last as long. It also means Surface Pro is just a little bit heavier, at 2 pounds (0.91kg) versus Surface RT's 1.5 pounds (0.68kg).
As with the entry-level Surface RT, the Surface Pro list prices get you the slab itself, but no keyboard – although unlike Surface RT, the Pro version comes with a pen for drawing and handwriting input. A Surface Touch Cover with a built-in touch sensitive keyboard goes for $119.99, while the Type Cover, which features keys with a little more travel for touch typists, lists for $129.99.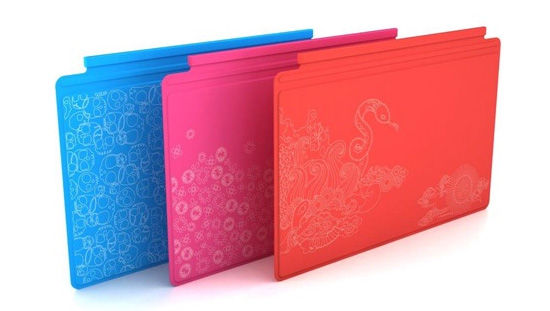 Surface Touch Cover: now with extra bling, for a limited time only
If you're feeling flush and you'd like to spend a little extra for your Touch Cover, however, Microsoft has announced a few "special edition" models to coincide with the Surface Pro launch. These feature laser-etched patterns and come in red, magenta, and cyan for $129.99 apiece.
There will also be a new Surface Edition of the Wedge Touch Mouse available. As far as we can tell, its features are exactly the same as the version announced in July, and it will retail for the same $69.95, but its sides are now a more Surface-friendly dark grey, rather than the original silver.

We assumed the Wedge Touch Mouse was designed for Surface. Apparently it wasn't, but this version was
Pricing and availability of Surface Windows 8 Pro outside of North America have yet to be announced, although Microsoft says the new slab will go on sale in other markets "in the coming weeks."
In addition, Redmond says it will soon make Surface RT available to more customers in more markets. Currently, you can only buy the ARM-based fondleslabs in Australia, Canada, China, France, Germany, Hong Kong, the United Kingdom and the United States.
Beginning soon, the devices will also be available in Austria, Belgium, Denmark, Finland, Ireland, Italy, Luxembourg, the Netherlands, Norway, Portugal, Spain, Sweden, and Switzerland – more than doubling the number of markets for Microsoft's own-branded kit.
The software giant also said it will soon begin selling a 64GB version of Surface RT without an included Touch Cover for $599. Previously, the only way to get the high-end version of Surface RT was with a bundled cover – black only – for $699.
But although these moves will expand the potential market for Microsoft's ARM-based tablets, whether consumers will bite is another matter. Independent analysts estimate that Microsoft's new hardware division had a disappointing holiday season, moving just 1 million fondleslabs since Surface launched in October. Microsoft itself – tellingly, perhaps – has not discussed its sales figures. ®