Apple shares dive after quarterly report disappoints Wall Street
Revenues up, but earnings flat
Apple released its financial results for the first quarter of its 2013 fiscal year after the markets closed on Wednesday, and disappointing results immediately drove its stock price down by over 5 per cent.
Although Apple posted record quarterly revenue of $54.5bn, a quarterly profit of $13.1bn, and earnings-per-share (EPS) of $13.81, that wasn't enough to satisfy the Wall Street moneymen – even though analysts had generally expected as much.
The EPS estimates of Yahoo! Finance's 47 analysts, for example, ranged from $11.97 to $15.50 on revenues of $52.01bn to $59.55bn, with EPS averaging $13.44 and revenues, $54.73bn. MarketWatch didn't provide a range, but its predictions were similar: an EPS of $13.48 on revenues of $55bn.
MarketWatch, which gets its prognostications both from Factset and its own research, also predicted that iPhone sales would be between 48 and 50 million, iPad sales would be between 22 and 23 million, and Mac sales would be a comparatively piddling 5 million – we are, after all, said to be in the much-touted "post-PC era".
The actual iPhone sales were 47.8 million, iPad sales were 22.9 million, and 4.1 million Macs found homes.
Let's take a look at how sales of Apple's iPhone and iPad stack up in their first fiscal quarter of this year when compared with their quarterly sales since they were released: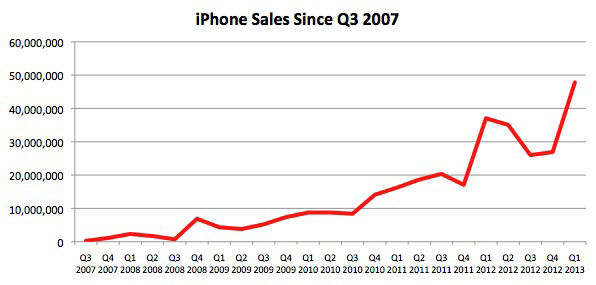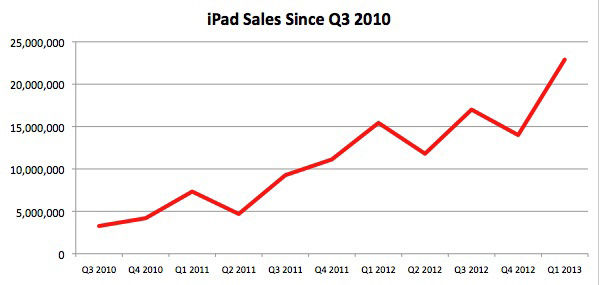 Apple's market-close stock price peaked last September 19 at $702.10 per share. It closed on Wednesday at $514.01, and before the earnings release it was hovering around $517 in after-hours trading, no doubt buoyed by tech-stock optimism engendered by Google's strong performance in its latest quarter, announced on Tuesday.
As we clicked Publish on this story, Apple's after-hours share price stood at around $485 – one reason certainly being the fact that its net income of $13.1bn was flat when compared with the $13.1bn for the same period during their previous fiscal year, even though revenue grew by 18 per cent.
Those moneymen look for growth in profits, not growth in revenues. Obviously. ®