While superfast fibre lobbyists continue to try and push nations around the world into deploying more nimble broadband networks, a report out today showed a 7 per cent slip in average global connection speeds between the second and third quarter of 2012.
Content delivery outfit Akamai revealed its latest analysis relating to web traffic flowing through its service, which it uses for its quarterly "State of the Internet" stats.
It found that the global average connection speed fell to 2.8Mbit/s during Q3 compared with last year's second quarter.
However, while the figures appeared to slightly falter, faster broadband saw an 11 per cent uptick year-on-year, Akamai found.
The country that continued to have an headway over the rest of world's connection speeds was South Korea, averaging 14.7Mbps, while Japan and Hong Kong weren't too far behind racking up 10.7Mbit/s and 8.9Mbps respectively.
Peak faster broadband connections also hit a speed bump during the period, the figures showed, with a quarterly 1.4 per cent decline to 15.9Mbit/s. But year-on-year, the outlook was sunnier for proponents of fibre networks with the global pattern growing a massive 36 per cent.
The company said:
Akamai observed global broadband (>4 Mbps) and high broadband (>10 Mbps) adoption showing solid gains in the quarter. The global high broadband adoption rate grew by 8.8 per cent quarter over quarter, reaching 11 per cent, while the global broadband adoption rate increased 4.8 per cent, growing to 41 per cent.
In the UK, analysis of 26 million unique IP addresses during the quarter showed an average connection speed of 6.3Mbps and a peak connection speed of 28.1M/bits.
That pushes Blighty to twelfth place overall in Europe behind Switzerland (8.7Mbps), Latvia (8.7Mbit/s), The Netherlands (8.5Mbit/s), The Czech Republic (7.6Mbps), Denmark (7.2Mbit/s), Finland (6.8Mbps), Sweden (6.8Mbps), Ireland (6.7Mbit/s), Belgium (6.7Mbit/s), Austria (6.5Mbps) and Romania (6.4Mbit/s).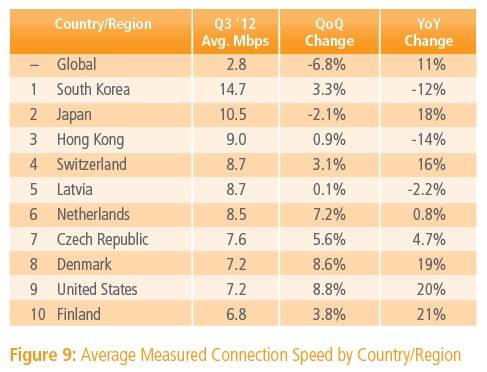 UK nowhere to be seen on top 10 list of countries with the best average connection speeds. Image courtesy of Akamai
The British government, which is currently mulling over a long, drawn out [Ed: yes, we're bored already] exit from the EU might rest easy with the knowledge that it is now comfortably ahead of Germany (5.9Mbps) and France (languishing behind on 4.8Mbit/s).
The UK Culture Secretary Maria Miller hopes to have "the best superfast broadband network in Europe by 2015".
Britain is moving up the tables, however. Globally, it is now ranked at number 17 and in the past year it has seen a 24 per cent change in average measured connection speeds and an 11 per cent climb quarter-on-quarter to hit 6.3Mbps. ®
Similar topics