A lot more short-range devices, including US-safe models, could be used in the UK, as Ofcom asks if anyone minds another 12MHz of spectrum being released for public use.
Ofcom is consulting on whether two 4MHz chunks of spectrum should be opened for unlicensed use by short-range devices (SRDs), noting that if the MoD stumps up another pair of 2MHz slices (as it has said it will), then that could put the American 915MHz band within the British grasp, assuming the mobile operators don't kick up too much of a fuss.
The bands concerned start at 870MHz and 915MHz, and both are 6MHz wide - with the lower 2MHz of each currently assigned to the Ministry of Defence, which is happy to hand them over. That would provide another 12MHz of ISM (Industrial, Scientific and Medical) spectrum for RFID tags, remote-controlled garage door openers and smart electricity meters.
The current government is obsessed with Smart Meters, convinced that once we know our 1KW heater is consuming 1KW of energy we'll immediately turn it off, and the Department of Energy and Climate Change has proposed reserving part of this band to ensure we get the information we're too stupid to work out for ourselves.
The Fire Department might also make a grab for 25kHz of the band, for the reporting of its breathing apparatus telemetry systems, but it's the mobile operators which are most likely to make a fuss.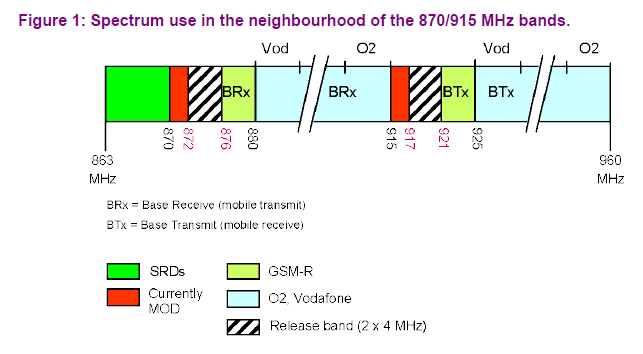 Short-range devices in the UK currently use the 868MHz band, which stretches from 863 to 870MH. That snuggles up to the top of the digital dividend band currently being auctioned off, but Ofcom has already established that being neighbours shouldn't cause either application undue interference.
If the new bands are released then they'll butt up against the GSM-R network run by National Rail, and come close to Vodafone's 2G frequency. That 2G band is already being filled with 3G, and should be cleared soon for 4G use - though as it's only 5MHz wide (perfect for 3G, but a little tight for 4G), it is unlikely to be filled with LTE any time soon.
Similarly, the Telefonica-owned band which knocks against 915MHz is also 5MHz wide, and so is likely to remain 3G for the foreseeable future. Meanwhile the Vodafone band, which starts at 925MHz, is the pair of the lower neighbour and thus locked to the same technology.
Short-range devices in America get 26MHz of bandwidth running from 902 right up to 928MHz, which would tread hard on the toes of both Telefonica and Vodafone, but having 10MHz available in the middle of the US band would enable devices which kept within that 10MHz to be used on both sides of the pond.
The bands are empty in most of Europe too, which increases the economies of scale again - for everyone except the Dutch.
Ofcom's remit, as the regulator never ceases to remind us, is to ensure maximum utilisation of frequencies, something it usually achieves through auctions such as the ongoing 4G sell-off, so it is always nice when an analysis shows giving the band away will lead to greatest utilisation. Here's hoping the operators don't kick up too much of a fuss before the consultation (PDF, dull but worthy) closes at the end of March. ®
Similar topics