Western Digital's latest quarterly financial results signal a retreat in revenue and profits. Recession helped reduce both figures and the floor is not yet in sight.
For its second quarter of fiscal 2013, which ended 28 December 2012, revenues were $3.8bn, an impressive 89 per cent increase on the year-ago quarter. Net income was $335m, up 131 per cent, but not as high as the whopping figures from the strong Q4 fy2012. We're waiting for this sudden rise and fall to settle down.
The revenue and profit numbers were both higher than Wall St expected.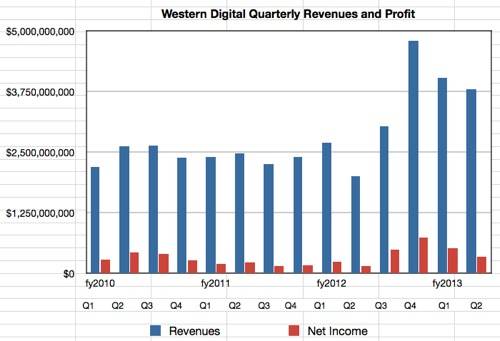 We've looked at WD's profit (net income) as a percentage of its revenues over the last few quarters. This should indicate how well WD is doing at getting a profit from its sales. Here's the chart: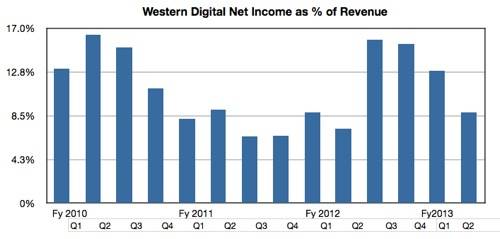 Up and down, isn't it? WD just completed a third quarter of declining profitability in this sense. In its fiscal 2010 year three consecutive quarters had a net profit margin 12.8 per cent or more. Then it dived, reaching a low point of 6.5 per cent in fiscal 2011.
Flooding in Thailand, which disrupted hard drive production and increased the scarcity of disks, sent the profitability percentage up to 15.9 per cent. But it's now fallen for three quarters and is down to 8.8 per cent. We think WD will be working hard to get this higher, not least through moving into higher value and higher margin areas such as small-biz backup products through its Arkeia acquisition.
WD shipped 59.2 million disk drives in the quarter, less than the 62.5 million in the prior quarter and the peak 71 million in the quarter before that.
President and CEO Steve Milligan, reporting his virgin quarter as CEO after John Coyne's retirement, attributed the results to "an environment marked by continued macro economic uncertainty, soft PC demand and inventory rebalancing by our customers".
In other words, customers didn't buy enough kit. The earnings call provided more detailed information.
Milligan gave his view of HDD demand: "We believe that the overall market for hard drives is beginning to stabilise. We expect demand for the first half of calendar 2013 to be flat to slightly down compared with the back half of 2012. However, we are cautiously optimistic for the back half of 2013."
He's cautiously optimistic because worldwide economies are slowly improving and WD's PC-making customers have stopped cutting back their disk drive inventories. There are even "early indications of consumers' stronger intentions to purchase new PCs this year". Hallelujah and wipe Steve Ballmer's perspiring brow. Relief for the Microsoft chief is at hand.
WD's strategy is to focus on three areas: "public and private clouds, thin and light client systems and the Connected Life or personal cloud for homes and small businesses".
In the cloud area, WD has seen "broad interest" in its new helium-filled hard disks, probably because there's no competition to its capacity level and 40 per cent energy saving. Solid-state drives were a highpoint and Milligan said: "For the third consecutive quarter, we had double-digit revenue growth with our SSD enterprise drives." That refers to the Hitachi GST SSDs, mostly.
In the connected life area, "we see tablets with USB ports driving adoption of direct-attached devices. We are also seeing tablet users increasingly adopt our network-attached storage for added capacity."
CFO Wolfgang Nickl talked about the product mix in the quarter: "Notebook and desktop [drives] were combined slightly down when compared to the September quarter, enterprise and branded were up quite a bit."
Milligan discussed WD's 7mm and 5mm thick hybrid flash-and-disk efforts: "We're shipping engineering samples to customers. We're actively engaged with them in terms of working with them as to how to utilise the new form factor as well as the solid-state hybrid drive. But we don't expect any revenue to materialise until we move into the back half of calendar 2013, with hopefully it being more of a meaningful contributor particularly as we move into 2014, calendar."
There was a hint during the earnings call that WD could reduce its production capacity in line with the lower levels of demand.
Milligan also discussed the Arkeia acquisition: "It was not a significant acquisition from a dollar amount perspective, but it does add the building block to our product capability in the SMB market and so really what we're trying to do is continue to improve our offering. And obviously, as we improve our offering, we're going to have to make other investments, prudent investments, to increase our presence in that marketplace."
In other words WD will invest to strengthen the value of the Arkeia brand.
Nickl shared his outlook for the next quarter: "We expect a total available market flat to slightly down when compared with the December quarter. Revenue in the range of $3.55bn to $3.65bn reflecting the current demand environment, the seasonal change in business mix and the conclusion of our 3.5-inch contract manufacturing arrangement with Toshiba." Revenue down again in other words; a third consecutive quarter of revenue decline. ®