Rom problems
And sell the Oric did, especially over the Channel in France. There, some 35,000 machines had been sold by late September 1983, according to one contemporary report citing OPI, more than the 21,500 sold in the UK. Overall sales were around 72,500 units.
And this despite some early reviews' errors and some serious issues. Cables were found to fit poorly, most notably the power line: a slight knock and the Oric shut down for want of electricity. Then there was the Basic. Early machines booted into "Oric Extended Basic 1.0 © 1983 Tangerine", according to the computer's start-up screen, and the first users found it to be rather buggy. "In the first systems IF... THEN worked but IF... THEN... ELSE didn't unless the first statement in the ELSE clause was a PRINT statement," noted Personal Computer News in its 29 April 1983 issue, adding that a fixed Basic was due in "weeks".
"The faults in the Basic language have been tracked down and corrected," Barry Muncaster told What Micro? early in 1983, referring back to reviewers' grumbles. "A new ROM has been ordered and should be in all machines leaving the factory after the start of April." If the PCN report is anything to go by, that didn't happen - or if it did, it left a fair few issues unresolved. By October Oric sources were telling Home Computing Weekly that this "new Rom will make cassette handling and the TAB command more reliable" - both problems that went back to the early Roms.
The cassette routines were widely criticised in the early days, with bundled software tapes often failing to load no matter what cassette player was used. OPI blamed Cosma, the Witney, Oxfordshire based company that duplicated Oric's cassettes. "There was a technical problem with the tapes," said Paul Johnson at the time. "The problem was purely down to the quality of the duplication."
Taped out
Cosma denied the claim and insisted Oric's hardware was to blame. "The Oric machines appear to have a problem. We test our production rigorously, and our data duplication company is one of the highest quality," said a Cosma representative. "We can take any sample Oric likes, and load it."
Wherever the fault lay, it was Oric owners and coders who had to deal with it. At October 1983's Personal Computer World show, software developer Softek showed off an Oric Basic compiler which it said would ship by Christmas. OPI was tight-lipped, but many users crossed their fingers and hoped this meant a bug-free Basic would be with them by the festive season. To date, OPI had chosen to reveal very little to machine code writers about the Oric Rom's routines, claiming it software licence prevented it doing so and that changes might invalidate published information, breaking code written on the back of it.
Paul Johnson reveals that Tangerine was not merely an early licensee of Microsoft Basic, but that it also owned an OEM licence allowing it to sub-license the code, which it did, to OPI. Both Johnson and Paul Kaufman recall that Microsoft's code, supplied as source files on a floppy, contained many bugs which OPI's software team had to fix. The glitches were duly reported back to Microsoft, which ignored them until Barry Muncaster threatened to withhold future instalments of the licence fee. "After that, we got a letter from Paul Allen telling us 'Bill was on the case'," recalls Johnson.
Meanwhile, the cost of ramping up production, and of developing promised disc drives, a modem and a printer, all of which had to be delayed a number of times - from June to September and then on into 1984 - was burning through OPI's funding. It was growing too big, too quickly.
Chairman John Tullis said at the time he foresaw the problem in the Spring of 1983 and began seeking new funding. In October, he announced that Edenspring Investments PLC, a property speculator, would acquire OPI in order to bring in fresh finance to help cover OPI's growing R&D costs and its plans to expand into new areas of business, and to clear debts.
Edenspring
"Because we are increasing our trade so rapidly and going into a number of new products in 1984 we have had to widen our capital base to finance the developments. We would not have been able to fund that ourselves," Tullis told the press and punters. He revealed the deal would give Oric the cash it needed to expand its business for 12 more months, and OPI spun the investment the basis for growth. But Peter Jones, Edenspring's joint MD, revealed that "Oric's cash requirements are, well, quite pressing". The reverse may have been true too - Paul Johnson recalls that, after the deal was struck, the shine came off a number of Edenspring's property holdings.
The acquisition saw Edenspring offer OPI's creditors shares to cover £1 million in debt, and the release of further shares to raise £750,000 in cash. Outside of OPI, the move was viewed as a sign the company was in difficulty. But Johnson says the Edenspring deal was partly inspired by Acorn's September 1983 flotation on the Unlisted Securities Market (USM): rather than float OPI, a costly process, it was cheaper to have Edenspring, which was already listed, buy the company.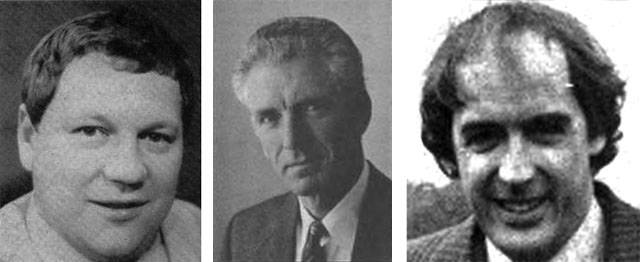 OPI dramatis personae: (L-R) Peter Harding, John Tullis and Barry Muncaster
Stock Exchange rules, however, meant Edenspring lost its listing, forcing the shares to be traded on the less prestigious private over-the-counter market. At the time the scheme was announced, Edenspring shares were trading at 9p each, valuing OPI at £8 million.
One casualty of the Edenspring acquisition was the temporary shelving of plans to introduce a IBM PC-compatible micro, presumably for cost reasons. Barry Muncaster signalled the scheme during September 1983 in response to 'Peanut', a version of the PC IBM was developing for the home market. Oric's machine was to have been priced at £200, Johnson recalls. Eventually the Big Blue machine would be released in November 1983 as the PC Jr. Cheekily inverting the story, Muncaster told Popular Computing Weekly that "Oric will produce a product which the Peanut will be compatible with".
He also forecast that "Peanut will be very successful", which also proved to be the exact opposite of what eventually happened. The PC Jr, Time magazine later wrote, "looked like one of the biggest flops in the history of computing".