Fire in the hole
Worse luck came sooner: Kenure Plastics' Berkshire factory, site of Oric-1 production, was consumed by fire on the night of 13 October, wiping out stocks of finished Oric-1s - around 7000 - and unassembled components. Production began again at a nearby facility almost immediately, but it was news OPI and Tangerine could have done without.
Still, the following month, OPI told the world it had shipped 120,000 Oric-1s - fewer than half the 350,000 Oric Owner's June/July issue claimed had been ordered during the first half of the year - and that it expected to record sales of more than £10 million by January 1984 "putting Oric in the top league of British home computer makers". Weekly sales data produced by research company MRIB show the Oric-1 rising from fifteenth place in the Top 20 Sub-£200 Micro Chart to peak at number three at the start of May. Over the coming few months it was drop to eighth place but then rise again, to fifth, overtaking at times the ZX81, the Vic-20 and the Dragon 32 but never really challenging its arch-rival, the Spectrum.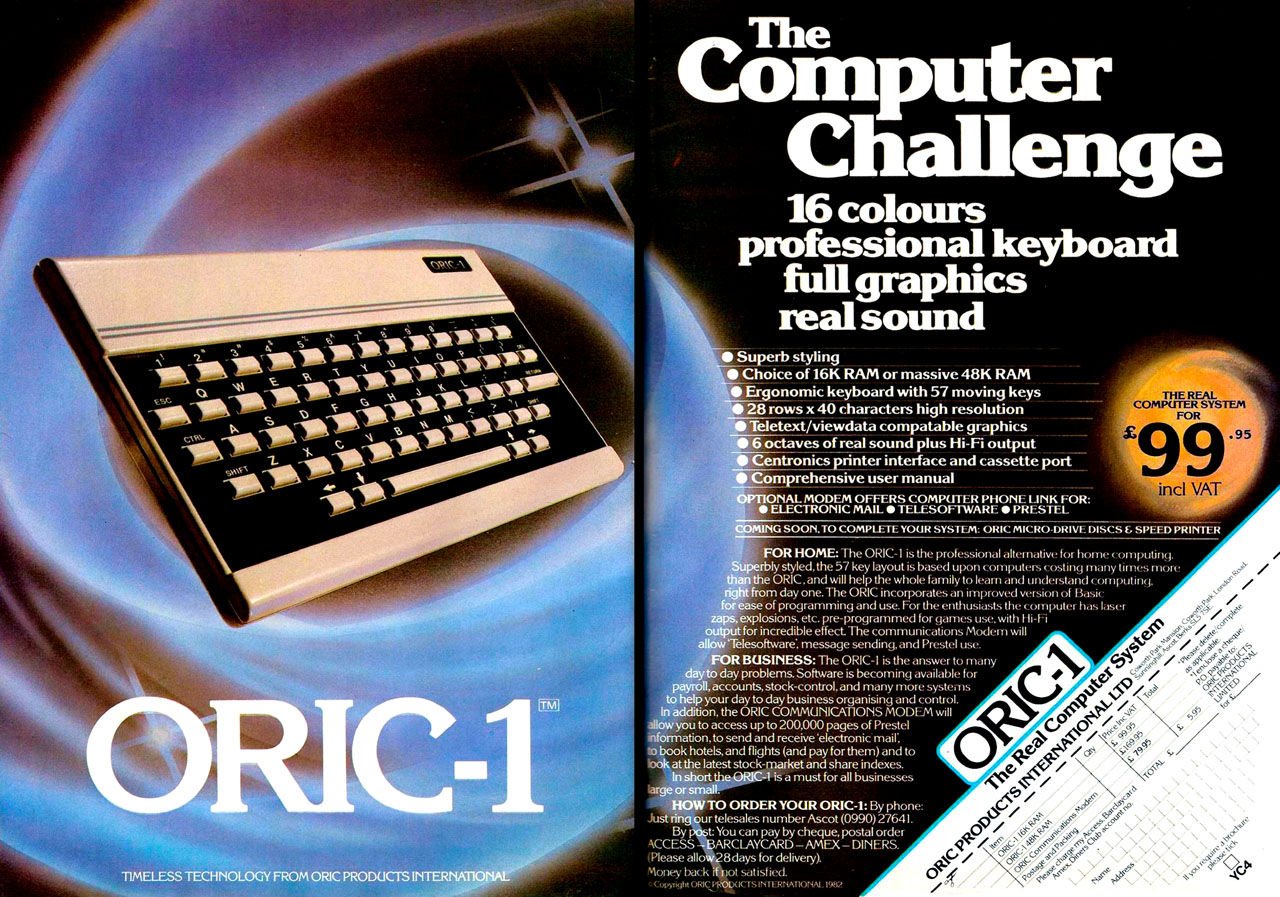 Advertising the Oric-1
OPI's ambitions stretched beyond micros. "In addition to sustaining growth in the volatile home computer market," the company said, "Oric is broadening its product base into business communications and opto-electronic systems which are being developed at its new 11,000sq. ft. Cambridge R&D centre."
John Tullis said at the time: "I intend to widen the company's product base and it is hoped that within two years computers and peripherals will form no more than 50 per cent of our business." Paul Johnson recalls the establishment of a new company, Oric Medical, to devise technological products for clinical settings, including a gadget for reading blood pressure through a fingertip sensor.
Making that possible was a further £4 million from Edenspring which, having made its initial investment, now swapped OPI shareholders' Oric stock for its own shares, named Barry Muncaster MD and put Tullis on its board, neatly completing OPI's reverse acquisition of the firm. The firm had great hopes for 1984.
Yet the Oric-1's days were numbered. Conceived in April 1982, formally launched in January 1983, it would be succeeded in January 1984 by the Atmos. At the 1's launch, OPI Marketing Manager Peter Harding had talked about a successor machine appearing in 15 to 18 months' time, and, by March 1984, 15 months after its formal launch, the Oric-1 was indeed no longer in production.
Atmos
The Atmos' arrival was somewhat overshadowed by the debut of the QL, Sinclair's attempt to break out of the home computer market into the more lucrative business arena, as Tangerine had once dreamed of using the Tiger to do. But the new Oric wasn't much of an upgrade: the Atmos was simply an Issue 4 motherboard Oric-1 in a new case - once again designed by Paul Durgin - that featured a bigger, but not, admits Paul Johnson, better, keyboard. It also shipped with, at long last, a fresh Rom, version 1.1. It still contained some issues, but the worst version 1.0 bugs were squashed.
Yet the Atmos wasn't the new machine many Oric fans had anticipated. "I don't see how anyone can call the Atmos a new product," grumbled Your Computer reviewer Bryan Skinner. It's no wonder then, that by February 1984 Barry Muncaster was already talking about a successor - "the likely name is Stratos", reported PCN - a third Oric machine that, it seemed, would be out before the peripherals - modem, disk drive and printer - promised would accompany the first in the series.
Users had to wait until October 1984 for the modem when, as Personal Computer News tartly put it: "Oric has produced the micro world's equivalent of proof that the Loch Ness monster exists - it has released a modem." This despite OPI telling the world the previous March it had canned the product...
The Stratos - at least, the machine Muncaster had hinted at - likewise took some time to emerge. OPI talked up the Stratos - aka the IQ164 - in December 1984, but it was largely an upgraded Atmos, itself a revamped Oric-1. Only two Rom cartridge slots, one for the Basic interpreter or any other language, the other for applications, marked it out from its predecessors. It would appear eventually as the Telestrat, released in the latter half of 1986 by Eureka Informatique, the French firm that acquired OPI "for several hundred thousand pounds" in May 1985.
Christmas 1983's lower than expected home computer sales hurt many a UK manufacturer. It contributed to the demise of Dragon and of Lynx creator Camputers, and almost did for Acorn. But 1984 proved an even tougher trading environment indeed, thanks to declining demand for home micros and a fall in the Sterling-Dollar exchange rate driving up the cost of components - the prompted OPI to up the Atmos' price by £20 to £190. More computers were being sold through the major chains, which demanded lower and lower prices, crushing vendors' margins.
Many folk thought Oric would not survive 1984. Finance Dir Allan Castle was repeatedly called upon to deny the company was in difficulty. In August, he claimed sales were running at £2m a month after record sales of £2.5m for June. Toward the end of the year, Barry Muncaster boasted Oric/Atmos sales had topped 350,000 units in the first two years - "by then Sinclair hadn't got round to the ZX81".
The beginning of the end
Legal action hounded OPI throughout the year. Pan Books sued over alleged non-payment of fees for the production of the Atmos manual; OPI sued its new, exclusive distributor Prism for £4m - it was awarded £320,000 - after unsuccessfully attempting to sue KMP, its advertising agency, for the same amount. Durrell Software had a go too, and Teknocron Circuits tried to have Tangerine Computers Systems - seemingly dormant for the past two years - wound up, claiming TCS still owed it money for making the Tantel 170 boards.
During 1984, John Tullis stepped down as OPI's Chairman, to follow other business interests. He was replaced by Edenspring chairman David Duguid.
OPI formally launched the Stratos just over two years after the Oric-1, on 1 February 1985, but this time it went into receivership almost immediately - and before it could launch the two IBM compatibles it had suggested in November 1983 it was working on, not to mention the MSX box and 68008-based QL killer it talked up separately. "We could solve Acorn's problems at a stroke," boasted Muncaster.
Maybe, but he couldn't fix OPI's woes. Edenspring put the company into receivership on 2 February 1985, "after months of speculation", as contemporary press reports put it; new Tansoft chief Bruce Everiss said: "Oric has been looking over its shoulder at the receiver for about six months now."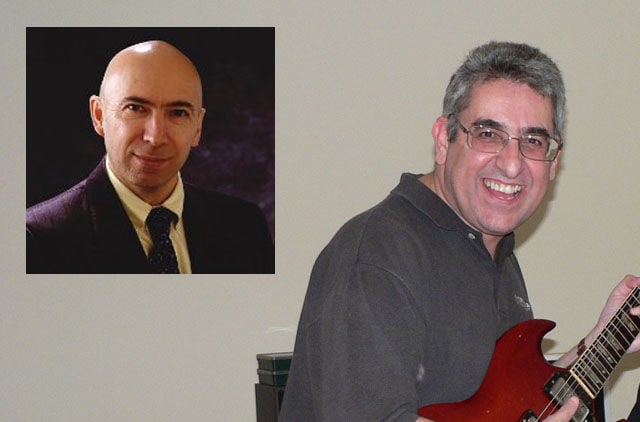 Oric survivors today: Paul Johnson (inset) and Paul Kaufman
Everiss was made redundant; Barry Muncaster resigned from OPI and Edenspring and took over the management of Tansoft. For a time: Tansoft went under in May. OPI's debt was estimated at £5.5 million. ASN, OPI's French distributor put in a bid for OPI, but it was rejected. So was a bid from Muncaster. Eureka picked up the pieces shortly afterward, and OPI continued not as an English company but as a French one - appropriate, since its machines had always been more popular there. Eventually, Eureka, which restyled itself Oric Products International, crashed too, in December 1987.
OPI's closure in the UK saw the departure of Paul Johnson and Barry Muncaster. Johnson went on to establish a number of semiconductor design consultancies, including Array Consultants and Energys, and went on to acquire and run Cambridge Consultants' fabless semiconductor company Cyan. He's now a consultant advising semiconductor and electronics start ups and investors. Muncaster eventually took on a number of senior roles in the biotechnology industry.
Peter Harding died in 2004. Paul Kaufman quit Tansoft toward the end of 1983 to found Orpheus, a multi-platform software developer, and later ran LanSource. These days he's in charge of music-computer kit maker IK Multimedia's UK sales operation. His successor at Tansoft, Bruce Everiss, went on to become marketing chief of Codemasters, organised the All Formats Computer Fairs, and now is in charge of communications at Kwalee. ®
Sponsored: Ransomware has gone nuclear