Exclusive Facebook is squirrelling away search results about its users' public events that could once be easily found through Google, The Register has learned.
The move appears to have followed the unveiling of the social network's Graph Search, a beta version of which has been deployed to its one-billion-strong active userbase. Naturally, we've asked Facebook if this is a bug.
By way of example, events that are listed as "public" within Facebook can no longer be viewed via Google unless one logs into Facebook. It's easy enough to test by simply putting the following string into Google's search engine and hitting one of the returned results:
like: dance "January 2013" site:facebook.com/events
What's interesting is that Facebook now takes anyone clicking on the search results directly to its HTTPS-encrypted login page, which is a significant change to previous Google queries as its web-page cache clearly shows. Once logged in, one can see the "public" event, but for those who don't have nor want a Facebook account, the back button in your browser is your escape route.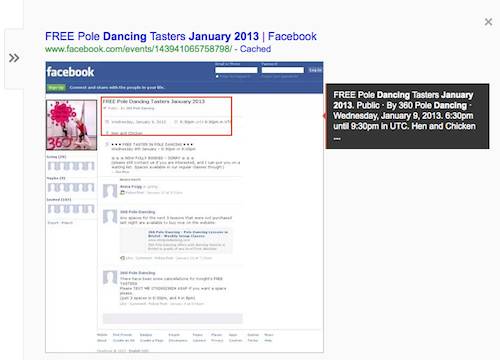 Google's cache shows that this public event for pole-dancing was recently searchable on the web.
But the link tells a different story
It appears Facebook has made its "public" pages private to web searches, and it's not just shunning rival Google. Microsoft's Bing, which recently defended its skating-on-ice relationship with Mark Zuckerberg's web company, also has its search results for the social network redirected to Facebook's login page.
But Bing's web-page cache for all sorts of public events on Facebook equally shows that the change has been a very recent one.
Just yesterday, Facebook was forced to defend its new Graph Search function, after a blogger revealed how easy it is to dig up compromising information about Facebook users.
It is trivial, for example, to find people who back the spiritual discipline Falun Gong and have relatives in China, where that organisation is banned - a search that may be of interest to the Communist state's officials.
It's also simple to find married people who "liked" prostitutes - and locate the wedded folks' spouses.
Facebook's Michael Richter explained:
Just as you control who can see your friend lists, your friends control who can see their friend lists. Someone might be able to tell that you're friends with another person - and search based on that friendship - if they can see your friendship on the other person's timeline. So if you're concerned about people searching for info about your friends, you can ask your friends to limit who can see their friends list as well.

Some people have asked us why search works this way. The reason is that we want people to be clear on who can see info about them not only in Graph Search, but elsewhere on Facebook - such as on timeline or in News Feed. Privacy controls work consistently across Facebook.
Reg comment
What Facebook is in effect telling its users is that the company needs to build a web within the web in order to encourage everyone to create an account and make Facebook more money as it fends off Google.
The endgame is to tie together all the data it holds on its users to precisely target advertising and boost revenues. It's watched Google pocket billions and billions of dollars by building a search engine that indexes the internet - Facebook wants in on this but it ain't in the mood for sharing its own wealth of data with anyone.
Team Zuck now has to connect the loose dots between friends of friends to create that web within the web and allow its Graph Search function to fully milk the 4.7 degrees of separation that apparently exists on the network.
Which is perhaps why public events are now private to anyone outside of the network. Facebook has always been clear that it relies on tying real-life information to individual identities. No wonder, then, that the company is now confining its search results only to its community.
But it's also worth noting that advertisers had early access to the kind of results slowly becoming available to Facebookers via Graph Search. And that's probably all we need to know about why such information is being ever-more locked down within Facebook's silo. ®
Similar topics