This article is more than 1 year old
NEC uncloaks freebie virtual switch for Hyper-V
The OpenFlow bait gets a Windows Server 2012 switch
Japanese server and switch provider NEC jumped out in front of other players in the market with an OpenFlow controller for managing forwarding tables and network workflow in virtualized switches, and now it has coded up its own virtual switch that runs inside of Microsoft's Hyper-V hypervisor.
Like server virtualization rival VMware, Microsoft has its own virtual switch. Its Hyper-V Virtual Switch is a software-based Layer 2 switch that is part of the Hyper-V Manager, which was updated with Windows Server 2012 last year with multi-tenancy, traffic-shaping, and security features to help lock down network traffic on shared systems much as the hypervisor locks down compute and memory for virtual machines.
VMware, in fact, has two virtual switches in its portfolio after spending $1.26bn last July to buy software-defined networking upstart Nicira. VMware now controls the Open vSwitch coded up by Nicira as part of its own OpenFlow SDN efforts, which was picked up by Citrix Systems and is embedded in its commercial-grade XenServer hypervisor years ago, and which has also been adopted by OpenFlow and SDN rival Big Switch Networks, uncloaked from stealth in November. VMware also had its own vSwitch virtual switch, part of its vSphere server virtualization stack and which integrates with its ESXi hypervisor.
And if you want to be really technical, VMware also supports the Nexus 1000V from Cisco Systems as a virty switch for its ESXi hypervisor, so that's really three. In the fall of 2011, Cisco also ported this Nexus 1000V virty switch to the then-future Hyper-V 3.0 hypervisor from Microsoft, and last October it announced a cut-down-but-useful freebie edition to counter the free virty switches available for Hyper-V, ESXi, and KVM (which can run with Open vSwitch and actually prefers it at the moment).
So now with the addition of the NEC ProgrammableFlow 1000 virtual switch for Hyper-V, both Microsoft and VMware have three different virty switches.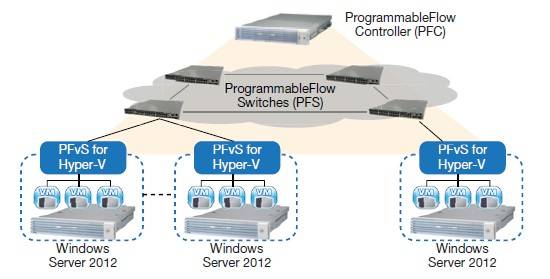 NEC can do physical and virtual switches for Hyper-V and Windows Server 2012 servers
As El Reg explained last fall, Cisco's "freemium" pricing for the Nexus 1000V aptly demonstrated last year that a virtual switch is not worth any money, but that does not mean it is not a control point in the network, and that customers used to dealing with certain flavors of physical switches and their management interfaces will not want to have a similar virtual switch inside their hypervisors.
That, in a nutshell, is why NEC has kicked out a virtual switch of its own that plugs into the Hyper-V hypervisor from Microsoft. NEC wants to sell lots of physical switches that are equipped to run the OpenFlow network virtualization protocol, which puts the forwarding plane normally inside of a switch on a central controller called, appropriately enough, an OpenFlow controller.
To do that, you need a compatible virtual switch. As it turns out, the ProgrammableFlow PF1000 virtual switch from NEC is compatible with Microsoft's Hyper-V Virtual Switch and looks and smells like an NEC physical switch.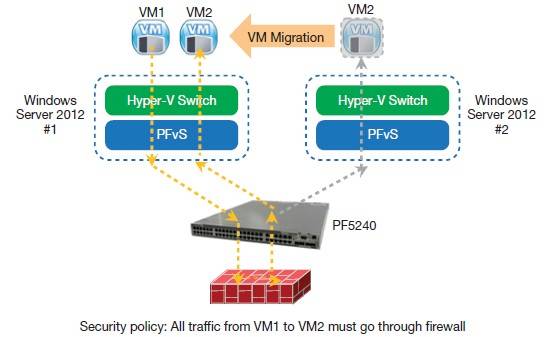 VM live migration and OpenFlow work together on the NEC stack
The NEC SDN stack includes the ProgrammableFlow PF6800 OpenFlow controller appliance, which was the first generally available commercial-grade OpenFlow controller on the market when it came out in the fall of 2011. (There are many OpenFlow controllers out there, and a number of them are open source, but NEC was first up to put its support organization behind its network control freak.)
Among its many jobs, the OpenFlow controller keeps track of changes to forwarding tables distributed across physical and virtual switches as virtual machines do live migrations, flitting around server clusters like bumblebees in search of that sweet nectar of unused CPU and memory capacity. By using an OpenFlow controller, you can get an order of magnitude increase in the number of VM migration reconfigurations that you can handle from one place.
NEC also sells the PF5240 and PF5820 OpenFlow-compatible switches as part of its SDN stack. The PF5240 is a Gigabit Ethernet switch with 48 ports plus four 10 Gigabit Ethernet uplinks, and has 176Gb/sec of switching throughput all crammed into a 1U chassis. The PF5820 has 1.28Tb/sec of switching bandwidth – a lot more oomph, indeed – available for its 48 10GE ports and four 40GE uplinks. As with many switches, you can use cable splitters and convert each 40GE uplink into four 10GE ports if you want a 64 port switch.
NEC has not updated its switches along with booting out the first virtual switch for Hyper-V. The company similarly did not elaborate on when it might make the PF1000 virtual switch compatible with earlier generations of Windows Server or other hypervisor and operating-system mixes.
What NEC has done, however, is tweak the PF6800 OpenFlow controller so that it now speaks IPv6, making NEC the first OpenFlow controller provider to do so. NEC has also certified its OpenFlow switches (both physical and virtual) and its OpenFlow controller to run with the "Folsom" release of the OpenStack cloud control freak, and specifically, it is plugging into the Quantum networking APIs that Nicira cooked up for OpenStack before it became part of VMware.
The updated PF6800 controller also now has a new set of REST APIs that expose north-south network traffic to scripting as well as the east-west traffic that is increasingly common in clusters these days. The PF6800 OpenFlow controller most certainly is not free, and costs $70,000. If you want to have the controller talk to the virtual switches, you need to pay an additional $14,800 for a license to cover ten switches. ®