Seagate stuffs $40m into flash card shuffler Virident
Watch out, Fusion-io... we're coming to get you
Number two disk drive manufacturer Seagate reported adequate results for its second quarter and also 'fessed up to making a $40m investment in PCIe flash card maker Virident.
Revenues for its second fiscal 2013 quarter were $3.67bn, a nice 14.7 per cent increase on the same quarter a year ago but down 1.7 per cent or $62m on the first 2013 quarter. Its net income was $492m, 12.6 per cent down on the year-ago profit and 15.5 per cent down on the preceding quarter. The Thai flood-driven price rises are over, and a period of extraordinary Seagate profits is over with it.
Seagate made 58.2 million drives in the quarter. This represents a 24 per cent annual increase but only a 1 per cent sequential increase. WD shipped 59.2 million drives in its equivalent quarter.
Seagate's outlook for the next quarter is between $3.25bn and $3.45bn in revenue, which would make a third quarter of sequentially declining revenues.
Longer term, the firm sees a big opportunity for hybrid flash/disk drives in thin and light notebooks and also tablets.
Looking at the revenue comparison with WD, which earned $3.8bn in its comparable quarter, the difference has closed to just $130m. The chart shows that Seagate is in striking distance of equalling WD's revenue next quarter or even overtaking it if things go really, really well.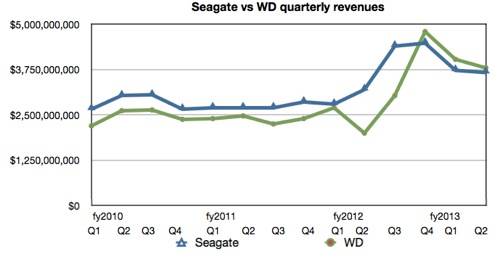 The Virident stake
Virident, a privately owned maker of server PCIe flash cards, underwent a CEO transplant in September last year along with fourth round funding of a $26m coming from "Cisco, Intel and a major but unidentified IT supplier," when, we think, sales of its FlashMax cards failed to generate enough revenue.
Now Seagate and Virident have announced that the former has made a strategic investment of $40m in the falsh-card maker and will immediately offer a line of Virident-sourced PCIe flash card products for enterprise servers to its OEM and distribution partners. Seagate gets a Virident board seat and the two companies "intend to leverage their mutual strengths to create next-generation hardware and software solutions for the solid-state storage market." These new products will also be PCIe-connected products.
Virident FlashMax card
Mike Gustafson, Virident's CEO, cast more light on this, saying: "This partnership validates Virident's vision of pervasive flash in the performance tier and accelerates our shared vision by bringing next-generation SCM solutions to the enterprise and web data centres worldwide." S
CM is storage class memory and involves flash being viewed by applications running in the servers as an adjunct to main memory, accessed in the same way as DRAM, albeit slower, and not classed as storage with access through the server operating system's disk-based I/O subsystem.
This is a song that Fusion-io has been singing for some time, and Seagate also has an investment in Fusion-io. Virident's architecture is thought to be close to Fusion-io's. Naturally Virident is thrilled at having Seagate's channel pump its product to market and give it some needed volume. It's a coup for new Virident CEO Mike Gustafson.
In the Seagate earnings call, Rocky Pimentel, Seagate executive vice president and chief sales and marketing officer, said: "I think we're pretty excited about this engagement with Virident, not only to we have a strong go-to-market initiative, but also strong development initiative forward. And so as a result, we'll have a stack in SSD solid state solutions that stand from the client all the way through to the flash server, high application, data demands of the massively scale data centre." That sounds worth spending forty million bucks on.
Seagate's EVP operations, Dave Mosley, said: "Certainly the Virident product solution is a very pertinent solution for the hyper-scaled cloud providers," and talked about a "huge opportunity with Web 2.0 customers."
Seagate already has a line of Pulsar SSDs. Just two weeks ago, El Reg storage desk wrote that when a refreshed line of SATA and SAS Pulsars became known about, "a move into the PCIe flash card for servers space from Seagate would be logical." It seems we were right. ®