Old-man EMC stirs from slumber, finds a pile 'o gold under its feet
Whoever was buying storage arrays for Xmas, Big Joe says thanks
---
As last summer drew to a close, EMC was fast asleep in terms of sales growth. But not any more. The tech giant awoke with a jolt during the Christmas quarter to teach a lesson in how storage companies should be run.
Revenues in the fourth quarter of EMC's 2012 calendar year rose to a record high: $6.03bn. A year ago they were $5.6bn, so that's an 8.2 per cent increase. Traditionally, the data-vault biz has higher takings in its Q4 than its Q3, and last year it experienced the same: a $750m sequential increase, that's a 14 per cent rise from Q3 to Q4.
Net income for the last three months of 2012 was $870m; the first $1bn profit quarter is surely coming as the Q4's net income is up $38m year on year and $244m more than the third quarter.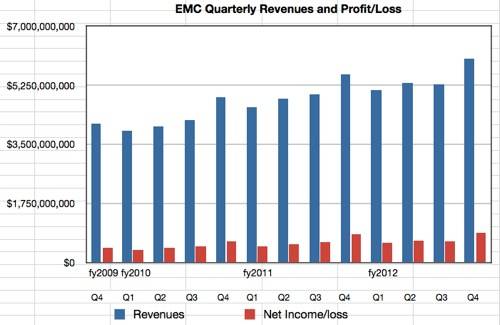 EMC revenues and net income for calendar years 2010-2012. It shows revenue is gently climbing
Turning to the full 2012 revenues, these were $21.7bn - another record and a rise of $1.7bn or 8.5 per pent on 2011's $20bn. Annual profit was $2.7bn, $0.2bn more than 2011 or 8 per cent higher.
You could lay a ruler along the tops of the revenue bars in the EMC charts; the increases are like clockwork along an almost 45-degree line to the x-axis.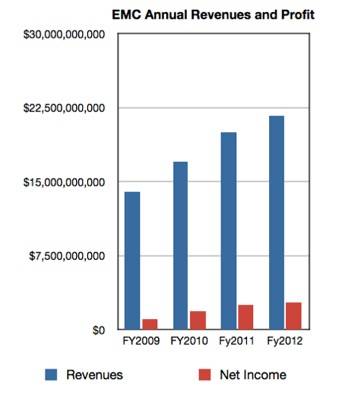 EMC revenue increases
The company is just walking all over its competition: Dell, HDS, HP, IBM and NetApp. There's nothing they can do about it, either. Wherever they invest for storage-related growth they find EMC there already, except for HP's memristor technology. Perhaps a lack of basic chip engineering expertise will turn into a chink in EMC's armour.
David Goulden - the COO, company president and heir-apparent to CEO and chairman Joe Tucci - said more than 1,300 VSPEX converged systems have been sold in two quarters of availability. VMAX sales were up six percent while mid-range storage kit - VNX, Isilon and so on - rose five per cent. vBlock sales also rose but there were no numbers, which is telling.
Two warts on EMC's pristine face
So, the dire Documentum: how did the company's content management system fare this quarter? It failed to come up trumps, again. EMC's Information Infrastructure Group (IIG) brought in $184m, a decline of three per cent year on year. But its RSA security products were also in the mire and lacking lustre, bringing in $235m, also three per cent down on 2011.
Virtualisation bad boy VMware's revenues grew 22 per cent and we wrote about them here.
Chairman Tucci said EMC has three strategic focus areas:
VMware will go after software-defined data centre and post-PC mobility. This is Pat Gelsinger's fief.
Information Infrastructure, led by Goulden, will target storage, data security, content management and automated workflow processing.
The new Pivotal Initiative - Paul Maritz's new baby - for big-data analytics and a cloud computing developer platform. We'll hear more about this in March.
What was said during the earnings call?
Reading through the earnings call transcript, Goulden said "network storage grew faster than IT spending in 2012, and we're confident it will again in 2013", adding: "We plan to launch a VMAX cloud addition later this quarter." He said we should "expect to hear much more from us around Atmos and cloud object storage in 2013". That's a reference to Project Bourne, we think.
"I am pleased to report that Atmos and Isilon together exited the year essentially at the $1bn revenue run-rate goal we set for ourselves when we acquired Isilon," Goulden boasted although didn't point out if that was mostly just Isilon.
New products teased
Goulden also talked the flash talk, saying: "Later this quarter, we will expand our presence in the PCIe-attach flash market with an MLC-based product line." That's probably Thunder, the box crammed with Lightning VFCache cards. He also said an all-flash array, code-named Project X, will be "formally introduced" later this year: "We are going to have a big flash launch in early March."
The RSA droop should be fixed by new products, we're told, specifically a "security analytics suite" and a system for "industry-leading authentication". We learned that licensing revenue was rising, and although content management can seem dull and boring to outsiders, EMC doesn't want to walk away.
Goulden added that VCE - the stack-in-a-box vendor jointly owned by EMC, Intel and Cisco - "hit an important milestone in Q4 with demand surpassing the $1bn run-rate. On 21 February, all three CEOs of VCE's parent companies will be part of its biggest product launch yet". Could this be a vBlock for the cloud, based on VMAX Cloud Edition?
Old-man Tucci talked about acquisitions: "We will … use our strong balance sheet to acquire innovative technology companies using our proven 'string of pearls' approach."
The company expects consolidated revenues to be $23.5bn for 2013 with net income, excluding VMware, to be $3bn. After that David Goulden will be golden if he can keep this up when, as seems likely, he becomes EMC's next CEO. ®