This article is more than 1 year old
So: 6,500 Win 8 laptops later, how are BT's field engineers coping?
Life on the go with Redmond's fondle-tech
Feature An unheard-of decline in PC sales figures since launch, a grumbling press and a user base that struggles without a touchscreen: Windows 8 is easy to take a swipe at. Yet BT announced in November last year it was deploying 5,900 Win 8 Panasonic Toughbooks for its "last mile" Openreach division – the engineers who walk the line from telephone exchange up to customer's premises.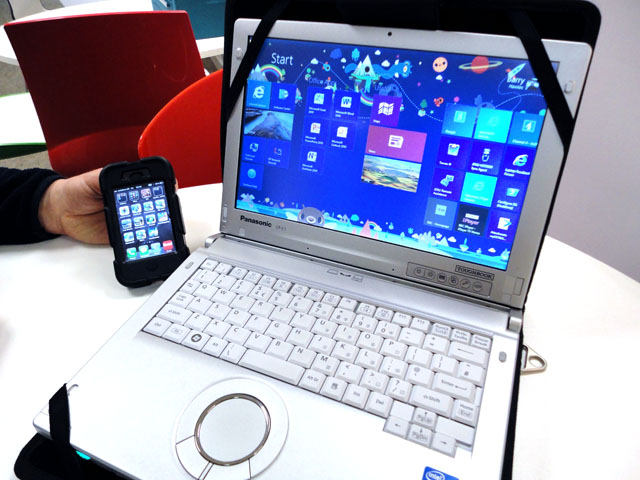 Well connected: iPhones and new Toughbooks are becoming a feature in the Openreach fleet
Kevin Norton, BT Openreach director of transformation oversaw this procurement – "one of the biggest investments we've made to date" – and gave us the inside story on the various options, trials and tests it went through. With many of its field devices needing to run legacy apps, just how were the BT engineers getting on with Redmond's touchy tech?
"It has been a big adjustment for them. The vast majority of the people put on to these machines have actually moved from Windows XP direct to Windows 8. It's been quite a fundamental shift for them in terms of the OS they're using," says Norton
The agony and the ecstasy
No doubt all users of Windows 8 would identify with that and many have found it painful, but the Panasonic Toughbook CF-C1 is a convertible laptop that can be used as a traditional clamshell laptop or have its touchscreen reconfigured to function as a tablet. For most, the touchscreen option is essential to navigate Windows 8 and the Openreach engineers get the best of both worlds. Even so, Norton remarks that most still use the device in clamshell mode, "because there's an adjustment period until they get used to a new way of working and operating it in a slate form".
Apparently, many take advantage of the stylus for tablet work which has other uses too for signature capture – a new capability these Toughbooks allow.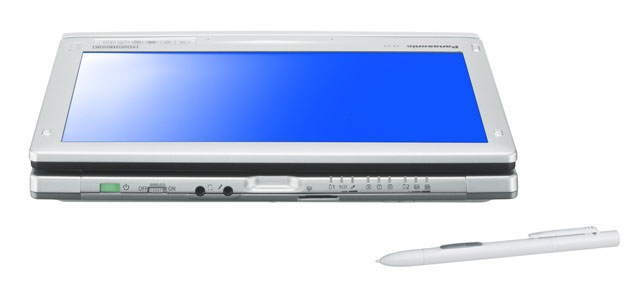 Stylus available...
When monitoring the rollout, Openreach noticed an impact on results and compensating factors too. As Norton explains:
"It's fair to say we see a slight dip in their productivity output in the first month after they've got the machine whilst they get used to the new form factor and the OS. But we soon see that recaptured through the improved performance of the device versus what they had before, and some of the new capabilities."
Indeed, new capabilities are part of the driving force behind the adoption of touchscreen technology at Openreach. This BT division has made a sizeable investment in iPhones – around 3,600 now and another 3,000 due by April – and has seen how well the convenience of this platform works in the field: from photographing and reporting damage on-site to swift processing of parking fines. Moreover, frames engineers would previously work off a laptop in the exchange to follow jumpering details – going to and fro from laptop to frame - now they just carry an iPhone.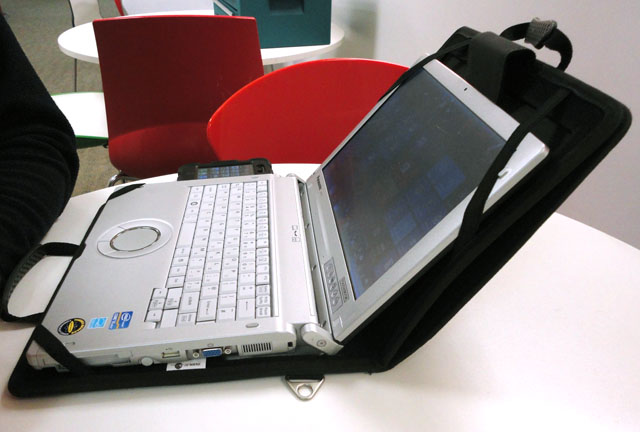 ...but clamshell preferred
"So we've built a very well laid-out app that details their frame's jumpering tasks – a neatly formatted note with all the routing details that they need to carry out," Norton enthuses.
"We've seen some really good productivity gains and although the screen is small on the iPhone, when we target it at the right part of the business process, it has been shown to deliver a benefit for us - and some of those capabilities we're also porting onto the new laptops."
Software development has been a significant aspect of the Toughbook deployment as it has provided the opportunity to remove Windows XP from the Openreach estate, along with the worst performing and oldest laptops. One of the reasons Windows XP had remained active in the field was to support the TaskForce field client, a legacy application (with its roots dating back to the 1990s) that plays an essential role in job management. Unsurprisingly Norton's team had to make some changes to run it on Windows 8 – an ongoing process of refinement TaskForce needs with each OS uplift.
It's worth the effort. As Norton remarks:
"This deployment has allowed us to slim down the number of versions of TaskForce that we maintain. So now we're down to a Vista version and one that works on Win 8 within Openreach. Which is great for us, we've managed to remove the XP client from the business – good for support and ongoing costs."
TaskForce has been around for decades and is costly to upgrade – app development work is ongoing for the new field tech
While this approach deals with an application support issue in the short term, Norton has a longer term strategy in mind which sees a greater emphasis on in-house development of bespoke applications for BT field devices:
"One of the objectives in investing new technology, though, is to ultimately move away from the TaskForce field client. One of our objectives as a business is to move to a platform that is quicker and cheaper for us to change and adapt to changing customer product demands. At the moment, being a legacy app and having been in the business for such a long period of time, when you lift up the bonnet to make a change on TaskForce there's a very rigorous set of test phases we need to work through; quite a significant piece of work to really make fundamental changes to the engineering workflow.
"What we're building at the moment – both on the laptop estate and the iPhone estate – is exposing a set of capabilities from TaskForce and rendering those in a kind of modern app. And one of the benefits that gives us is much greater flexibility and the ability to change, trial and test new ways working within the engineering work force – for example, the Frames app."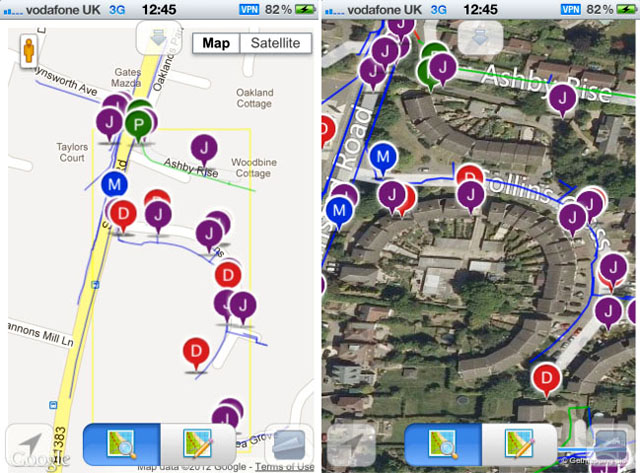 The Plant Mapping app shows cabinets, manholes, poles and the like which can be overlaid onto Google Maps or satellite images
The strategy is quite simply to find the right tools for the job. New capabilities in hardware are being matched by Openreach developing custom software and, bit-by-bit, migrating engineers off legacy systems and into a next generation set of applications. Windows 8 is a part of this move and so is iOS. For the moment those are the only two platforms engaged in this development strategy - Linux and Android don't even get a look-in.