So: 6,500 Win 8 laptops later, how are BT's field engineers coping?
Life on the go with Redmond's fondle-tech
The line of least resistance
The field engineers get half a day's training on Windows 8 and Hawkes has not been involved in the testing of any of the new apps in development for the platform. He looks forward to using them, as his iPhone experience has made him very aware of how long-winded tasks can be condensed and simplified with bespoke apps. Currently, he's still working on the old Openreach suite of software and, consequently, Desktop mode is where he and colleagues stay.
For him, the Metro tiles offer neat shortcuts for tests such as running the BBC iPlayer in HD to demonstrate line integrity to customers. He admits Windows 8 was "extremely frustrating at first" experiencing difficulties in killing off programs and resorting to ALT F4 when swipes wouldn't appear to deliver. He likes the Metro Media player, but not the Back button.
"You can be in it for work – some kind of training video – and then you press the back button thinking that's going to take you back out to the display listing all the other videos but it takes you to another section that's got XBox Live and the like and you think: I don't know how to get out of here now. So you have to close the program down and start over again. I've not experienced a newly developed system that's that difficult to watch a video and then go back and watch others."
No doubt there are tricks to learn, but surely the thinking behind of Windows 8 was to be intuitive. Until the new apps appear, he says that most engineers just go back to what they know. Windows 8 may have potential in the field, which is work in progress for Openreach, but for now, a substantial number of its engineers are feeling the benefit of nifty new PC hardware rather than touchy feely software.
Measuring success
A problem dogging the old kit was integration with the handheld tester that engineers use to perform a line quality test, as proof that there's a good service being delivered to the customer. The test results are then Bluetoothed from the handheld tester to the laptop, and the laptop, as part of closing a job, will send those test results back to a central database.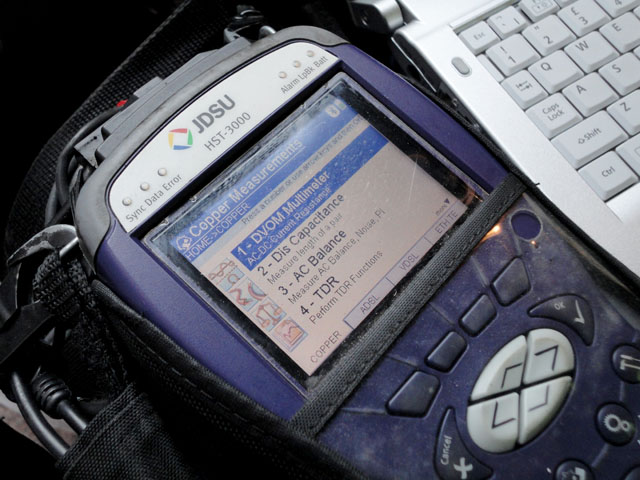 The JDSU HST-3000 emulates routers and performs essential signal trace analysis, Exfo alternatives are also used
"It's an absolutely critical part of our business process" says Norton. "In the past when we've had an OS uplift there have been problems in that area in terms of getting that sync'ing software to work. But this time round, we updated it to Windows 8 and it was fine."
A huge relief but while the technical problems were relatively few and far between, there has been a more difficult aspect to remedy among users, as Norton explains.
"Expectations were high in that I get a new laptop and immediately I'm going to get fantastic performance when I'm working with it mobile. In feedback to date, the recurrent theme has been how it performs in very low signal areas. We've put out a new Ericsson 3G driver resolving some issues regarding signal strength that was being shown to the end engineer and also fixed some issues around devices coming out of sleep. Pretty minor stuff; tuning the device as you'd expect in any kind of large rollout. But we've done some side-by-side testing and it performs better than the old machines they had. The fact of the matter is, there are still constraints of network coverage, no matter how good the device is."
It seems almost fitting that it should be the wireless communications that the Openreach engineers complain about as they manage the last mile of wired telecommunications. The engineers rely on an Ericsson F5521gw HSPA+ module, but mobile misgivings aside, the way the field engineers work with their portable technology is changing in leaps and bounds. There are context sensitive pick lists built into touchscreen apps to simplify tasks as well as automated tasks to dial up remote tests. Add to that, Network Records can be integrated into the journey, and overlaid onto a range of different map types, so the engineer can see the routing and move around using gestures on the touchscreen interface.
Windows 8 might not be a hit on the high street, but it's certainly causing a stir in big white vans across the country. ®