This article is more than 1 year old
Wii-U boat torpedoes Nintendo's '¥20bn profit' into ¥20bn loss
Time to get off that go-cart, Mario, and get a real job
Facing a looming $219m loss, Nintendo today restated its mission "to pursue its basic strategy of compelling products that anyone can enjoy, regardless of age, gender or gaming experience".
This is marketing speak for targeting occasional players, in particular the very young and the old, folk who might not normally be expected to cough up for gaming products and certainly not the very latest ones. But it also revealed this strategy may not be working.
Paving the way for Nintendo's full-year results, due to be announced after the firm's current financial year closes on 31 March 2013, Nintendo President Satoru Iwata revealed that Nintendo now expects to make a ¥20 billion (£139.4 million) loss and not the ¥20 billion profit it previously forecast. This despite a falling Yen, which increases the money Nintendo makes from overseas sales. Sales to gaijin account for 70 per cent of Nintendo's business.
Nintendo's 'games for all' approach emerged in the middle of the last decade as the company's penchant for games based on cartoon-like characters, in particular its iconic Italian plumber, Mario, began to appear to be unable to hold their own against more bellicose and more realistically rendered rivals on consoles from Sony and Microsoft.
The strategy served Nintendo well during the early years of the Wii, launched in 2006, as it reached out to younger and once-in-a-while players with its wave-your-arms control system that neatly replicated the swing of a bat and the turn of a steering wheel. It also did a nice trade selling non-gaming products like Wii Fit, an exercise program, to the overweight and wheezy.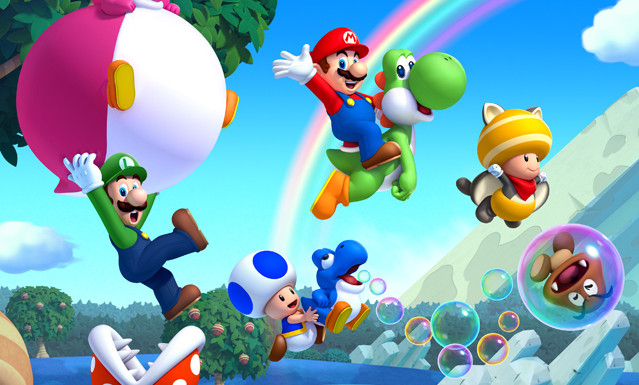 Can Mario keep leaping?
The problem for Nintendo is that many of its target players are precisely the kind of people who have increasingly turned to smartphones and, more recently, tablets for the occasional gaming joys. Gadgets like these can provide similar motion-controlled gaming experiences to the Wii and, more to the point, allow the player to snatch a few moments' flinging fowl in Angry Birds, a hugely popular phone game, during breaks and commutes.
That is driving casual gaming out of the living room. Wii sales were down from 8.96 million units to 3.53 million between Q4 2011 and Q4 2012. Worse, Nintendo's new console, the Wii U, which attempts to replicate the joys of gaming on mobile devices with a tablet-style controller, sold even less well: just 3.06 million units in the quarter. It is Nintendo's first console for 16 years to play host to a Mario game written specifically for it.
Nintendo now reckons it will have shipped just four million Wii Us by the end of March, down from the 5.5 million it previously forecast.
The company's many fans may look it its handheld consoles, the old DS line and its more recent 3D-enabled successor, the 3DS, to take up the slack. Nintendo says it shipped 153.67 million DS devices up to the end of December 2012, but sales are falling: fourth-quarter shipments of its DS line combined fell from 4.64 million units in 2011 to 2.15 million in 2012.
The 3DS fared better, with Q4 sales up 11 per cent year on year, from 11.43 million to 12.71 million. But that's still far behind 217 million smartphones that shipped in the last three months of 2012, according to market watcher Strategy Analytics. Indeed, Nintendo now reckons it will ship closer to 15 million 3DSes during FY2013, fewer than the 17.5 million it forecast during its last guidance statement.
The company also blamed the reversal of its fortunes on the slow release of the big name games that some punters buy consoles just to play. It said it sold 11.7 million Wii U software boxes and downloads in Q4 2012 - on average, 3.8 titles per console - and expects full-year shipments to hit 16 million - four titles per console. The software totals include bundles, though not all Wii Us come with software.
Tablets are already out-selling notebook computers in many territories, and most observers expect demand to continue unabated through 2013. Apple and Samsung may have recently sounded notes of caution that the smartphone juggernaut is beginning to slow, but hundreds of the millions of these devices will ship during the year nonetheless. That is only going to make it harder for Nintendo to attract casual gamers to its consoles.
Mario may soon need to go back to his day job. ®