The moment Microsoft realised Office and Windows could divorce
There was nothing so radical in the Office 2010 client applications, unless you count 64-bit versions that Microsoft warned against installing - some macros no longer work - but what did arrive was Office Web Apps, a feature of SharePoint 2010 that enables document creation and editing in the browser.
The functionality of Office Web Apps is tiny compared to what is in the desktop applications, but the significance is huge. Microsoft has recognised that Windows and Office alone is no longer enough.
Wheely quite good
That point brings us back to Office 2013. The story told to the press is this is the touch-friendly version of Office, though in reality it takes more than spaced-out ribbon icons to make an application work well on a tablet. Still, it is a start. Microsoft has also created a completely new tablet version of OneNote, called OneNote MX, which has an innovative wheel control and shows that the Office team is thinking about what Office for tablets should look like.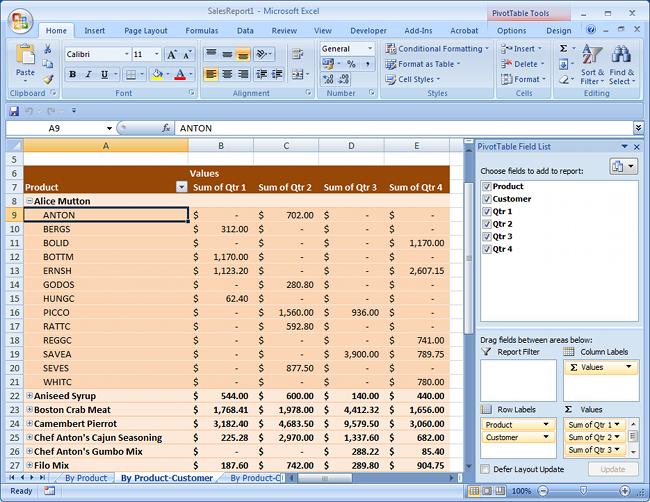 The Office Ribbon, introduced in Office 2007, is controversial but sales have been good.
There is also a bit more cloud in Office 2013, which hooks into SkyDrive so users are steered towards cloud storage. The advantage is that documents will be available across all devices.
Every Office seems to bring new annoyances though, and Office 2013 conforms to the rule. Start a new document in Office 2007 or 2010, type something, and hit Save. You get a Save dialog where you can type a document name and hit Enter. Do the same in Office 2013, and you get a huge Save As page, where you now have to click Browse before you get to the point where you can type a filename. That is more work, not less. Fortunately, you can turn off this behaviour in options.
There is another odd thing about Office 2013. Why is it so washed-out in appearance? The reason, we conjecture, is that the Office team got the "Content before Chrome" memo, which is meant to show off your content by having the application controls recede into the background. Sounds good, but this has not been thought through. If you are hunting through a million icons on the Office Ribbon, having them recede into the background is no benefit.
We will get used to it, and on the plus side there are some clever new features. Excel 2013 has a Recommended Charts feature that is brilliant when it comes up with a sensible suggestion, which is quite often in my experience.
The most radical change in Office 2013 is not its default save location or a slightly more touch-friendly ribbon, but rather its new developer model. Apps for Office are HTML pages which run either alongside documents (Task Pane Apps) or embedded within them (Content Apps). In addition, Outlook Mail apps are similar to Task Pane Apps but appear alongside emails. A JavaScript library lets your app communicate with the current document, but all the code lives on the server. "Installation" is via an XML manifest which includes the App URL.
This is the third major change to Office development, following Visual Basic for Applications in 1997 and Visual Studio Tools for Office in 2003.
Microsoft's thinking here is that in a world of diverse clients, add-ins that depend on local runtimes are a mistake. In principle, an App for Office can work in an Office Web App or in a hypothetical tablet version of Office as well as on Windows or Mac. In practice though, the only App for Office that currently works both on the web and in desktop Office is an Excel Content App. Further, Microsoft's initial release of Apps for Office will be hard to deploy other than in highly controlled environments where the presence of Office 2013 can be guaranteed.
The difficulty for Microsoft is that the better it makes Office as a cross-device, cloud-centric product, the less need there is for the full-fat desktop client. SharePoint, on the other hand, continues to look like a strategic product, both for internal deployment and in the form of Office 365.
I have been using Office 2013 since its first public preview. It works as well as ever, but for an individual user there is little that is compelling versus Office 2010 other than working a bit better on a Windows 8 tablet.
The big difference this time? Office 2013 represents a change of direction for the suite. It's a change that makes sense provided Microsoft has the guts to deliver decent versions for Apple iOS and Google Android, and provided it has the pace of development to quickly to fill the many gaps in Apps for Office. ®