This article is more than 1 year old
Microsoft Office 2013 vs. Office 365: Is either right for you?
Microsoft is dangling the bait. Should you bite?
You get more than you pay for (or need?)
One important difference between the retail version of Office and the subscription version is that a retail copy of Office 2013 can only be installed on one Mac or PC. An Office 365 license allows you to install the suite on up to five devices – which means Macs and PCs for now, but hopefully will include Android and iOS devices later. You can even move the licenses around at will, deactivating the suite on one machine and reinstalling it on another.
Office 365 Home Premium subscribers get the best deal here. With that package, the five devices can belong to any members of a household. Mom, dad, and three kids can each have their own laptops with the full Office 2013 suite installed, for just slightly more than the cost of two copies of the retail Home & Student edition, assuming they stay subscribed for three years.
The value for business customers isn't quite as clear-cut. For all of the other Office 365 packages, the five devices must all belong to a single user. So five Small Business Premium licenses will allow a company to install Office on up to 25 machines, but only five employees are allowed to use it. That's less compelling than the genuine bargain of the Home Premium version, but it could still save some cash if employees really need Office on multiple devices.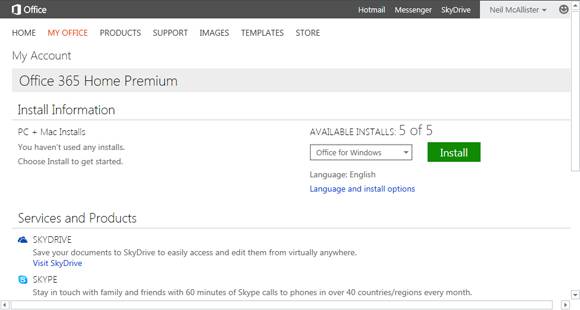 Each Office 365 license allows you to install the software on up to five devices – if you really need all that
Goodies galore
That said, Microsoft has piled on the goodies to make Office 365 seem more attractive than the retail Office, even if it does cost more in some cases.
One neat bonus is Office OnDemand, which allows Office 365 subscribers to install a temporary copy of the suite onto any PC – for example, at a library or an internet café – allowing them to get the full Office 2013 experience anywhere they go. These are full-featured, single-use versions of the apps that erase themselves once they're closed. It's a clever feature, and one that retail Office 2013 customers don't get.
In addition to the Office apps themselves, the Office 365 Home Premium package includes 20GB of storage on Redmond's SkyDrive cloud service, which gets added to the 7GB you got when you first signed up for your Microsoft account. It also bundles 60 free minutes of Skype world calling per month, to help rope customers into another Microsoft-owned service.
The Small Business Premium edition offers 10GB of "professional grade" cloudy storage (whatever that means) for the organization, plus another 500MB per user. It also gives each user a 25GB Outlook mailbox with shared calendar, contacts, and scheduling, and it allows users to host online meetings complete with HD video. Finally, it allows the organization to setup a free public-facing website, in case it never thought of having one before.
Microsoft hasn't said what additional goodies Midsized Business and Enterprise customers will get – and none of the business versions of the new Office 365 will be available until February 27 – but in the past, they have included things like Active Directory integration, administration tools, VoIP calling, and enhanced support.
But the most important Office 365 bonus just might turn out to be the updates Microsoft says are coming for the Office applications themselves. Redmond says it plans to roll out new features "multiple times per year" that will be exclusive to Office 365 subscribers; customers who bought the retail Office 2013 version won't get them.
Lacking any actual examples, however, it's hard to judge what these promised updates might really be worth. But Microsoft's planned approach does seem to suggest that Office might soon switch to a "rolling release" model that does away with major version launches altogether. If so, customers who get onboard with Office 365 now will be ahead of the curve.
The business case for Office 365
Aside from the features of the Office software itself, Office 365 does offer a number of genuine benefits – particularly for business customers – owing to its subscription model and the unique technologies Microsoft has developed in support of it.
For starters, the subscription version of Office uses a new, internet-based installer that's different from the retail one. It's based on Microsoft's Click to Run application streaming technology, so it installs quickly. More importantly, the installation process is completely hands-free; there's no DVD, and once it's running it needs no further input from the user – not even a Product Key. With Office 365, new employees could feasibly install the suite themselves, with no help from tech support.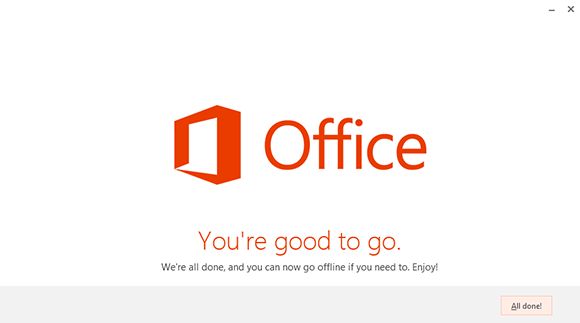 When it's streamed from the Office 365 servers, Office 2013 practically installs itself
Once the subscription Office apps are loaded, they also require almost zero administration. Not only are bug fixes and security patches applied automatically, but even major new features can be streamed from Redmond's servers without user intervention.
For IT managers, this could be a godsend. No more installing new versions of Office onto hundreds of desktops every three years. No more pushing out Service Packs and patches. Instead, you install Office 365 once, and from there on out, the applications keep themselves up to date.
That's likely a big part of why an Office 365 Enterprise subscription costs so much; the savings in IT support costs could easily make up for the price. Eliminating the need for IT staff could be a huge boon for small businesses, too.
The SaaS model also offers benefits from the CFO's perspective. Before, software purchases were capital expenditures, and writing a check for Office upgrades for a few thousand employees could be a bitter pill to swallow. But software purchased on a subscription basis becomes more of an operating expenditure, and the regular fees help reduce pressure on cash flow, to boot.
And don't forget, you can always cancel your subscription if you choose, after a year or even after just one month. If it turns out that the new Office really isn't for you, with Office 365 you only have to pay for the time you actually used it. With the retail model, you've already paid for all three years up front.