This article is more than 1 year old
Microsoft Office 2013 vs. Office 365: Is either right for you?
Microsoft is dangling the bait. Should you bite?
And then, more downsides
Ultimately, whether an Office 365 subscription is worth the price will largely depend on how much you'll really use what it gives you. You may well end up using less than you think you will.
As mentioned earlier, Office 365 gives each user access to the full suite of Office 2013 applications, but almost nobody needs all of them. Similarly, if you're not going to use the various add-ons that come bundled with the subscription, then they add no value.
Mac users, in particular, don't gain much with Office 365. They get the Office suite, but it's the older, 2011 version. They don't get the benefits of the new streaming, hands-free installer, and Office OnDemand doesn't work on Macs, either. Plus, Microsoft's online services don't integrate as well with OS X as they do with Windows.
An Office 365 subscription also gives you free access to Microsoft's online services, such as SkyDrive and hosted email – but what if you don't need them? What if you already have a busy, in-house email system, and migrating users' inboxes would be too disruptive? What if you use a private cloud for your file storage, or some kind of document-management system? What if there are regulations that govern where you can store your data, such as HIPAA?
But perhaps the biggest drawback of Office 365, for many customers, is actually something Microsoft advertises as one of its strengths. Office 365 requires you to always remain on the leading edge of the Office product offering – and where business software is concerned, change isn't always good.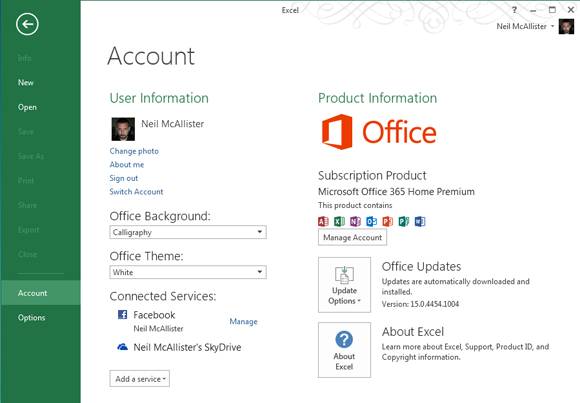 The new Office logo doesn't include the year, and Office 365 updates are automatic – which can be both good and bad
A lot of customers had a strong negative reaction to the major UI change that came with Office 2007. Office 2010 brought still more changes, and more controversy. Office 2013 alters the interface yet again, and it's guaranteed to upset some customers.
Existing Office 365 customers can stick with the Office 2010 apps for now, if they prefer, but the service will stop offering that version after April 8, 2014. And as explained earlier, the subscription version of Office 2013 installs its own updates automatically, including new features. That could turn off users who prefer the "if it ain't broke, don't fix it" approach.
Consider, also, that Office 2013 requires Windows 7 or later – unlike Office 2010, which ran on all versions back to XP. By steadily increasing its system requirements in this way, Office 365 could be another subtle way for Microsoft to drive its Windows upgrade cycle, which could end up being one helluva hidden gotcha for some customers.
It's not right for everyone, but it may be inevitable
All in all, Microsoft has made a bold move with this latest refresh of Office 365 and Office 2013. It's clearly trying to offer the subscription-based purchasing model of a service like Google Docs, coupled with the power of the kind of full-featured desktop applications that have long been Redmond's forte.
It would be wishful thinking, however, for Microsoft to expect a grand slam. The idea of desktop software that operates like a utility, where it stops working if you forget to pay the bill, is too alien of a concept to take off right away, particularly among consumers.
But Office 365 does offer some real advantages, especially given the flexible licensing options of the Home Premium edition. Startups and mom 'n' pop shops could also benefit from the Small Business Premium version, particularly if they don't want to manage their own mail, storage, and other IT resources.
Office 365 will be a harder sell for larger, more established businesses, however. Its low administration cost is probably its most attractive feature, but if a company retains IT support staff for other purposes – such as re-imaging laptops, handling malware outbreaks, or maintaining other desktop software – then eliminating Office support calls might not actually reduce overhead all that much.
Perhaps the strongest selling point of Office 365, given all of the ambiguities, is that it's easy to try it out for yourself. The first month of Office 365 Home Premium is free; if you decide you don't like it, or you don't use it as much as you thought you would, you can cancel before the 30 days are up and pay nothing.
We won't know the full terms of the refreshed business editions of Office 365 until they launch on February 27, but Microsoft has offered similar trial periods for business customers in the past, including a free 90-day test run for the Small Business edition.
It might be worth checking out even if you think you're dead set against it. The subscription model is simply too attractive a revenue stream for big software companies like Adobe and Microsoft to pass up. Redmond probably won't win over the majority of its Office customer base with this edition of Office 365, but you can bet it will keep trying.
In fact, though you may not think so now, if you're an Office customer, a subscription-based version is probably inevitable – like it or not. Here's your chance to see what the future will look like. ®