Apple to stop European shipments of Mac Pro on March 1?
Replacement may – or may not – be in the works
Apple will discontinue shipping its long-neglected Mac Pro tower to the EU, EU candidates, and European Free Trade Association (EFTA) member states on March first, sources tell 9to5Mac.
According to that "Apple Intelligence" website, Cupertino has informed resellers that the Mac Pro is being retired from the aforementioned countries because it runs afoul of Amendment 1 of regulation IEC 60950-1, Second Edition, which goes into effect on March 1 – but the exact reason for its non-compliance was not mentioned.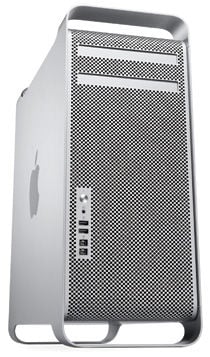 Apple's Mac Pro, as it's looked since 2006
Orders for Apple's flagship tower will be accepted until February 18 for shipment before March 1, and any Mac Pros in resellers' inventories can still be sold after the March 1 drop-dead date.
In addition, 9to5Mac's sources say, the note from Apple assures Mac Pro fans that "Countries outside of the EU are not impacted and Mac Pro will continue to be available in those areas."
For the time being, at least. The Mac Pro has received only processor speed bumps, and not a significant design update, since its introduction in August 2006 as a replacement for the similar Power Mac G5 tower.
As Apple has moved more and more into its new role of what the late Steve Jobs once described as "a very high volume consumer electronics manufacturer," the Mac Pro has been all but forgotten as Jobs, then Tim Cook, rolled out new devices during Cupertino's splashy intro events.
That said, Cook reportedly emailed a disgruntled Mac Pro fan last June, telling him that "we're working on something really great for later next year," and when he said in December that Apple was planning to move some Mac manufacturing to the US, rumors flew that the rumored replacement for the Mac Pro was the product to be so manufactured.
Apple being its usual highly secretive Apple, it's of course not known whether the Mac Pro will be upgraded this year – or, for that matter, whether it will be replaced by an entirely new professional-grade Mac.
If the email to EU resellers that 9to5Mac turned up is genuine, however, its appears that Europeans seeking a Mac more muscular and upgradable than Apple's latest anorexic iMacs will be S.O.L. until Cupertino deigns to create a Mac Pro replacement that complies with the aforementioned Amendment 1 of regulation IEC 60950-1, Second Edition. ®