Boffins propose satnav tracking for 'KILLER KOALAS'
Museum, journal, perpetuate man-masticating marsupial monster myth
---
A confession: when Australians meet tourists worried their holidays will be disturbed by dangerous animals – sharks, spiders, snakes, crocodiles and jellyfish are all prevalent here in Vulture South – they often slip in a mention of a little-known but very menacing marsupial: the drop bear.
The drop bear is, according to this Australian Museum page, "a large, arboreal, predatory marsupial related to the Koala." The beast lurks high in trees, waits until it spots prey below and the allows gravity and its sharp fangs do the rest. The drop bear thinks nothing of attacking humans.
Tourists often believe the drop bear story and one could be excused for thinking the editors of journal Australian Geographer did likewise when its December 2012 edition published a paper titled "Indirect Tracking of Drop Bears Using GNSS (Global Navigation Satellite System) Technology".
The paper explains that drop bears cannot be fitted with satellite trackers, as they are aggressive and knock the gadgets off when rubbing themselves against trees.
The paper's alternative method is "tracking the prey rather than the predator in order to map the population of drop bears in a particular area". This involved an experiment whereby students equipped with satnav trackers were asked to walk in locations known to house drop bears, so attacks on them could be recorded. Data collected from this fieldwork yielded new information about "an otherwise unrecorded phenomenon of group attacks by families, mates or the marsupial equivalent of bikie gangs."
That last sentence is one of many clues the paper is not entirely serious. For example, the tracking method is also advanced as a good way to track populations of "hoop snakes and bunyips". The former creature is a modern myth, the latter often appears in Aboriginal legends.
Another clue is a footnote citing an article by B Honeydew in The Journal of Irreproducible Results. The journal is real but is a comedy publication, not a serious journal. B Honeydew is almost certainly a reference to Muppet Show boffin Doctor Bunsen Honeydew. Another footnote refers to an article titled "What really happened during the picnic at Hanging Rock?". That's almost certainly a reference to the feature film Picnic at Hanging Rock in which several young women disappear under mysterious circumstances.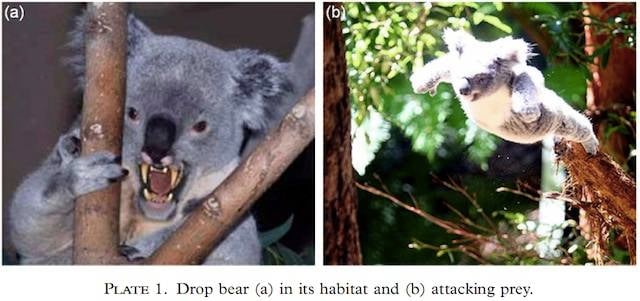 The fearsome Drop Bear: Australia's most fantastically dangerous creature
As a responsible publication that usually leaves this kind of thing alone, save for special days about two months from now, The Reg was intrigued about the paper, so asked author Dr Volker Janssen about its provenance.
"The paper is not a joke (unless, of course, you believe that drop bears are not real)," he replied, insisting it "was published with support of the Editor, although I cannot claim that it was peer reviewed."
Journal editor Professor John Connell, from the University of Sydney's School of Geosciences, responded to our inquiry and suggestion drop bears are not real, by writing "Fictional – oh no, we've been duped". The Professor also added that the purpose of the paper is "... to encourage people to think outside the box, enjoy geography and wonder at the fate of biogeography … and more besides…". ®