This article is more than 1 year old
We're not making this up: Apple trademarks the SHOP
Rectangular tables protected, no word on rounded corners
After trademarking the leaf and patenting the rectangle, Apple has outdone itself by trademarking the shop.
The US Patent and Trademark office last week granted Apple's application to trademark a retail store featuring computers. It is the "distinctive design and layout" that Apple now holds the unique design rights to, thanks to US Trademark 85036990. The application to exclusively own this particular store arrangement - specifically "rectangular tables arranged in a line" - was filed in December 2010 and granted on 22 January 2013.
A line drawing and a photo detailing the "distinctive layout" are included in the submitted paperwork: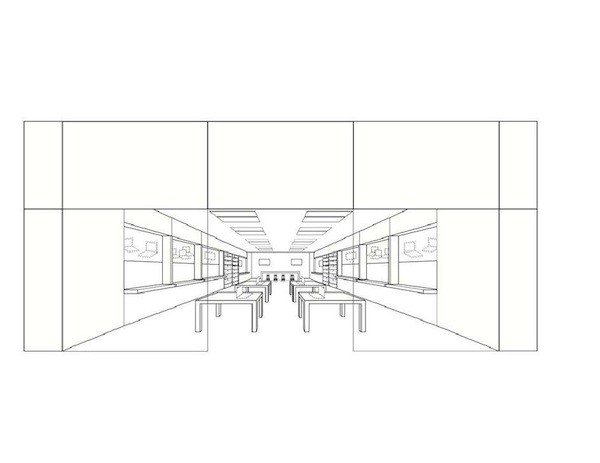 A drawing Apple used to illustrate its retail store trademark
Apple hasn't trademarked having a floor, walls or lights, but details of the storefront, the shelves, the arrangement of the tables and the position of the products are now the iPhone maker's intellectual property. Apple described just what features are included in the mark:
Rectangular tables arranged in a line in the middle of the store parallel to the walls and extending from the storefront to the back of the store.
Shelves and stools set beneath a table are also included:
There is multi-tiered shelving along the side walls, and a oblong table with stools located at the back of the store, set below video screens flush mounted on the back wall.
The placement of various items is considered part of the overall mark too.
The emergence of copycat Apple Stores in China likely prompted Apple to file for protection, and the US trademark states that Apple filed an international application for the trademark in 19 other countries including China, Russia, Turkey and several Euro countries. ®