Feature On February 1st, 2003 at 08:00 CST residents of Texas witnessed the once mighty Space Shuttle Columbia disintegrate into a 12,000mph fireball. Almost 17 years to the day since the Challenger disaster, President G. W. Bush delivered the news to the world, "The Columbia is lost. There are no survivors."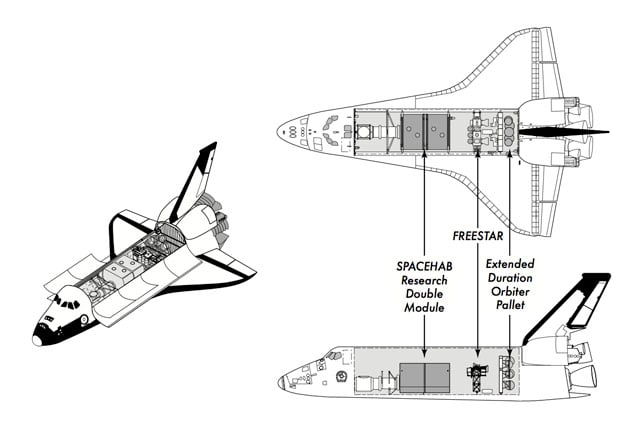 STS-107 payload bay configuration
Following its 255-orbit mission, Columbia was now strewn across two thousand square miles of the southern United States – bringing the end to a 28-flight career spanning 22 years.
Although it will predominantly be remembered for its tragic end, STS-107 was an extensive and successful scientific mission. Space Shuttle Columbia carried a module called SPACEHAB in its cargo bay – which expanded the habitable area for performing experiments – rather than the satellites and supplies for the ISS carried by its sister ships.
Originally STS-107 had been slated to carry an Earth observation satellite known as Triana, but delays in its development saw it replaced with FREESTAR (Fast Reaction Experiments Enabling Science, Technology, Applications and Research). Also on-board was the joint US/Israeli experimental module MEIDEX (Mediterranean-Israeli Dust Experiment).
Mission accomplished: Kalpana Chawla working in the SPACEHAB module
These experiments completed the majority of the desired objectives, with only MEIDEX falling short due to climate conditions. Unfortunately, some aspects of FREESTAR and MEIDEX were lost with Columbia, but large amounts of data were successfully sent back to Earth, as well as being recovered from the debris.
STS-107 was commanded by Rick Husband, a US Air Force Colonel embarking on his second spaceflight, having previously piloted STS-96 in 1999. Filling the role of pilot was Commander William C. McCool whose credentials included serving as a US Navy test pilot on the EA-6B Prowler program.
The three mission specialists included; Kalpana Chawla - an aerospace engineer who had flown on STS-87, David M. Brown – US Navy Captain and flight surgeon and Laurel B. Clark – also a US Navy flight surgeon on her first spaceflight.
Payload management responsibility fell to Michael P. Anderson, an Air Force Lieutenant Colonel who flew to the Mir Space Station as a mission specialist on STS-89. In charge of the MEIDEX experiment was payload specialist Ilan Ramon, the first Israeli in space and a fighter pilot for his home nation.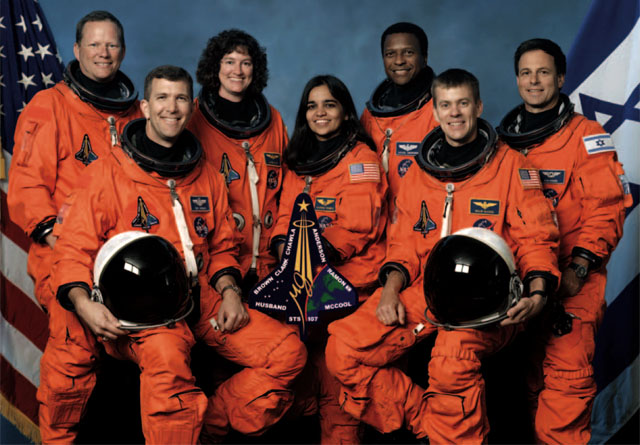 Shuttle crew, left to right: David Borwn, Rick Husband, Laurel Clark, Kalpana Chawla, Michael Anderson, William McCool, Ilan Ramon
Lift-off
It was a cool 65°F morning following heavy rain when at 10:39 EST STS-107 was cleared for launch and the solid rocket boosters were ignited. Weather in the upper atmosphere had been deemed nominally calm by balloons and Doppler sounding. All in all, a good day for spaceflight.
Two minutes and four seconds after lift-off, the solid rocket boosters separated as the Shuttle accelerated past 7,300mph. After a further 8mins 16secs, the main engine cut off command was issued at an orbital velocity of 17,600mph. As far as was apparent to the NASA controllers, the launch was nothing short of ordinary.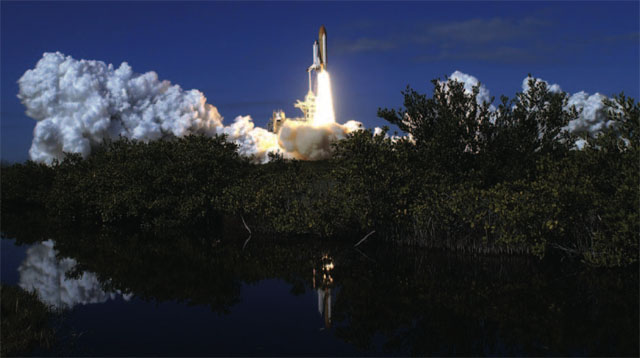 January 16th, 2003: STS-107 launch
Foam, not far removed from the expanding stuff used to fill wall cavities, is sprayed over the entirety of the external fuel tank to insulate the cryogenic fuel tanks. Unfortunately, this foam has a tendency to flake off in chunks and cause damage to the heat shield tiles on the underside of the orbiter.
Studies of flights and tile damage assessment have shown that Shuttles have been struck by foam thousands of times. In the past this has required the replacement of tiles before subsequent re-launch, but there had never been a breach of the thermal protection system. A bit of background on this essential aspect of the Shuttle's make-up highlights vulnerabilities the accident investigation would uncover.