Wham SAN, thank you ma'am: Adapter biz smacks biggest rival
Emulex outsells QLogic
---
After Emulex's long, arduous revenues climb, and the simultaneous droop in fortunes of QLogic, it seems it has finally caught up to its high-flying SAN adapter competitor - and if current trends continue, it could even hang on to the top spot. That is, if QLogic's new Rainier product doesn't give it the bounce it needs to prevent it from getting left behind.
The two dominating twins in the SAN adapter market had revenues just $1.4m apart and in Emulex's favour three months ago. Now the gap is $2.7m and the chart shows the twin trends of QLogic revenue decline and Emulex revenue growth, relatively speaking, are holding steady.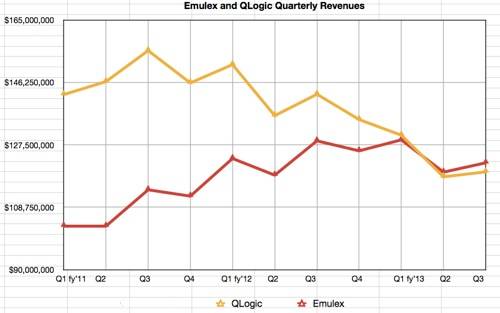 QLogic's latest quarterly results showed revenues of $119.4m and net income of $13.24m. Emulex has just announced its equivalent results and they feature $122.1m revenues number and a $5.6m profit.
The revenue comparison chart, normalised to QLogic quarters and financial years, shows Emulex widening the revenue gap between itself and QLogic - a gap which opened up last quarter.
A profits comparison throws up a different picture; overall Emulex is a profits disaster while QLogic pumps out a profit regularly. But the chart below shows that the gap between the two is tending to narrow as well, with the QLogic line trending down, and the Emulex line trending up. QLogic benefited from a huge profits spike when it sold its InfiniBand business to Intel. Emulex has been hampered by the legal costs of the Broadcom IP dispute and associated penalties but, even so, it is climbing out of the swamps and has reached dry land and profitability, which should continue, especially if its revenues keep climbing.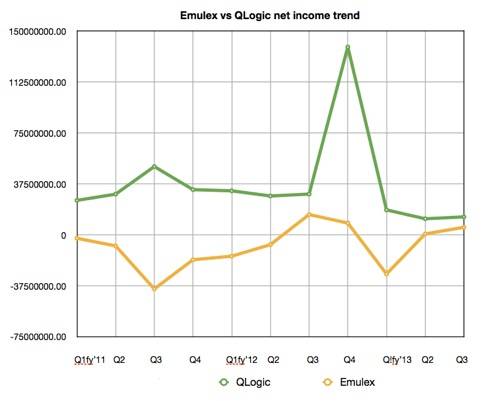 Emulex has a stronger Ethernet business than QLogic and its Endace acquisition could boost its revenues - that's what's intended, obviously. But will Endace bring in revenues faster than QLogic's Rainier flash-enhanced adapters? Will Emulex survive unchanged after activist investor Elliott Management's aggressive visit to its ranks of stockholders? Interesting questions and there's no answer except to wait for time to pass. ®