HP jumps on Chromebook bandwagon with 14-incher
As big as a laptop, as powerful as a web browser
---
HP has become the latest hardware vendor to release a low-cost laptop based on Google's Chrome OS, topping rivals Acer, Lenovo, and Samsung by shipping its version of a Chromebook with a generous 14" screen.
Second-place PC maker Lenovo unveiled its own Chromebook in January, so it's no real surprise that leader HP would follow suit, given the intense rivalry between the two companies.
While Lenovo's Chromebook strictly targets the education market, however, HP's version is a mainstream device with styling that should feel familiar to anyone acquainted with the company's line of consumer laptops.
Dubbed the HP Pavilion Chromebook, it's the first Chrome OS device to ship in what is essentially a full laptop form factor. Previous Chromebooks have more resembled netbooks.
The Chromebook that held the previous record for screen size was the Samsung 550, which has a 12.1" LED screen at 1280x800 resolution. All of the other models currently available have 11.6" screens, though their resolution is just a hair higher at 1366x768.
While the HP Chromebook's screen may have a bigger diagonal, however, it doesn't offer any more pixels, since HP opted to keep its resolution at the industry-standard 1366x768.
The larger panel has some drawbacks, too. For one thing, it makes HP's the heaviest of all the Chromebooks, outweighing even the Lenovo ThinkPad model at 3.96lbs (1.8kg) – although it's still skinny at just 0.83" thick.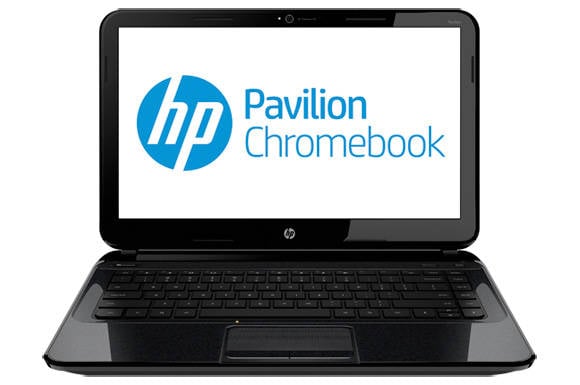 The new HP Pavilion Chromebook: With a 14" screen, it looks big, but doesn't have much to back it up
The big screen also gives the Pavilion one of the worst power ratings of the Chromebook line, with an expected battery life of 4.25 hours. Only the Acer C7 – which uses an actual, spinning hard disk instead of the solid-state drives used by all of the other models – fares worse, at just 3.5 hours. On the plus side, however, both the Acer and HP models have removable batteries, unlike the two Samsungs.
Otherwise, the HP Chromebook resembles its cousins in that it's low-powered and frill-free. It's built around a dual-core Intel Celeron 847 CPU clocked at 1.1GHz, just like the Acer and Lenovo models. It ships with 2GB of RAM, upgradeable to 4GB. For storage, it has a 16GB SSD and it comes bundled with 100GB of free Google Drive cloud storage, which is good for two years.
It also offers the typical assortment of connectivity options, including 802.11a/b/g/n, Ethernet, HDMI, three USB 2.0 ports, an SD/MMC card slot, an HD camera, and Bluetooth 3.0.
While those specs would be weak for a Windows notebook, however, they're more than adequate for a Chrome OS device. In fact, the Acer C7's 320GB hard drive is its most puzzling feature, since most Chromebook owners seldom save anything to local storage.
But the Acer Chromebook makes up for its quirks and drawbacks with its low price, retailing at just $199.99. The HP model is a bit more expensive, at $329.99 – no doubt due to its big screen, once again. That price tag could be HP's undoing, considering that a larger display is pretty much all the Pavilion has going for it over the other Chromebook models.
Then again, although Google still hasn't released any hard figures on Chromebook sales, they may have the makings of a sleeper hit. The $249 Samsung Series 3 Chromebook – the most popular model to date – topped Amazon's list of bestselling laptops throughout the holiday shopping season, and as of Monday, the retail giant's own stock was sold out and they were only available through affiliate sellers at jacked-up prices. Other retailers have only just replenished their supplies.
Given the overall misery in the PC market, any product with sell-through like that is bound to look attractive to laptop makers. Little wonder, then, that HP would release a Chromebook now – if only to say, "Me, too!" ®