Oracle ponies up $2.1bn for Acme Packet to bully its way into unified comms
Larry takes on Cisco, Huawei, Alcatel-Lucent, and others
---
If Oracle sees a good idea and a pile of money sitting underneath it, and that idea is adjacent to something Oracle is already doing, then cofounder and CEO Larry Ellison gets out a bigger pile of money and pounces. And that is precisely what Oracle has done with its first big deal of 2013 as it snaps up unified communications software maker Acme Packets for $2.1bn.
According to the terms of the deal, which was announced before Wall Street opened up for business on Monday, Oracle will pay out $29.25 per share for Acme Packet. But after you subtract out the cash that the unified communicator has on its balance sheet, the net cost to Oracle is more like $1.7bn.
That's still a fair chunk of change for a public company that was shrinking and posting losses in the past year.
In conjunction with the announcement of the Oracle's acquisition proposal, Acme Packet kicked out its fourth quarter financial results – and they were not all that great. Product sales were down 20.2 per cent to $51.3m while maintenance and support revenues were up 3.6 per cent to $19.4m.
Overall sales fell 14.8 per cent to $70.7m, and the company booked a $2m loss compared to an $8.7m profit in the year ago quarter. For the full 2012 year, Acme Packet saw similar trends in product and services revenues, with total sales down 10.7 per cent to $274.4m and a net loss of $5.2m compared to a net income of $44.4m for all of 2011.
So why is Oracle paying a 22.2 per cent premium over Acme Packet's closing price on Wall Street last Friday?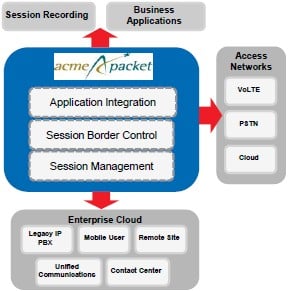 Enterprises use Acme Packet to secure
and control their network services
Three reasons – possibly four. First, Acme Packet needs a larger organization behind it to take on Cisco Systems, Huawei, Alcatel-Lucent, Sonus, ZTE, Genband, Metaswitch Networks, Dialogic, and others in the "unified communications" space – where you mix and shape and control voice, video, instant messaging, and data-center traffic over IP networks for both enterprises and service providers.
Second, because Oracle is not going to get any more than its fair share of the ERP, SCM, and CRM application space. Third, Oracle wants have something interesting to peddle to service providers, which used to be big buyers of Sun Microsystems hardware and software, And perhaps to do a hardware-software combo like Sun did with great success way back in the dot-com boom.
Acme Packet was founded in August 2000 by Andy Ory (currently president and CEO) and Patrick MeLampy (currently CTO), with the latter having deep expertise in networking and telecommunications.
The company they created has a number of different products that bear the brand Net-Net and perform what is called session border control atop IP networks. This means securing the network sessions that underpin applications as well as prioritizing the packets as they fly around the network based on policies for quality-of-service set for particular end users, groups of users, and applications. The company also sells multiservice security gateways and session routing proxies.
The basic problem, as summarized by Oracle is that people want to be able to access the right information, from the right device, and right now, regardless of the network or the device they happen to be holding or standing near, and this all needs to be done in a secure fashion.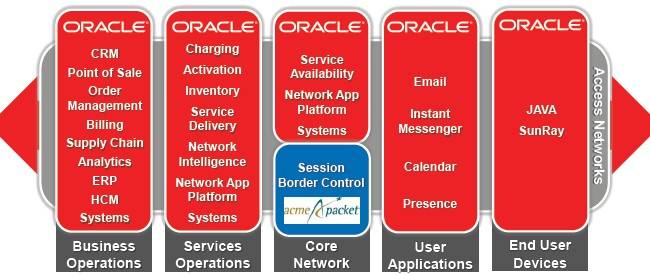 Oracle is fleshing out its communications portfolio with some network-shaping software
Acme Packet has 1,900 customers worldwide, including 89 of the largest 100 communications companies, as well as other service providers and enterprise shops. The company is headquartered in Bedford, Massachusetts, and has 880 employees.
The Acme Packet business will be tucked up into the Oracle Communications division, which is run by general manager Bhaskar Gorti.
Oracle sells applications to help service providers run their back-end businesses operations as well as their services organizations, but the Net-Net products are going to slide into a stack of core network services and the systems that run them, and then work up the stack to make email, instant messaging, calendar, VOIP, and telepresence applications run better and securely, and do so ideally from Sun Ray appliances if Oracle has its way.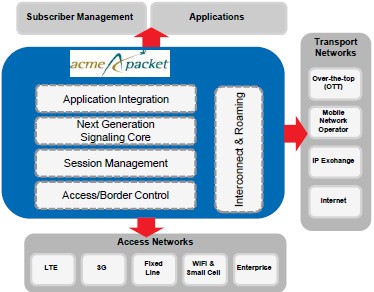 How service providers use Acme Packet software
Enterprises will be able to move to all-IP networks for their various communications, and integrate with existing legacy unified communications systems through the session-management features in the Net-Net stack. Both businesses and enterprises alike will be using Net-Net to offer tiered services to their respective users or customers – and charging more for better quality or more bandwidth, you can be certain.
"The communications industry is undergoing a dramatic shift as users become more connected and dependent on mobile applications and devices," Gorti explained in a statement. "Service providers and enterprises need a comprehensive communications solution that will enable them to more effectively engage with their customers. This combination will enable secure and reliable delivery of real-time interactive communications through the most comprehensive, best-in-class communications portfolio in the industry."
Oracle says that it expects the Acme Packet deal to close in the first half of calendar 2013, and that in the meantime Acme Packet will continue to operate independently. ®