File2Part Gutenberg

Still in an early prototype stage - sorry about the photo, folks - but included here for its innovation and coolness, the File2Part Gutenberg is the first full-colour hobbyist printer. Designed by a team of industry veterans, it is a Fused Deposition Modelling device but after outputting each layer of plastic it does a second pass with a conventional inkjet printer head to colour the plastic. While the Gutenberg will use standard ABS and PLA the company has formulated its own plastic. Future plans include using chemicals in the inkjet to treat the plastic and produce variable flexibility within a single model. The machine can build things as big as 13.6 x 13.6 x13.6cm. File2Part's inventors are selling software to fund development of the technology.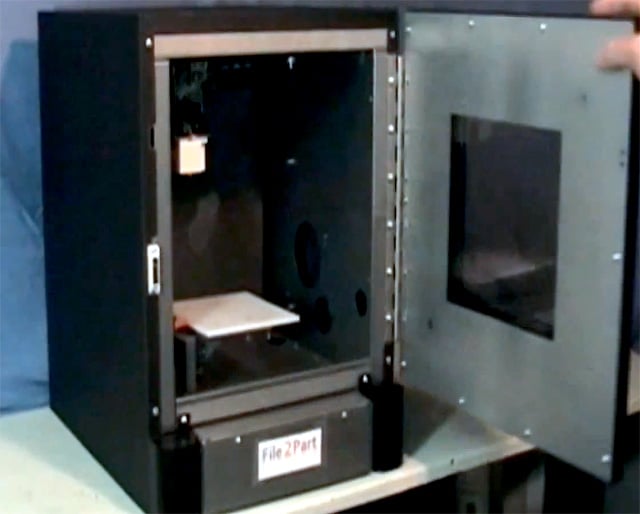 Price
£TBA, suggested at below $3000
More info
File2Part
Formlabs Form-1

This is a hotly anticipated stereolithography printer for first-time hobbyists. It fires a laser into a tank of noxious Acrylate Photopolymer liquid resin, causing the material to harden as an outline is drawn and the platform is raised. The accuracy and finish are much better than the output of extruder-based printers because, while the size of the laser dictates that the smallest possible part is 300 microns in size, the edge of the laser can be controlled within that allowing for very accurate detailing down to 25 microns. Formlabs promise exceptionally slick software, and on the back of some huge Kickstarter success – where it looked for $100k and raised nearly $3m – it has tripled the size of the software team. Resin will initially be available in grey. The build volume is 12.5 x 12.5 x 16.5cm. Initial shipments to Kickstarter backers are scheduled for February – litigation from rival 3D systems notwithstanding – and are otherwise sold out until May.