BIS, bash, bosh: El Reg solves BlackBerry 10 email bafflement
So you've got a new Z10, what are your options?
---
Is a BlackBerry that doesn't use BlackBerry's email service still a BlackBerry? The Company-Otherwise-Known-As-RIM (TCOKARIM*) hopes so.
It thinks it's time to move on, and in an attempt to broaden its appeal to new punters the new BlackBerry 10 phones won't support the BlackBerry Internet Service (BIS). Instead, the devices will pick up their email directly, like any other smartphone, rather than rely on the BIS network.
Users of BlackBerry's business messaging service - BlackBerry Enterprise Server, or BES - are unaffected. And BlackBerry will continue to use the BIS servers to power BlackBerry Messenger (BBM), its unique social network.
But consumers will lose the end-to-end encrypted push email offered by BIS servers if they pick up a new Z10 or Q10 phone. It's going to be a shock to some, particularly in developing markets, who get their push email via BIS, and who enjoy flat-rate roaming data for email, web and social networking.
In the DNA of modern-day RIM lies the blueprints of an end-to-end email service, which it created to allow businesses to send and receive messages to and from their employees' mobiles in the days of circuit-switched 2G data in the late 1990s.
Back then, you could use a Psion or a laptop to "do email" over 2G, or even one of the first, swamp-era "converged" devices such as the Nokia Communicator 9000. But it was all very slow and cumbersome: the mail protocols were not designed for mobile use. So the BlackBerry servers took on the workload, and wrapped up the traffic in a lean and secure protocol. BlackBerry's original hardware, a two-way pager, was an ugly necessity. The real USP was the service.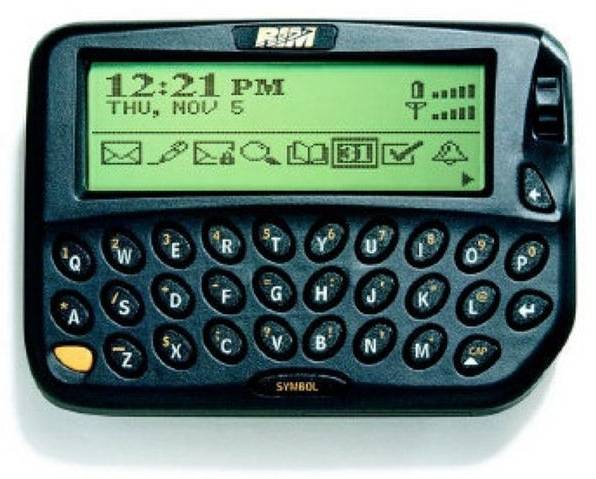 RIM built its business around a messaging service, not hardware. The 850 two-way pager from 1999
For years, RIM wasn't interested in the consumer market. Then it realised that phones didn't have to be ugly, and those business servers could be a huge asset. By installing its email servers within mobile carriers, and routing traffic through them while sharing revenue with those network operators, customers would be offered a flat-rate deal for their mobile data usage - and incredibly efficient email (RIM's servers were doing the polling for punters' Hotmail and Yahoo! accounts, checking for new messages).
Having apparently toyed with becoming a hardware-neutral services company, TCOKARIM's strategy now is "sell great hardware", invest in BBM as a differentiator, and maintain the corporate email and management server software business.
This means lowering the hurdles new adopters must leap over. With the new BB10 handsets, any old network operator's SIM will do, it doesn't have to be provisioned by BlackBerry to use the BIS infrastructure. The question "is this a BlackBerry SIM" is no longer relevant.
This is quite a rational decision to take, and many analysts were calling for TCOKARIM* to drop its BIS charges. In an LTE world, BIS is no longer such a huge differentiator as networks are now fast and moderately cheap enough to carry the message traffic. Operators now offer data bundles, and even decent roaming options.
So efficient email no longer commands a premium, and while the vanilla (ie, industry standard) email transport options are not quite as efficient as BIS, the hit is proportionately smaller than it was in 2005. What really kills your battery is the huge display, the quad-core gigahertz processor, or 4G radio comms - not polling email servers.
What you need to know
So how will it work in practice? It's complicated, and confusion abounds, so here's a handy summary:
If your company uses BES, then it's as you were. You'll receive your shiny new BB10 device already set up. If not, from the email setup dialogue choose 'Work Account' and get all the benefits of secure end-to-end encrypted push email as before.
If you have Microsoft Exchange sans BES, you'll use ActiveSync. This works very well, both with real Exchange and Zimbra servers. If you have a paid-for GMail business account, you'll also be using ActiveSync, and Google will continue to support this. So far, so straightforward.
The picture becomes complicated with consumer accounts. You'll need to have a data plan and the email data usage will come out of that overall allowance. You'll also need to arrange data roaming with your operator.
If you have IMAP, then you'll either use IMAP IDLE for push, or poll the IMAP server every 15 minutes (or less frequently). Both options are more costly in terms of power and data usage than BIS - where BlackBerry's servers do the polling.
Finally, if you have a consumer GMail account then the picture is cloudy. Google has now agreed to support ActiveSync until the end of July. It may decide to release a native for GMail client for BlackBerry 10 as it has for Apple's iOS. Or it may not. If Google pulls ActiveSync from consumer (aka free) GMail then it's polling or IDLE for you.
TCOKARIM* said that in emerging markets, where BlackBerry consumers get unlimited data, BIS won't disappear overnight.
Having decided to bet on the hardware business, rather than flogging everything off except software services, BIS was a necessary casualty. This news was trailed a few months ago but the implications haven't really percolated round the market. Hence the surprise. ®
Bootnote
* "The legal name of the company has not changed but the company will do business as BlackBerry until shareholders vote for the official change at the company's annual general meeting later in 2013," is the word from the horse's mouth. So there.