HDS keeps filer sales ticking over, just don't mention the mid-range
Top-end arrays doing well, relatively speaking
---
Hitachi Data Systems (HDS) has sold quite a few file storage boxes and has kept its revenues more or less at the same level, with sales of its virtual storage platform (VSP) enterprise array growing strongly as well. Mid-range modular array sales look sad in comparison - newbie Hitachi Unified Storage (HUS) just isn't hustling.
In keeping with tradition, Hitachi didn't reveal the profitability of its storage businesses.
The consolidated revenues for the storage subsidiary of the Japanese firm in its third fiscal 2012 quarter, ended on 31 December 2012, were $1.207bn, 1 per cent less than a year ago but 4 per cent higher than its second 2012 quarter. The figures are relatively flat and far from those recorded by its main rival EMC for the same period.
Here's a chart of recent HDS quarterly revenues: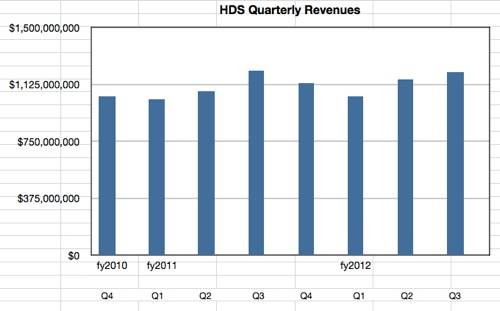 The chart shows consolidated HDS revenues, meaning Japan and the rest of the world. HDS also gives numbers on its growth minus Japan's contribution - and that was up 3 per cent year on year. The chart shows that Q3, the end of the calendar year, is a revenue high point.
We note that EMC's last quarter showed revenues of $6.030bn, almost five times those of HDS, and growing at 8 per cent annually. NetApp's revenues last quarter were $1.541bn, slightly larger than those of HDS. SanDisk's were $1.54bn, again slightly larger than HDS. Symantec is leading the under-$2bn pack, with revenues of $1.79bn.
Within HDS's overall revenues, it says 55 per cent was hardware, 15 per cent software and 15 percent services. Also:
Americas revenues grew 1 per cent
EMEA revenues decreased 3 per cent
APAC revenues grew 12 per cent.
Across all these geographies there were some product bright spots. The File and Content portfolio grew in the low thirties year-on-year. Meanwhile, HDS's Content Platform object storage system alone grew in the low single digits. Taken together with revenue numbers reflecting a NAS platform growth in the high thirties - and we see that the file (BlueArc) biz did very well indeed.
HDS enterprise and midrange storage array business experienced a modest sales bump:
Total hardware revenues grew in the low single digits.
Enterprise Storage grew in the low teens.
Modular Storage decreased in the low single digits.
The weak points were the old AMD and new HUS business. The latter seems no match for EMC's VNX.
Software and services revenues looked like this (HDS provided sequential comparisons rather than annual ones):
Total Software and Services revenues were up in the low single digits from the third quarter of fiscal 2011, not including any OEM contribution
Software revenues decreased in the high single digits
Services revenues were up in the low teens.
So, the modular, mid-range storage was unimpressive with lots of scope for improvement. File (NAS) storage did very well indeed, VSP high-end storage grew solidly, software did not do well and the content business made headway.
Overall HDS is probably maintaining its rank among the big beasts of the storage jungle and taking market share in the high-end enterprise array and, particularly, the NAS business. ®