Big Blue takes the fight to Xeons with Power7+ entry, midrange servers
And into emerging markets where IBM still means something
---
The dateline for the Power7+ entry and midrange server launch says "Johannesburg, South Africa", and not just because Rod Adkins, general manager of IBM's Systems and Technology Group, is there meeting with about a hundred local CIOs. Big Blue also wanted to emphasize that its Power Systems business is doing better against X86 iron in Asian, Latin American, and African markets than in the core markets of North America and Europe.
But don't get the wrong idea. This is mostly public relations with a bit of market data mixed in for good effect. With the entry and midrange Power7+ machines that are launched today and shipping from later this month to the middle of next month, IBM is taking some of the aggressive pricing of its PowerLinux Linux-only servers, announced last April (and enhanced throughout the year), and mixing in the extra oomph of the Power7+ processors.
The result, IBM contends, is a line of low-end rack and tower systems that can meet X86 iron on price and win on performance.
"Big data and cloud technologies that were once only affordable to large enterprises are now available to the masses," said Adkins in a statement put out for the new machines, which will be formally launched in a webcast at 11 am Eastern on February 5.
"With these new systems, IBM is forging an aggressive expansion of its Power and Storage Systems business into SMB and growth markets."
That's tough talk for IBM. Not the kind that will scare Intel much, given Chipzilla's perpetual state of paranoia and its hegemony in Server Land these days. But it will certainly get the attention of Intel server partners and their resellers, who are trying to push in Xeon iron running Windows and Linux and pull out Unix iron made by IBM, Hewlett-Packard, Oracle, and Fujitsu.
Perhaps more significantly, IBM's claim that it can compete head-to-head with X86 systems will give its own Power Systems resellers a chance to defend against the Wintel and Lintel onslaught for a few more quarters until the "Ivy Bridge" Xeon E5 and E7 processors come out from Chipzilla.
While this may not be earth shattering, it is holding back the tide a bit and beats the alternative, which is ceding more ground to Intel in servers. Relinquishing more share won't keep IBM's own wafer baker (in East Fishkill, New York) warm.
El Reg covered the Power7+ processors in depth before IBM started talking about them, and then we learned more about the chip's feeds and speeds at last year's Hot Chips 24 conference (including the fact that some of the Power7+ chips would be double-stuffed into a single Power socket).
The chip has eight cores, just like its Power7 predecessor from 2010, but is shrunk from 45 to 32 nanometer wafer baking processes. IBM is boosting the on-die L3 cache memory to 10MB per core (up by a factor of 2.5) and adding a bunch of accelerators for goosing main memory compression, generating random numbers, and doing various kinds of hashing and encryption, as well as improving single-precision floating point and a number of other features.
The chips support 20 logical partitions (IBM's name for what everyone else calls a virtual machine) per core, double of that for the past several iterations of Power chips. And with the process shrink, the clock speeds get goosed a bit, from 3GHz to 3.7GHz for the Power7s to between 3.6GHz and 4.3GHz with the Power7+ chips.
With the aggressive pricing IBM has set across the entry Power7+ machines ­ that's the Power 710+ through Power 740+ ­ and the goose in performance, the new machines offer anywhere from 14 to 60 per cent better bang for the buck than the Power7 machines they replace. This is a bit better than last October's initial Power 770+ and Power 780+ boxes offered to AIX, IBM i, and Linux customers, and somewhat better than the the Flex System p260+ nodes that came out with the new processor in November delivered.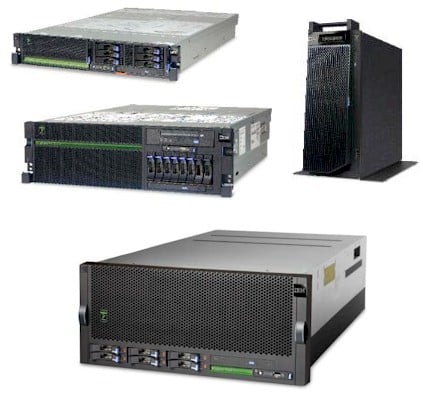 The new Power7+ entry and midrange: Power 710+/730+ racker, Power 720+/740+
racker, Power 720+ tower, and Power 750+/760+ racker
Not all of the feeds and speeds, the slots and watts, and pricing for the new Power7+ iron are available as El Reg goes to press, but Steve Sibley, director of worldwide product management for IBM's Power Systems division, gave us a preview of the machines.
Sibley says that IBM is being particularly aggressive with the Power 710+ and Power 730+ rack-based servers, which are the foundation of the PowerLinux machines as it turns out but which are able to run AIX and IBM i in addition to Linux from Red Hat and SUSE Linux.
As expected, to make use of as many Power7+ chips as possible that are coming off the line, IBM is offering variants of the Power7+ chip with four, six, or eight active cores and is also double-stuffing sockets with four-core and six-core chips to create the revamped Power 750+ and its more oomphy Power 760+ brother, which is new to the Power Systems lineup.
The dual-chip module (DCM) used in the Power 750+ midrange machine packs two four-core chips into a single socket and the DCM in the Power 760 is based on a six-core module. The processors used in the Power 710+, Power 720+, Power 730+, and Power 740+ entry servers is a single-chip module (SCM), and so are the engines used in the Flex p260+, the Power 770+, and the Power 780+ servers.
The Power 795 is based on an SCM as well, and is not getting a Power7+ bump. These machines have Power7 processors running at 3.7GHz to 4.25GHz already and can address up to 32TB of main memory in a 32-socket system. IBM will not upgrade these machines until the Power8 processors come out, and by then IBM could have an entirely different architecture for big bad boxes.
The entry machines "refuse to lose"
There are five new entry machines, four of them in rack enclosures and one that is tipped on its side and turned into a tower machine suitable as a branch office box or as the main machine at small and medium businesses.
The Power 710+ and Power 730+ come in 2U enclosures, just like most workhorse servers based on Intel Xeon or Advanced Micro Devices Opteron X86 processors.
The Power 710+ has a single socket and can be equipped with a four-core chip running at 3.6GHz, a six-core chip running at 4.2GHz, or an eight-core chip running at 4.2GHz. The system has four memory slots and can span from 8GB to 256GB of main memory. (Heaven only knows what IBM is charging for a 64GB memory stick.)
The chassis has room for six SAS disk (now maxing out at 900GB) or six flash-based solid state disks. The box has five PCI-Express 2.0 (not 3.0) x8 low profile peripheral slots, and it has two snap-in mezzanine adapter cards: one x8 card with four Gigabit Ethernet ports and another x4 card to convert the base RAID 0/1/10 controller on the mobo to a RAID 5 or 6 controller.
The processor itself has one GX++ external peripheral slot (which is a funky kind of InfiniBand for directly piping external storage into the processor complex).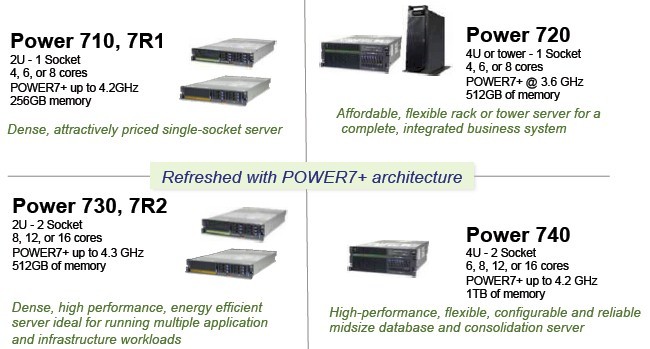 How IBM positions the new Power7+ entry servers
The Power 730+ is basically the same physical chassis, but the machine has two processor cards and therefore twice the number of processors and twice the main memory slots. So, with the 64GB memory sticks, you can get the Power 730+ up to 512GB. The Power 730+ has four different processor options: a four-core Power7+ running at 4.3GHz, a six-core chip running at 4.2GHz, or eight-core chips running at either 3.6GHz or 4.2GHz. Each processor has its own GX++ slot for hooking in remote I/O drawers.
While the pricing information was not available for all of the new Power7+ machines at press time, Sibley did say that the price on the Power 710+ in particular was made to meet that of a similar Xeon E5 server.
In fact, its price was set so that a two-processor Power 710+ using 3.6GHz cores and having a total of 16 cores, plus 64GB of memory and two disk drives would have the same $11,033 price tag as a ProLiant DL380p with two eight-core Xeon E5-2600 processors running at 2.9GHz with the same memory and disk. This is what IBM is telling resellers is its "refuse to lose" strategy.
The Power 720+ is intended to be a rack or tower replacement for the Power6-based Power 520 and Power7-based Power 720 machines that are the most popular boxes in use by IBM i (formerly OS/400) customers. But they can, of course, run AIX or Linux.
The Power 720+ comes in a 4U chassis, just like its predecessors, and has room for eight drives or six if you want to put in a DVD and a tape backup. As with prior machines in this class, IBM is locking the clock speeds in single-socket machine at 3.6GHz (up from 3GHz with the Power 720) and allowing customers to choose an engine with four, six, or eight cores.
On the four-core variant that is particuarly popular for IBM shops because of its low software pricing tier, main memory only scales to 64GB. On machines with six or eight cores, you can jack the memory up to 512GB. The Power 720+ has five full-height PCI-Express 2.0 x8 slots and an optional four low-profile x8 slots that can be added with a riser card.
With the 12X I/O variant of DDR InfiniBand link coming out of the server, you can hang a total of four remote I/O drawers directly off the system bus for a maximum of 380 disk drives and 342TB of total capacity using 900GB disks. This server has four Gigabit Ethernet ports (coming off the mezz card) and the same disk controller options for the six or eight internal drive bays.
With the Power 740+ server, you take the same basic chassis and allow customers to add a second processor card to make it a two-socket box if they want to. The Power 740 also has different processor options. You can have a six-core Power7+ chip running at 4.2GHz or an eight-core chip running at either 3.6GHz or 4.2GHz. You can put 512GB on each processor socket for a max of 1TB on a fully loaded Power 740+ system.
All of these entry machines run IBM's own AIX 6.1 or 7.1 or IBM i 6.1.1 or 7.1 operating systems. Red hat Enterprise Linux 6.4 and SUSE Linux Enterprise Server 11 SP2 are certified to run on them as well. They will be available on February 20.