Instagram gets around to adding website galleries
But it's still all about mobile
---
Hipsters around the world are rejoicing at the news that they can now access their Instagram feeds on the web. Instead of thrusting their phones at you, now dull office time can be spent trying to think of something nice to say while examining the wonders of filtering.
The company has had a website that hosted profiles and some pictures for the last year, but Tuesday's announcement is about bringing users' entire photo streams onto the desktop web.
"We believe that you should be able to access Instagram on a variety of different devices, any of which may be convenient to you at a given moment – including your desktop computer or tablet," said co-founder Kevin Systrom in a blog post.
But there's a catch. The new website will only allow users to view pictures, not to upload them or create new ones. Viewers can like or comment on pictures, something Instagram's Facebook owners are keen on, and it'll make photostreams more accessible, but the company wants to stay close to its mobile roots, apparently.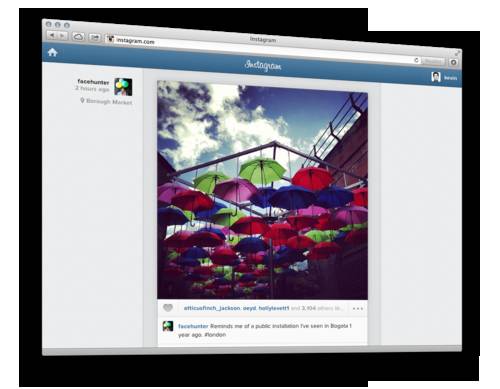 Filtering in all its glory
"We do not offer the ability to upload from the web as Instagram is about producing photos on the go, in the real world, in realtime," said Systrom. "On the other hand, Instagram for the web is focused on making the browsing experience a fast, simple and enjoyable one."
The move does have a number of advantages for Instagram. Sure, the photos get more face-time and that will encourage more people to sign up. But it also allows the company to tap into the web advertising market, which is much more lucrative than its current mobile fees.
The service is currently rolling out and should be available for all users shortly. ®