Fanbois rejoice: iPhone 5, iPad Mini finally jailbroken
All devices running iOS 6 set free at last
---
After a long wait – almost six months – a jailbreak method for iOS 6 is finally available, allowing the iPhone 5, the iPad Mini, and the fifth-generation iPod Touch to join the jailbreak party for the first time.
The jailbreak tool is the work of a hacking team calling itself Evad3rs, which announced the release on Monday via its Twitter feed.
According to the tool's website, the method works on "all iPhone, iPod touch, iPad and iPad mini models running iOS 6.0 through 6.1." Versions of the tool are available for Linux, OS X, and Windows.
This isn't the first time someone has claimed to have jailbroken iOS 6. In September 2012, a hacker named Grant Paul, aka "chpwn," announced that he had developed a method. If he actually did, though, he never made the code available to the public.
Following the Evasi0n release, on the other hand, Twitter was abuzz with reports of fanbois successfully jailbreaking their devices
Cleanest jailbreak ever. Kept all my apps, data, contacts. pictures, and even text messages :) #evasi0n #success

— Matt McKeown (@McKeown_Matt) February 4, 2013
The Evasi0n method is an untethered jailbreak, meaning it's a one-time process. Devices that have been jailbroken using a tethered method must be connected to a computer ("tethered") every time they are power cycled or rebooted. With an untethered jailbreak, the device can be rebooted as often as needed, without hooking it up to a PC.
Once an iOS device is jailbroken, it can be customized in various ways that aren't possible with stock firmware. But more significantly, while a stock device will only allow apps that have been downloaded from Apple's App Store to be installed, a jailbroken device allows the user to load apps from unauthorized sources.
That means jailbroken iOS devices are a primary enabler of app piracy, and they also allow users to install apps that have been rejected from the App Store, as well as "underground" apps that have never been submitted to the store because they clearly violate one or more of Apple's terms.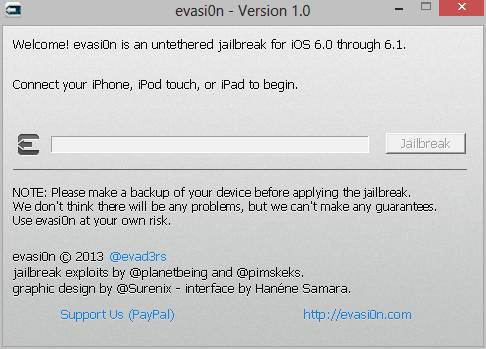 Jailbreaking, now for all iOS 6 devices -- no Mac required
As much as that might get Apple's undies in a twist, however, jailbreaking a phone has been legal in the US since 2009, thanks to an exception to the Digital Millennium Copyright Act specifically allowing the practice.
A similar exception that briefly gave Americans the right to unlock their phones and move them to new cellular networks expired this year, but the jailbreaking exception was renewed – until 2015, at least. So do yours while you can, if you're so inclined. ®