Ravello uncloaks with $26m, fires cloud hypervisor into the heavens
Aims high to be the VMware of fully virtualized fluffy infrastructure
---
A cloudy startup called Ravello Systems raised eyebrows last March when it partially uncloaked as a bunch of techies who created the KVM hypervisor at Qumranet (now part of Red Hat) and got back together for some unknown purpose. Now we know what that purpose is.
Namely, Ravello aims to create a hypervisor that spans clouds and pull a repeat performance of what VMware has been able to do with server virtualization and what Red Hat has been trying to do with KVM. That is, to do something useful – in this case, virtualize servers and make them more efficient – and make billions of bucks in the process.
Ravello was founded in early 2011 by Benny Schnaider and Rami Tamir, who were respectively CEO and president of Qumranet. Red Hat, sick of technical issues with the Xen hypervisor and its lack of control of the Xen project, snapped up Qumranet in September 2008 for $107m. The company's code is the foundation of its Red Hat Enterprise Virtualization (RHEV) hypervisor for servers.
This time around, Schnaider is president and chairman and Tamir is CEO. Both men together kicked in $1m of their own cash to get Ravello going. The company is headquartered in Raa'nana, Israel, but it has a US headquarters near the venture community in Palo Alto, California.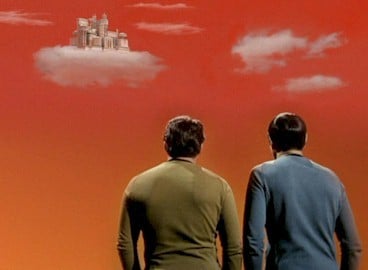 Ravello raised $10m from Sequoia Fund and Norwest Venture Partners, two venture capital firms that kicked in funds to Qumranet, in the first phase of its first round of financing in September 2011. In March of last year, Navin Thadani, who is an ex-Cisco Systems employee like Schnaider and who was in charge of the RHEV line at Red Hat, left Shadowman and joined Ravello as senior vice president in charge of products.
On Tuesday, Ravello announced that it actually raised $26m in that first round of funding – with Bessemer Venture Partners kicking in dough alongside Sequoia and Norwest – and it started to talk a bit about the product it has under development, which it calls a cloud application hypervisor.
The idea that Ravello has come up with is not all that different from server virtualization hypervisor, and it addresses some of the same pesky issues that virtualization solved through a layer of abstraction. And, admittedly, this is a bit of a flashback for all three members of the executive office at Ravello, as well as the VCs that are kicking in the dough. It is not the brown acid, but the green money that VMware has left on the table that is getting them high.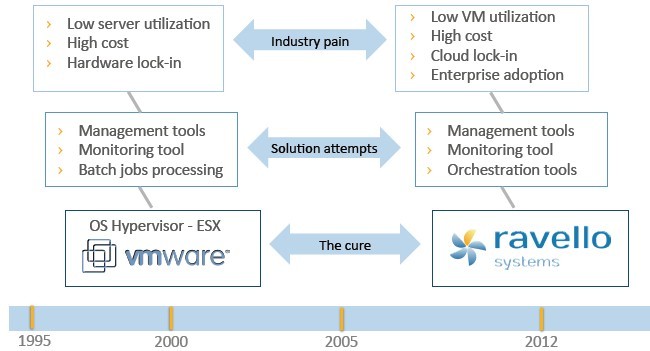 Ravello Systems is having virtualization flashbacks out in the clouds
"We are going after the cloud computing space in a different way," Thadani explained to El Reg. "Enterprises can't really use the public cloud in the way that they want to. They want their data centers for average workloads and then they want to burst out to the public cloud when they need extra capacity. Everybody wants to do hybrid cloud, but it really doesn't work."
The problem is that private physical and even virtualized infrastructure inside the data center is fundamentally incompatible with the virtualized infrastructure on the various public clouds.
Even when you can get a matched pair – use VMware ESXi and vCloud in your data center and choose a service provider that does the same, or deploy Eucalyptus Systems in your private cloud and use Amazon Web Services on the public cloud – there are still incompatibilities and other issues that make application and management portability across clouds difficult.
And for that matter, there is no way to move applications from one cloud to another or from one set of private virty infrastructure to another. This whole cloud thing is a lot less fluid than we are led to believe.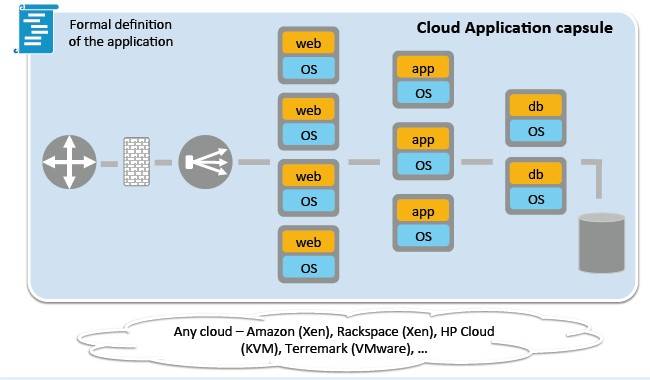 The concept behind the cloud application hypervisor
What Ravello wants to do with its cloud application hypervisor is to jack up the virtual machines and wrap an encapsulation layer around them, using metadata to track all of the links between various virtual machines and keep tabs of the dependencies between different parts of the application tier. The cloud application hypervisor is also meant to take VMs and move them around, regardless of the underlying hypervisor, and let them run on any hypervisor.
In other words, the Ravello cloud application hypervisor is a liar whispering sweet nothings to a hypervisor like ESXi, Hyper-V, Xen, or KVM, just like a server virtualization hypervisor is a liar telling operating systems and applications that it is the underlying hardware when it isn't.

Block diagram of the HVX nested hypervisor for clouds; you can cram multiple VMs and their software stacks into a single HVX and then link them.
This is done through a layer of abstraction called the nested hypervisor, which is what is used to normalize any VM created on any hypervisor so it can run on any other hypervisor or public cloud with its own tweaked hypervisor.
This HVX cloud hypervisor does not take advantage of the VT-d or AMD-V virtualization-assistance circuits in modern x86 processors, but rather uses a technique called binary translation (as early editions of ESX Server from VMware did before features were added to chips to avoid this translation).
Thadani says that on CPU-bound applications, the overhead imposed by HVX can be as little as 5 per cent and as much as 30 per cent compared to native KVM or Xen hypervisors, and that on I/O-bound workloads, the overhead can be quite a bit higher. So this is no free lunch, at least until HVX features are added to x86 processors.
The Ravello system has an I/O overlay that abstracts networking and storage in applications so they can be portable to a public cloud from internal data centers and then portable across clouds. The stack also includes an application framework that can do static bindings between VMs running in an n-tier application, as well as letting some parameters in the application scale up to boost capacity. (Adding beefier virtual server slices for more oomph vertically, or adding instances for more oomph horizontally, for instance.)
Ravello is not open sourcing this software (at least not at the moment) and is providing it as a service. You log into their service, upload your VM images, and use a graphical design tool to link up the VMs like a mousetrap contraption. Once you do that, you can point it at a public cloud and the Ravello system will wrap it up in the HVX abstraction layers and pump it out onto the cloud of your choice.
The Ravello system is open up for a public beta starting on Tuesday, and you can sign up for the beta here. Thadani says he is not sure when the system will be generally available, but perhaps in the middle of 2013 or so, depending on how the beta goes.
Eventually, the Ravello system will be able to recommend how you might bunch up VMs inside of HVX containers and what kind of server slices you might use to run them to get optimal performance on various clouds. And Thadani adds that there will eventually be a plug-in so you can suck your VMs into the system and then spit them back out into your own data center, if it has been virtualized.
Pricing has not been set yet, but Thadani says that the company is leaning towards a usage-based model like Amazon has for its various cloud services. The beta supports Amazon EC2, Rackspace Cloud, and HP Cloud, with others expected later this year. ®