NASA's Deep Impact probe has sent back images of comet Ison as it heads inexorably towards a close fly-past of the Sun later this year.
The spacecraft snapped the comet from a whopping 793 million kilometres with its Medium-Resolution Imager over a 36-hour period on 17 and 18 January, allowing NASA to stitch together this time-lapse vid:
The ball of dust and ice - discovered by Russian astronomers in 2012 - is currently making its way through the outer solar system. Although it's still some 763 million kilometres from its solar encounter, it already boasts a tail over 64,000 kilometres long, leading skygazers to anticipate "a bright future".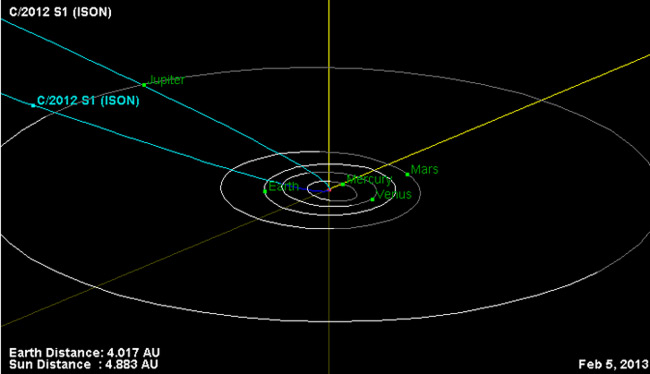 On 28 November, Ison will pass within 1.8 million kilometres of the Sun, coming to within 64 million kilometres of Earth on 26 December.
Tim Larson, Deep Impact project manager at NASA's Jet Propulsion Laboratory said Ison was shaping up to be "potentially spectacular" - "so spectacular that it may achieve a brightness of an apparent magnitude of -16, which would greatly outshine the brightest Moon", as we previously put it.
Naturally, such "Comet of the Century" claims are likely to provoke the "Kohoutek effect" - the cometary equivalent of what we at Vulture Central call the "Perseid effect", where excited anticipation of the best meteor lightshow for years invariably leads to overcast skies and pouring rain.
The much-hyped comet Kohoutek proved a disappointing flop back in 1973, and as expectation that Ison will blaze majestically across the heavens rises, the chances that it will disintegrate as it nears the Sun increase in direct proportion. ®
Similar topics