This article is more than 1 year old
Review: Dell XPS 10 Windows RT tablet and dock
The convertible that Microsoft's Surface should have been?
Krait balls of fire
Inside lurks a Qualcomm Snapdragon S4 1.5GHz dual-core Krait processor with 2GB of RAM. That's a combo which keeps the XPS 10 moving at a good canter. No matter how many windows I had open or what I was asking the system to do there was no sign of lag, stutter or hesitation.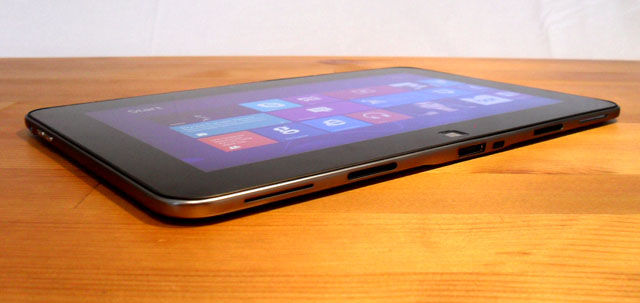 Making connections
There were no issues with 1080p video, either. Screen resolution notwithstanding, full HD content played cleanly whether locally hosted or streamed. File type support, however, is merely average. At the moment, the RT stock media players don't support MKV or Flac, and third-party alternatives are thin on the ground.
There aren't many benchmark options for Windows RT at the moment but the SunSpider JavaScript test threw up an impressive score of 953 which is better than either the Surface or Asus' VivoPad RT, both of which are Tegra 3-based devices. Even the iPad 4 only scores in the high 800s.
SunSpider JavaScript Test Results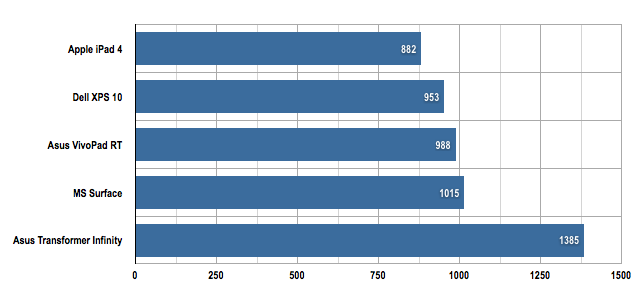 Longer bars are better
Both dock and tablet have the same battery in them, a fixed two-cell, 28Wh affair. Looping a 720p MP4 file I got over 18 hours from a full, combined charge. Even after an average of five hours' varied use each day, I only needed to find a wall socket every fourth day. That's pretty good in my book.
Strangely though it's the tablet battery that gets drained first. This means that if you watch nine hours of video and then undock the tablet, the tablet battery is flat. This is entirely counter-intuitive. The way Asus does it makes sense: drain the dock first and then the tablet. After all, you can use the tablet without the dock but not the dock without the tablet. That the XPS 10 doesn't do this is, for me, a major drawback. I can envisage users working away at home on their docked XPS, pulling out the tablet to head off somewhere... only to find they're out of battery and charger-less.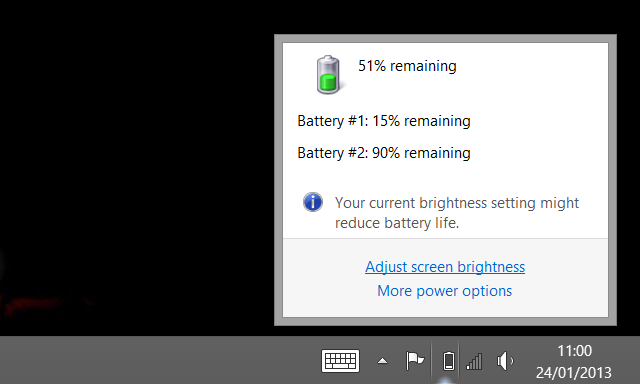 Docked, the tablet's battery drains first. Bonkers
This odd arrangement is somewhat ameliorated by the fact you can charge the tablet through the micro USB port if you find yourself without the traditional rat-and-tail 1.6A PSU.
Now to the elephant in the room, Windows RT. Bad points include no support for Windows desktop programs, a less than fully functional Office suite, a horrible lack of apps – though this might improve – and the abrupt transition from the tile-based what-was-once-called-Metro (WWOCM) interface to and from the familiar Windows desktop.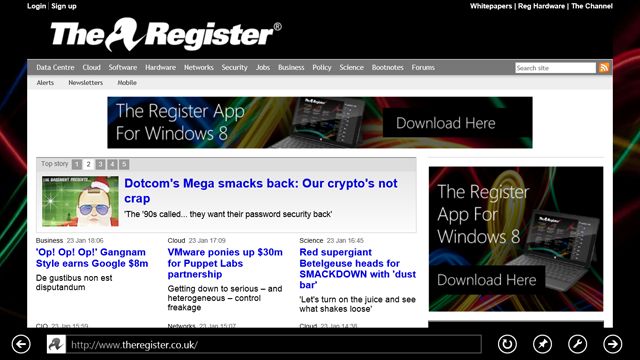 IE on RT is a fine mobile browser
The plus points? Having a desktop and the familiar Windows file explorer; the excellent web browser which negates the need for many of the missing apps; having SkyDrive-linked Office in any form; and the handy default WWOCM apps, including Messaging, Mail and Skype.
You'll notice some things fall into both categories, which is why I suspect RT causes people to get so bent out of shape and confused. There's no doubt that Windows 8 in any form takes some getting used to, but having a PC-like UI on a tablet is something I find myself becoming more and more well disposed towards.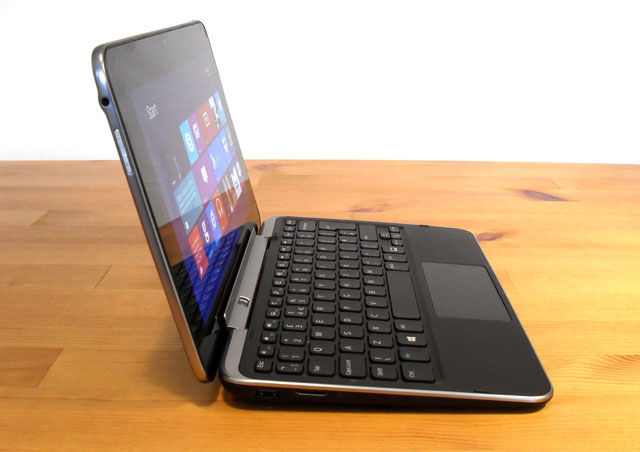 Edge-y?
I'm not saying Windows 8 RT is perfect. By no means. You could argue that it occupies a no man's land between tablet (read phone) opertaing systems like Android and iOS, and grown up desktop operating systems like Windows 8, Mac OS X or any good Linux distro. I admit I don't like Windows RT as much as I like Android, but I'm starting to I dislike it less than I do iOS 6.
The Reg Verdict
For £629 – the cost of a 64GB XPS 10 and the dock – you expect a very well made and powerful bit of kit, and the Dell doesn't disappoint. The screen performs better than the written specification would lead you to believe, but the bonkers battery arrangement will make for some moments of profound annoyance when you want your undocked tablet to work but it won't for lack of battery charged. The problem with Windows RT is that it doesn't offer anything that Windows 8 proper doesn't – quite the contrary – which makes me feel it should be rather cheaper than it is, even if the hardware feels up to the price point. I rather like the XPS 10, but I'd like a Windows 8 Pro version for the same price even more. ®

Review: Dell XPS 10 Windows RT tablet and dock
A convertible 10.1-inch Windows RT tablet powered by a dual-core Qualcomm Snapdragon S4 CPU that's offered with dockable keyboard to turn it into a notebook.
Price:
From £399. As tested: £629 RRP