This article is more than 1 year old
Astronomers unravel solar system's strange energy 'ribbon'
New theory - not involving Office 2007 - might be the answer
Astroboffins reckon they may have solved the mystery of the vast ribbon at the edge of our Solar System after three years of puzzling over it.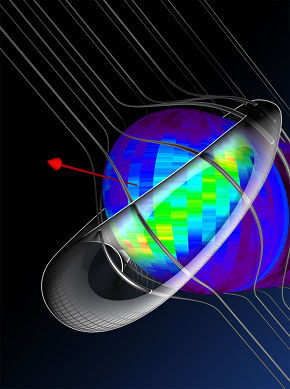 The mysterious band of energy and particles, first discovered by NASA's Interstellar Boundary Explorer (IBEX) at the edge of the system in 2009, could be caused by strong magnetic fields and charged ions, according to a proposed new theory published in The Astrophysical Journal.
"If the theory is correct," lead author Nathan Schwadron said, "the ribbon can be used to tell us how we're moving through the magnetic fields of the interstellar medium and how those magnetic fields then influence our space environment."
Schwadron and his colleague Dave McComas, from the University of New Hampshire and Southwest Research Institute respectively, are proposing a retention theory that suggests the ribbon is sitting in a special location where neutral hydrogen atoms from the solar wind move across the local galactic magnetic field.
Although neutral atoms are not affected by magnetic fields, when their electrons get stripped away they become charged ions and start to bounce wildly around magnetic field lines. That rapid rotation creates waves in the field that then trap the charged ions, making the ribbon IBEX spotted.
"Think of the ribbon as a harbour and the solar wind particles it contains as boats," Schwadron explained. "The boats can be trapped in the harbour if the ocean waves outside it are powerful enough.
"This is the nature of the new ribbon model. The ribbon is a region where particles, originally from the solar wind, become trapped or 'retained' due to intense waves and vibrations in the magnetic field."
The retention theory isn't the only idea for how the ribbon was formed, but Schwadron reckons it ticks all the boxes and agrees with all the available observations.
"This substantially raises the bar for models that attempt to explain the ribbon," he said.
The full paper, "Spatial Retention of Ions Producing the IBEX Ribbon", can be found in the The Astrophysical Journal. ®