Space station 'naut supplies Reg with overhead snap of Vulture Central
'So much of history came from this city'
---
We've all seen photos of London before, but this one was snapped from 250 miles above the Earth's surface by astronaut Chris Hadfield, who is hurtling round and round the planet aboard the International Space Station at the moment.
This is what London looks like from the station. Showing the metropolis at night the orbital shot shows the glow at the centre of the city, the Thames snaking through the centre, the main traffic arteries, the M25 snaking round the capital and the way the light fades out into the suburbs.
Hadfield tweeted the photo last night with a homage to the British capital:
"From London on the Thames to the sea to the world, so much of history came from this brightly-lit city."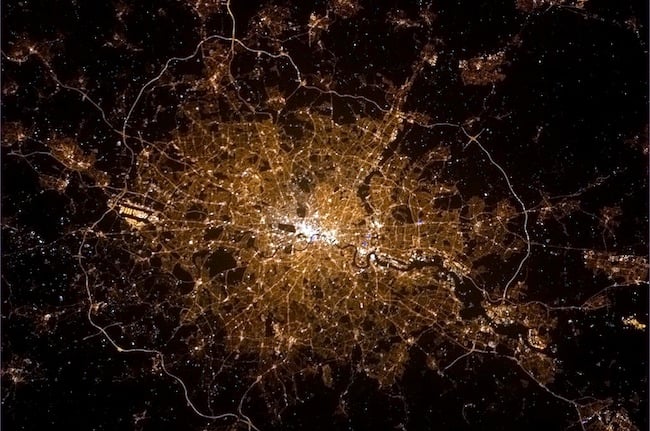 London from 250 miles into space, credit Cmdr_Hadfield: click for full-sized image
Hadfield's son Evan forwarded the Reg a nice big version of the picture, though he doesn't yet have the full size one from the camera. Vulture Central cannot quite be glimpsed in the image - even in the large version - but we are sort of on the left of the bright bit north of the river.
Hadfield has also photographed Peru and the Australian bush fires as we reported earlier this month. He's also a Reg favourite for his easy chat on Twitter.
Hadfield is serving on the station as a Flight Engineer for Expedition 34, and the 52-year-old will take command of the station for Expedition 35 in March.
Raised on a farm in Ontario, the young Hadfield was inspired to be an astronaut by watching the Moon Landings on TV, going on to became a fighter pilot in the Royal Canadian Air Force, then a test pilot with the US Navy in an officer exchange programme.
Hadfield was one of four chosen from a pool of 5330 candidates to became an astronaut with the Canadian Space Agency in 1992 at the age of 32. He will be the first Canadian commander of the International Space Station, and is nowadays a civilian CSA 'naut, having retired from the RCAF as a colonel in 2003.
When not snapping the globe, Hadfield likes to play his guitar in the ISS and is considering recording the first-ever album from Space, time permitting. The CSA has posted his Space Station playlist. ®