This article is more than 1 year old
Could this be Google's slick new touchscreen Chromebook?
Supposed leaked ad claims to show the full monty
Video If what purports to be a leaked video turns out to be legit, Google may be planning to shake up the PC hardware market by releasing a new, upscale Chromebook featuring a high-resolution touchscreen display.
Rumors of a touchscreen Chromebook have been floating around since last year, but the only sources have been Chinese supply-chain watchers, whose track record for accurate prognostication is not great, to put it mildly.
But a new online video first discovered by Chrome OS fan François Beaufort appears to be an ad showing just such a device. And judging by the polished, professional-sounding voiceover, the new Chromebook may be closer to being released than anyone suspected – that is, if it doesn't turn out to be a complete hoax.
The device in the video is named the Chromebook Pixel, and the narrator goes out of his way to explain that it was "designed entirely by Google ... down to the last pixel."
About those pixels: there are a lot of them. Four million, to be exact. Beaufort reckons that would give the device a screen resolution of 2560 by 1700, for a total of 4,352,000 pixels per display. Assuming these are 12.1" panels, like earlier rumors have suggested, that translates into a whole lot of dpi.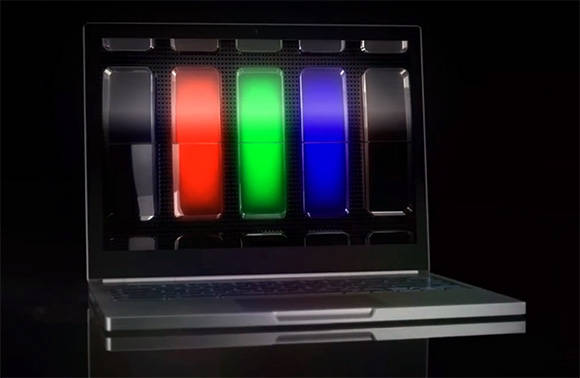 Is the Chromebook Pixel real? The video shows what looks like a metal-bodied laptop running Chrome OS
The ostensible ad gives no further details about the specs or capabilities of the device, other than to make repeated reference to this high-resolution screen. Just why screen resolution would be so important on a device that is little more than a glorified web browser isn't exactly clear, but there you have it.
What's interesting about the device shown in the video, however, is that it appears to be made out of some kind of metal, possibly aluminum. Previous Chromebooks have all been made of plastic, and their design has been less about frills than about economy – the low end of the current Chromebook line, the Acer C7, retails for a paltry $200.
If the Chocolate Factory really is planning to ship a Chromebook that resembles a MacBook Pro more than a netbook, as this video would seem to suggest, it could potentially ruffle the feathers of its hardware partners in much the same way that Microsoft rankled OEMs by releasing Surface under its own brand.
And then again, it could all be an elaborate ruse – albeit a skillfully crafted one, right down to the judicious use of familiar Chrome OS marketing language. We leave it to you to judge, dear readers – that is, until the video gets yanked down, at least.
®