This article is more than 1 year old
Fujitsu says sayonara to semiconductor biz, thousands of staff
Dividend killed as conquering European IT proves tough
Japanese IT giant Fujitsu has been trying to eject its semiconductor business for a number of years, and has finally had enough of the drag it puts on its revenues and earnings.
To that end, Fujitsu will spin out its chip business into partnerships with consumer electronics conglomerate Panasonic and rival Taiwan Semiconductor Manufacturing Corp. Some workers will be transferred to these two companies, the rest will be laid off.
Fujitsu is also cutting its dividend for the fiscal year, and doing other restructuring to get its financial house in order.
The tech titan also said that its aspirations in the European IT sector - embodied in its Fujitsu Technology Solutions business - are not being met. This is due to intense competition in the systems racket.
In a statement about the chip spinoff, Fujitsu said that for the past six years it has been trying to do a "fab lite" business model for Fujitsu Semiconductor, but that the division was unable to compete against super-aggressive fabs such as TSMC and GlobalFoundries.
Fujitsu said it had considered a variety of options, including spinoff and partnership talks with outside companies, to try to improve this business – but to no avail.
"Since fiscal 2011, however, this business has been confronted with an extraordinarily difficult operating environment as sales declined due to fast-deteriorating market conditions and an increasingly severe competitive climate," Fujitsu said.
So here's what was in the works, and here's what is now going to happen: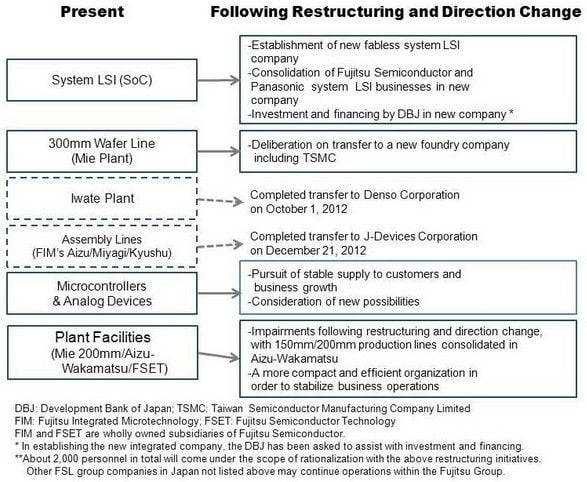 Simplest flowchart we've seen all year
Fujitsu transferred its Iwate plant to Denso Corp last October and its assembly and testing facilities to J-Devices Corp last December.
The plan now is to take the system-on-chip business at Fujitsu and create a fabless design company in conjunction with Panasonic, with investment and financing from the Development Bank of Japan.
In a separate statement, Fujitsu said the two parties had inked a memorandum of understanding and were working to finalize a contract, which will include transferring the existing chip design teams from both parties to the spinoff. Interestingly, Fujitsu and Panasonic are interested specifically in high-performance servers for cloudy infrastructure and interconnect networks, and will also work on next-gen digital TV, image recognition tech and wireless connectivity chips.
As part of the overhaul (some would say deconstruction) of the Fujitsu semi biz, the 300mm-wafer baking plant in Mie, Japan, will transfer to a new foundry company that will include TSMC; Fujitsu will simply design chips to be etched at the Mie factory and perhaps other plants belonging to TSMC. (Why the Mie operations were't just sold to TSMC proper in exchange for wafer baking services is a bit of a mystery.) Fujitsu and TSMC have been partners since 2009 in developing chip etching technologies, including the current 40nm and 28nm processes that TSMC is making lots of different CPUs and GPUs with today.
The analog devices and microcontroller business, which sells chips for cars and consumer electronics, is still in limbo and Fujitsu is working to ensure supply of parts to customers while considering "new possibilities".
Fujitsu is also restructuring its relatively old 150mm and 200mm wafer bakers in Aizuwakamatsu and Mie, respectively, as well as the 200mm plant run by another subsidiary called Fujitsu Semiconductor Technology. This restructuring means taking write-offs, laying off 2,000 workers, and trying to make it a more efficient operation. It is hard to imagine that Fujitsu wants to keep this business, but it may be that it could actually make some non-trivial amounts of money after restructuring.
Fujitsu took two different sets of write-offs as part of the restructuring: one related to the semi business and the other related to its Fujitsu Technology Solutions business in Europe.
The semiconductor business is being hit with ¥57bn ($655m) in restructuring expenses, which includes ¥33.1bn ($380m) for the transfer of various fabs to third parties discussed above, and represents transfer costs for the employees that moved from Fujitsu to Denso and J-Devices as well as guarantees for operating costs, and other charges. The ¥23.9bn ($275m) is for an impairment loss on its factories in Mie and Aizuwakamatsu for making standard devices on 150mm and 200mm wafers.
Fujitsu Technology Solutions - which was formed when Fujitsu bought long-time systems partner Siemens out of their partnership in April 2009 - is taking a ¥28bn ($322m) charge as well, and now Fujitsu says that the ten-year plan it had to recoup its investment in the other half of the Fujitsu-Siemens partnership is not going to pan out after six years.
That deal was announced in November 2008, nearly a decade after the joint venture was set up between the two companies to build and sell systems in Europe. When Fujitsu bought Siemens out for €450m, the company had more than 10,000 employees, about €6.6bn in annual revenues, and a piddling €72m operating income. The company now says that the FTS unit will have an operating loss for fiscal 2012, which will end in March 2013. (Yes, that year shift is annoying.)
With the restructuring announced today, approximately 4,500 employees will move to spinoff companies or partners and another 5,000 employees both in Japan and in other geographies will be made redundant. That's about 5.5 per cent of the company's 173,200-strong global workforce. Another 2,400 employees have already made the jump to Denso and J-Devices last year. Another 1,000 employees are being transferred into sales and services jobs and out of development and manufacturing roles. Officer and manager pay is being cut, as is the fiscal 2012 year-end dividend, which was set at ¥5 per share. The company already distributed a ¥5 per share dividend at the half-way point of the fiscal year.
In a presentation (PDF) by Fujitsu president Masami Yamamoto that accompanied the restructuring announcements and the company's reporting of its third quarter financial results ended in December, it looks like FTS is going to be hit particularly hard with "cost reductions to address increased competition in hardware" and a plan to try to springboard more software and services sales along with hardware. The plan also calls for "streamlining through business process visualization and improvement," which was probably an idea that got lost in translation and which more than likely means the people that remain will be picking up the slack and are being asked to do more on top of that.
Fujitsu also said that it would be making a contribution to its UK pension fund to meet unfunded obligations and would prevent the future accumulation of underfunding in the pension.
The restructuring plan calls for Fujitsu to have an operating income of over ¥200bn ($2.3bn) and an operating income of over ¥100bn ($1.15bn) by fiscal 2015.
Now, the Q3 fiscal 2012 numbers
In the third quarter ended in December, Fujitsu's total sales came to ¥1,048.2bn (just over $12bn), down 2.9 per cent from the year-ago period. Sales in Japan were down 5.4 per cent. Gross profits were dinged by falling margins for PCs and other "volume-driven products," down 3.6 per cent to ¥271.1 ($3.12bn). Fujitsu had an operating loss of ¥4.1bn ($47m), and after restructuring charges, had a net loss of ¥79bn ($908m).
During the quarter, Fujitsu's services business was up 3.1 per cent to ¥576.5bn ($6.63bn); the systems platform business was down 2.3 per cent to ¥124.1bn ($1.43bn). Operating income for services was ¥21.7bn ($254m), down 1.8 per cent, and system platforms was more than cut in half to ¥1.8bn ($20.7m).
Fujitsu said that the impending launch of the "Athena" Sparc64-X processors and the Sparc M10 series of servers, which launched in January in Japan, hurt sales of systems in the December quarter.
Fujitsu's PC and smartphone business, which it calls Ubiquitous Solutions, brought in ¥266.5bn ($3.06bn) in sales, down 11.5 points. The company shifted from an operating income of ¥2bn to an operating loss of ¥2bn (that's about $23m). The Fujitsu chip biz had ¥129.5bn in revenues, shrinking 6.2 per cent, and its net loss widened a bit to ¥9.3bn ($107m). ®