This article is more than 1 year old
IBM rounds out 10GE/40GE RackSwitches with a switch hitter
Adding converged Fibre Channel and pushing 10GBase-T ports
Big Blue is rounding out its RackSwitch top-of-rack switches in conjunction with the launch of entry and midrange Power7+ servers earlier this week.
IBM is kicking out two new switches, the RackSwitch G8264CS and G8264T, both of which offer a base number 10 Gigabit Ethernet ports and then additional uplinks or so-called "OmniPorts" that can support Fibre Channel cables out to storage area networks or additional 10GE ports as the situation dictates.
The G8264CS is the switch hitter, and it has a base 36 ports running at 10GE speeds and using SFP+ plugs and cables. This switch also has four 40GE uplinks with QSFP+ ports, which have breakout cables to split each port down to four 10GE ports if you want to do that.
The G8264CS also has another dozen OmniPorts that can do either 10GE or 4Gb/sec or 8Gb/sec Fibre Channel links. All of this is crammed into a 1U chassis, which is typical of other switches these days.
Importantly, the G826464 has the Fibre Channel over Ethernet (FCoE) protocol running on the switch as well if you want to converge iSCSI and SAN storage traffic over the Ethernet switch. So you can do native Fibre Channel or FCoE, pick your poison. Or change it if you change your mind or your storage.
The switch also has the VMReady virtualization management layer for coordinating network configurations inside the switch when virtual machines flit around the cluster and supports IBM's Virtual Fabric software as well. It has a switching bandwidth of 1.28Tb/sec, and while IBM says it has low latency on port hops, Big Blue doesn't say how low.
The RackSwitch G8264CS will be available on February 15, and it comes with one model that has fans that blow rear-to-front and another that blows front-to-rear. It costs $37,999.

The RackSwitch GS8264T, top, and the RackSwitch GS8264CS, bottom
The G8264T has 48 10GE ports using the 10GBase-T connectors that allow the use of low-cost RJ45/CAT6 connectors and cables, which seems to be a must for a lot of shops to adopt 10GE networking.
The current crop of 10GE switches, regardless of vendor, have come down in price over the past several years, but they are still crazy expensive compared to Gigabit Ethernet iron.
Anyway, the G8264T also has four 40GE ports to be used as uplinks that use QSFP+ cabling. Those 40GE ports can use splitters to make 16 10GE ports if you want to do that for "future proofing" your switch, using all of the capacity as 10GE ports at first and then reverting to 40GE when you need higher capacity uplinks later. The G8264T switch has 1.28Tb/sec of switching bandwidth with a port-to-port latency of 880 nanoseconds.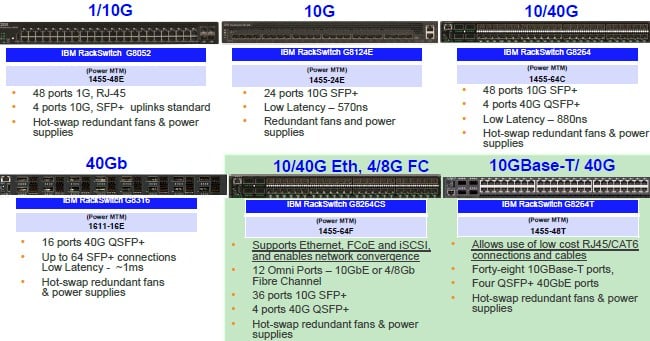 IBM's family of RackSwitches certified for Power Systems servers – and other iron, too
The G8264T was actually launched in April 2012 and is only now being certified to be used on Power Systems stacks. It costs $29,999. ®