This article is more than 1 year old
Windows Phone 8 hasn't slowed Microsoft's mobile freefall
New data shows Redmond's smartphone share is smaller than ever
Four months after its formal launch, not only has Windows Phone 8 failed to win Microsoft a bigger piece of the mobile pie, but Redmond's share of US smartphone subscribers is actually still shrinking, according to the latest figures from analytics firm comScore.
You may recall that last November CEO Steve Ballmer was crowing about what a success the Windows Phone 8 launch had been, and that Microsoft was selling four times as many Windows Phone devices as it had during November 2011.
But as we all know, four times nothing is still nothing, and based on the current numbers, it looks like sales of devices running Microsoft's latest mobile OS have hardly been anything to phone home about.
The data released on Wednesday shows Microsoft's platform accounting for a measly 3.6 per cent share of smartphone subscriptions during the three months ending September 2012, just before the first Windows Phone 8 devices were due to ship.
You might have expected to see a sales spike once Microsoft's WinPhone hype machine kicked into full gear. But by the end of December 2012 – well after the Phone 8 launch, not to mention the holiday shopping season – Redmond's share had dropped even further, down to 2.9 per cent.
Of the five smartphone platforms surveyed, Blackberry was the only other vendor that saw its subscriber share dwindle, quarter over quarter. Google and Apple each showed modest gains, while Symbian's subscriber share remained flat at 0.6 per cent.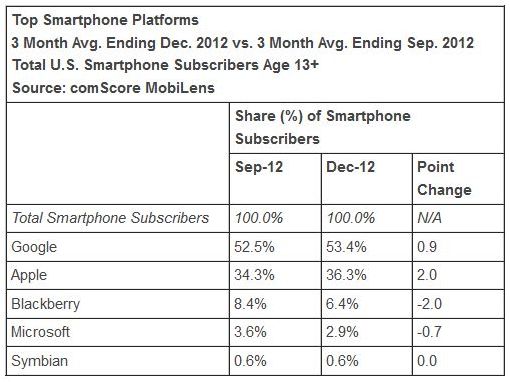 Predictably, comScore ranked Apple and Samsung as the first- and second-place smartphone manufacturers by subscriber share. But it was telling that Nokia, Microsoft's most important Windows Phone OEM, didn't even make the Top 5.
As we know from Nokia's own financial disclosures, things haven't exactly been rosy at the Finnish firm since it signed its devil's bargain with Microsoft in 2011. Sales of Windows Phone–powered Lumia handsets have been slower than expected, and during the fourth quarter of 2012, Nokia's overall unit sales volume was down 24 per cent from the previous year's Q4.
Little wonder, then, that Windows Phone 8 hasn't managed to be the smash hit that Microsoft was hoping for. Still, there is always hope. Nobody expects Microsoft mobes to outsell Android or iOS devices in the near future, but there's still that all-important bronze medal to shoot for.
Now that BlackBerry 10 has launched, however, Redmond once again faces real competition for third place. It's going to be tooth and nail – but from the look of things, the subscriber share that BlackBerry and Microsoft will be fighting over will be in the single digits, at best. ®