This article is more than 1 year old
Bioshock Infinite, Devil May Cry, SimCity
The latest videogame releases reviewed... and more
Game Theory The first few months of the year are, as ever, a time for the public and publishers alike to draw breath after the Christmas frenzy. Only a handful of full-price games launch, giving gamers time to catch a breath and ponder what they'll spend their money on in the year to come. That said, this period is already clocking up casualties and controversies. And no more so than at the now defunct THQ.
THQ was ever one of those publishers that you couldn't help but wonder how it survived so long – it being ever present since way back in 1989. Its latter day franchises included the likes of Metro 2033, Homefront, Saint's Row, Red Faction and Darksiders, all full of potential perhaps, but none which could be said to have stood out as the flagship example of its genre.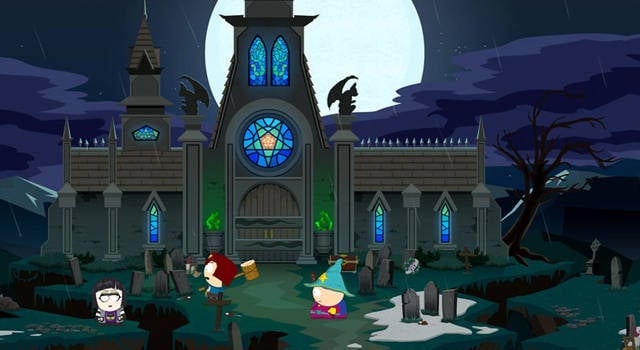 OMG, they killed the publisher
Perhaps THQ's next wave of titles might have finally broken through that quality barrier, with the promising South Park: The Stick of Truth, Metro: Last Light, Homefront 2 and Turtle Rock's latest - it developed Left 4 Dead - among the games under development.
Sadly, however, it's now too late for the publishing house. We'll still get to see all of the above titles, each franchise being auctioned off by the company during its death throes to appease the circling creditors.
So it is that Crytek is now the proud owner of Homefront, The Stick of Truth is in the hands of Ubisoft, Metro: Last Light will be published by Deep Silver, and 2K Games takes on Turtle Rock. Indeed only Darksiders developer Vigil Games was left without a suitor, Crytek stealing in at the eleventh hour to take mercy on "key" team members for its newly established Austin, Texas division.
Surely THQ's woes must send out a worrying signal to its former rivals, a message if any were needed that to survive you must produce quality titles and memorable brands – not simply look to mimic the wares of other publishers. Don't agree? Then take a look at Darksiders, Homefront and Saint's Row versus Zelda, Battlefield 3 and Grand Theft Auto and draw your own conclusions…
Walking on air: BioShock Infinite
Quite the opposite of generic is BioShock Infinite, a game long in the development, but one that looks well worth the wait. I had chance to go hands-on with the latest build, starting at the start – not as common an occurrence as you might think in preview events – and was left to my own devices in the floating city of Columbia for a full hour.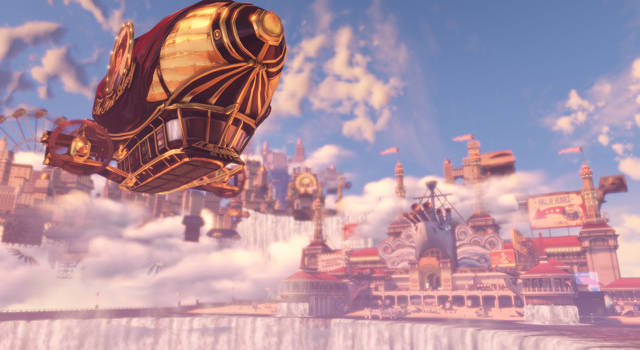 A district of Columbia
Taking advantage of all the best aspects of DirectX 11, the game looked nothing short of stunning. Dynamically shifting water, reflective surfaces, draw distances you'd need binoculars to truly appreciate, and more lens flare than a modern day Star Trek movie.
More importantly, there looks to be just as much optional background story there to be discovered as was true of its predecessors. Not to mention a whole menagerie of miscellany to witness within Columbia's beautiful environments, as NPCs go about their business, or else interact with player character Booker DeWitt.
Indeed, during my all too short time with the game, I regrettably had to run past all manner of bizarre sideshows, from a floating ticker tape parade to a pro-slavery rally, in my haste to cover as much ground as possible. And yes, you read that right - the abolition of slavery is far from a forgone conclusion onboard Columbia as Irrational Games' creative director, Ken Levine, sets his keen sights on exploring the notion of American exceptionalism. Infinite is clearly full of lofty ambition in more ways than one.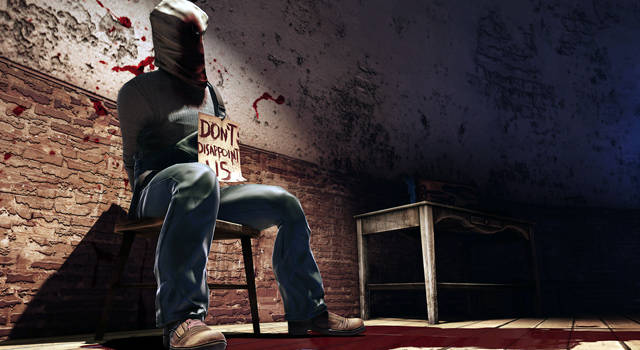 Boy in the hood
Interestingly, and despite such leanings toward the intellectual, Infinite is also one of the most violent games I've played in recent times. Take the first weapon you're handed, a motorised blade, perfect for slicing and dicing opponents who scream and fall apart in entirely gruesome ways. Think Kill Bill or Django Unchained and you won't be too far off.
The whole then is something of a contradiction in terms, a thoughtful and thought provoking narrative, that same considered and tactical combat, but then soaked in a bucket of violence. It's a dream to play through, but I suspect misgivings and controversy are sure to follow when its 26 March 2013 launch date rolls around.