This article is more than 1 year old
El Reg contemplates the ultimate cuppa
Builders' brew with two sugars? You tell us...
As regular readers know, we at the SPB are tireless in our pursuit of culinary excellence, and many of you share our penchant for gourmet grub, including the pinnacle of pork perfection that is the bacon sarnie.
Last year, you responded magnificently to our invitation to submit nominations for the ultimate sliced-pig-in-bread combo, a title ultimately taken by "The A90 Behemoth".
There was plenty of controversy in the run-up to the bacon sarnie showdown, with experts clashing over the comparative merits of smoked/unsmoked, brown sauce/ketchup, butter/no butter, etc, etc.
In the spirit of brotherly love and culinary harmony, we were eventually moved to suggest: "Let's all agree that the Church of Bacon is a liberal and accommodating faith, and its doors are always open to those who worship the divine sliced pork, however they choose to indulge their passion."
Amen. However, there's another matter which isn't yet resolved. Just what do you wash your bacon sarnie down with?
Looking back over your comments, it's evident that a good, old-fashioned cuppa is generally considered the way to go, although doubtless our coffee-swilling American cousins will beg to differ.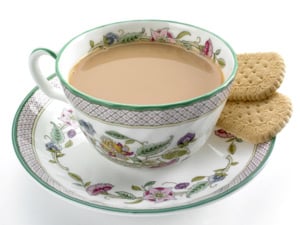 The sacred cuppa is, as disciples of the Church of Cha will attest, an unequalled beverage which unites all true Brits. Nonetheless, just as with the bacon sarnie, opinion is divided as to just what constitutes the crowning cup of tea.
Accordingly, we're inviting you to share your preferences. To kick off what will certainly be a controversial matter, here's what boffins at the Royal Society of Chemistry reckon.
Alternatively, try author George Orwell's recipe, from way back in 1946.
The first thing that's bound to crop up is the matter of loose tea versus teabags. I get through a lot of tea, and haven't brewed up the loose variety in years.
My personal preference is for bog-standard PG Tips or Yorkshire Tea, in bags, medium strong, dash of milk and no sugar. I will admit, though, that the best cup I've had in ages was Fortnum & Mason breakfast blend - an expensive treat, it has to be said.
As for sugar, I suspect it's either a matter of you do or you don't, and whichever camp you fall into you regard the alternative with horror and repulsion, as I do the very idea of sweetening my brew.
Regarding milk, this is absolutely obligatory, and no amount of banging on about herbal infusions, lemon juice and esoteric and overpriced Chinese blends taken while sitting in the lotus position will convince me otherwise.
So, give us your input, and when we've got a shortlist of the most popular types of cuppa, we'll formulate a cunning plan to resolve the matter once and for all with some kind of test. ®
Bootnote
For the love of all that's holy don't get sidetracked into the perfect biscuit to accompany the perfect cuppa. Let's save that for future investigation...