This article is more than 1 year old
Curiosity photographs mysterious metal object on Martian rock
Shiny 'flower' sets Mars-watchers aflutter
Image analysis of shots taken by the Curiosity rover's MastCam last month appears to have revealed a shiny metal object sticking out of a rock on the Martian surface.
Italian imaging specialist Elisabetta Bonora was going over Curiosity's latest photographs and found the object in a set of pictures taken by the rover on January 30. The object appears to be embedded in bedrock and is both casting a shadow and reflecting sunlight in some areas, but Bonora said that gauging the size of the object is proving tricky.
"We do not know the distance of the target from the rover and it is therefore difficult to estimate its size," she wrote on her website. Undeterred, she believes that the Martian curio is eight to nine metres from the rover and, using the resolution of the onboard camera, that the object is between two and three centimetres in size.
Bonora dubbed the object the true "Flower of Mars," a reference to an earlier object spotted by the rover which turned out to be a piece of plastic that dropped from the vehicle onto the Martian sand. But the new object can't have come from the rover directly, since it's so far off its track.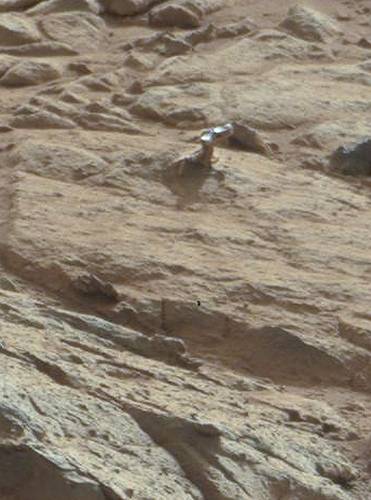 Either something very interesting or very dull
It's possible the structure is some form of mineral that hasn't eroded as fast as the surrounding rock, or that it's a metal fragment from a meteorite that hasn't rusted in the oxygen-poor Martian atmosphere, such as it is. Bonora said it might be ice, but the reflective qualities suggest a metallic composition.
Sadly, no one from NASA was around to give an opinion on Friday, and the agency is being much more circumspect about Martian speculation after it was forced to issue a denial that organics had been found on the Red Planet after a comment was misinterpreted.
That hasn't stopped wild speculation on the internet, with ideas ranging from exotic fauna, a part from an earlier mission from Earth, or the object being a relic of what author H.G. Wells suggested were "minds immeasurably superior to ours."
Here at El Reg, we counsel caution. After all, it's not the first time hopes of alien artifacts have been dashed and we suspect it won't be the last. ®