A men's issues website has cried foul after it was apparently classified as a "hate" site by Symantec.
Surfers visiting A Voice for Men (AVoiceForMen.com) were confronted by a message stating that it is a "known hate site" blocking from going any further by web-filtering technology in Symantec. A Voice for Men angrily denounced the move, which it ascribed to settings built into Symantec's Norton Internet Security software.
Paul Elam, publisher of A Voice for Men, fumed in an open letter to Symantec's senior management: "Your customers are given no supporting information or rationale for such a listing, and no immediate option to override the warning and proceed according to their own will; just the simple invective of being painted as a hate organisation."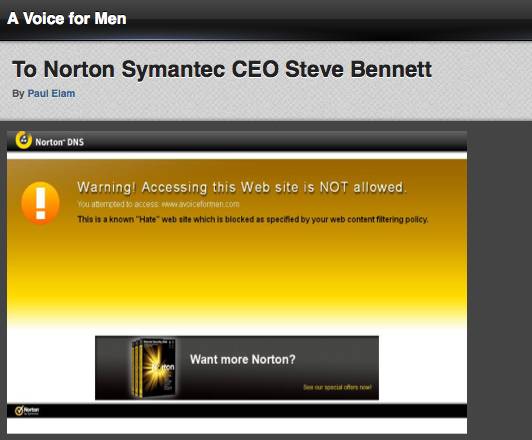 We contacted Symantec on Wednesday to find out what was going on but by Monday afternoon the best a spokesperson could offer was an uninformative holding statement rather than any clear idea of whether the apparent blacklisting was deliberate, mistaken or accidental.
We're investigating the situation and have no information to provide.
Symantec provides a couple of ways to filter websites for consumers. Symantec's Norton Internet Security uses something called SafeWeb, which blocks malware-contaminated websites. This tool doesn't bundle censorware (URL blocking) functionality to block categories of sites such as hate groups, guns, drugs etc. There is also Norton DNS, which is simply a DNS setting you have to make to your PC or router – similar to OpenDNS. "This does allow you to filter extra content, although there are very few options available tweak it," explained Simon Edwards, technical director at Dennis Technology Labs, an experienced antivirus tester and chairman of the Anti-Malware Testing Standards Organization.
Edwards visited AVoiceForMen.com using Norton Internet Security, with SafeWeb enabled, on Friday at lunchtime and nothing was blocked, confirming what can be found online simply by making a query to Symantec's database that AVoiceForMen.com currently has a clean bill of health.
Edwards then set up Norton DNS but that did not block the site either, and said: "[L]ooks like Symantec has updated its records".
The screenshot posted by avoiceformen.com makes it clear that it was Symantec's DNS system that was labelling its site as a "hate group", rather than the Norton Internet Security product blamed by the group.
Nonetheless the confusion is understandable and what's far more difficult is to fathom why Symantec can't account for how its technology classifies a named site, despite complaints from the party concerned, combined with two days of nagging from El Reg's security desk.
Brother beyond
The men's rights movement, of which A Voice for Men is a part, is a reaction against social changes brought about by feminism. The group bills itself as "masculine counter-theory in the age of misandry".
The movement rejects criticism that it a reactionary force seeking to restore centuries of patriarchy.
All of this is clearly not agreeable fodder for many women but to label the site as a "hate site" seems a little over the top.
The Symantec block on A Voice for Men was brought to El Reg's attention by MRALondon.org, the UK branch of A Voice for Men. MRALondon.org's site is not labelled as contentious by Symantec's technology but if anything it seems even more upset about the issue than its parent organisation.
Arch Desai of MRALondon.org said: "A Voice for Men is not a hate site and, in any case, it is not the job of Norton Symantec to be telling their customers which sites are and are not morally acceptable."
Another MRALondon.org representative said it was not aware of any other service that blocks AVoiceForMen.com. For example, "OpenDNS FamilyShield" does not block AVoiceForMen.com.
"A Voice for Men and its UK branch campaign against prejudice," explained Desai. "Our membership includes both men and women, and also includes gay men and members from all races.
"Being non-white myself, I was an anti-racist campaigner in the 1970s and '80s. I am, therefore, well-placed to recognise how routine and fashionable it is for men to be belittled and denigrated en masse as non-whites once were. Prejudice is prejudice, no matter what bigotry cultural fashion promotes. Once it used to be fashionable to condemn non-whites, and now it's fashionable to condemn males. This is why A Voice for Men and MRA London exist," he added. ®